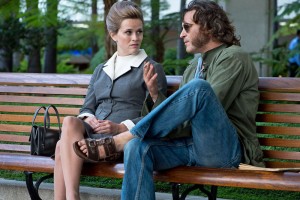 The films of Paul Thomas Anderson can sometimes feel like incoherent drug trips, so it was only a matter of time until the critically acclaimed writer-director made a movie about joint-smoking, coke-snorting, smack-injecting hippies. The premise of "Inherent Vice" (now in theaters everywhere) may sound a little dark at first glance, but Anderson sees it as a ripe opportunity to make a comedy that could only be hatched by the scattered brain of a stoner. He's even described it as a "Cheech and Chong" movie. After all, you wouldn't expect anything less from the guy who delivered a mysterious, biblical storm of raining frogs in "Magnolia."
For once, however, he can't be blamed for the movie's scrambled plot. That particular credit goes to Thomas Pynchon, the famously reclusive 77-year-old author who penned the 2009 book from which Anderson adapted the film. Extremely faithful to its source material, "Inherent Vice" is a fun, hilarious and sometimes frustrating neo-noir. Cut from the same cloth as "The Long Goodbye" and "Chinatown," the film has one serious difference — it never takes itself seriously.
Getting back in the "Boogie Nights" spirit, Anderson returns to California, circa 1970, where a baked private eye, Larry "Doc" Sportello, investigates the disappearance of his ex-girlfriend Shasta Fay Hepworth or "ex-old lady" as he calls her. He's a hippie gumshoe (except that he prefers not to wear any shoes) with the mutton chops and sunglasses of John Lennon and the wardrobe of "Serpico," jaded by a broken heart he didn't realize he had. Caught in the thick of a neon-lit Chandlerian mystery, Sportello is a Philip Marlowe without the Humphrey Bogart edge, Jake Gittes without the Jack Nicholson smooth-talk, more akin to Elliot Gould's aloof take on a such a character.
A bumbling pothead, "Doc" dares to question all the craziness going on around him while everyone else keeps a straight face. His unorthodox methods take him all over Los Angeles and the fictional surf town of Gordita Beach, prodded forward by the kraut rock of "Can," the soft folk rock of "The Association," and the ethereal narration from his cosmic expert friend, Sortilege (musician Joanna Newsom).
Joaquin Phoenix plays the lovable "Doc" to ditzy perfection with plenty of perplexed faces and comments as he tries to crack the case, an unlikely hero who makes it up as he goes along. Like their previous collaboration in 2012's "The Master," Anderson and Phoenix craft an engaging character who keeps the audience guessing the next move.
While the weather may be sunny, a black shroud hangs over the country as paranoia and disillusionment from the Manson murders and Vietnam threaten the carefree, loving lifestyle of the 1960s counterculture. Katherine Waterston is both sexy and enigmatic as Shasta, a femme fatale for the ages with a profound sadness lurking behind her dewy eyes.
Her chemistry with "Doc" is genuine and, in one tender snapshot of their brief time together, they run down an abandoned street in the pouring rain as the sun breaks through the clouds with Neil Young's "Journey through the Past" as the perfect accompaniment.
She's the catalyst that sucks her former lover into a world of trouble which contains surf music sax players, lewd silk ties, looney bins, Asian prostitutes, nose-picking FBI agents, the Los Angeles Police Department, pedophilic dentists, a Jewish land developer wanting to be a Nazi and a secret organization called the Golden Fang. Individuals both sinister and benign are constantly arriving with new information out of the fog, or perhaps it's just a haze from all the marijuana that our main character sets ablaze. Whatever the case, it's a chance for Anderson to exercise one of his favorite plot devices: a bunch of people with intersecting stories.
The movie is fortunate enough to benefit from an ensemble cast of insanely talented actors like Reese Witherspoon, Benicio del Toro, Maya Rudolph, Martin Short and Owen Wilson. Apart from Phoenix, Josh Brolin stands out as semi-unhinged Christian F. "Bigfoot" Bjornsen, an LAPD detective with a hatred of hippie kind, a love for frozen chocolate-covered bananas, and acting gigs on real estate commercials and "Adam-12." The cop and his "hippie scum" counterpart have a tenuous working relationship that is held together by similar interests with a funny Abbot and Costello way about their banter. This is evident from verbal and visual gags inspired by "Police Squad!" "Airplane!" and "Top Secret!" used during their encounters.
Shot on 35mm film, "Vice" has a subtle grainy quality that it could very well have been made in the late '60s, early '70s for all we know. The cinematography is classic Anderson with plenty of tracking shots, especially ones that slowly close in on two people talking.
The movie's plot can be hard to fully understand, raising more questions than it answers. It definitely helps to read the book — which is just as maddening — to get a somewhat better grasp of the whole picture, since there were parts omitted for the sake of time.
Only seven films into his career and Anderson has proven himself a visionary storyteller. From "Boogie Nights" to "There Will Be Blood," his knack for thought-provoking period pieces is clear: He takes every chance to tell an entire tale in each shot. I'd easily venture to call "Inherent Vice" Anderson's best movie yet, which sounds surprising since this is his first time working from a non-original screenplay. It's also his most light-hearted since "Punk-Drunk Love." Despite the mystery, he weaves a parallel love story all about second chances. To any flower child, that's pretty far out.