Pop goes Maroon 5. It's hard to believe 10 years ago we were listening to "Songs About Jane" on our portable CD players while staring at the bedroom ceiling wondering who Jane was and why Maroon 5 wrote a perfect album about a fleeting romance.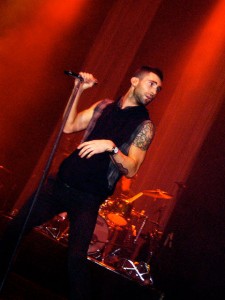 Maroon 5 has come a long way from their first funk rock LP. But have they gone too far with their latest album? "Overexposed" was released June 26 with A&M/Octone Records.

Longtime Maroon 5 keyboardist Jesse Carmichael took a break from the band in March, leaving lead singer Adam Levine and lead guitarist James Valentine as the only original bandmates working on the album.

All the funky bass guitar lines we came to know and love in songs like "Not Coming Home," "Makes Me Wonder" and "Give a Little More" are gone in the new album. Levine did say the band was going to try out new sounds, but why fix something that's not broken?

Maroon 5 eased us into "Overexposed" with the release of the album's first single, "Payphone." Levine had successfully tackled the music world's new trend of mixing pop voices with rap songs in Gym Class Heroes' "Stereo Hearts." "Payphone" is the same song with a different dated technical-devise metaphor. It opens up with Levine's flawless sound and bumps along until Wiz Khalifa crashes the party at the wrong time. Khalifa's breakout rap seems like an afterthought added to the end of an otherwise great number. Despite the awkwardly placed rap, Spotify says I've listened to "Payphone" 48 times since it came out — the most I've listened to any song since I started using Spotify in the fall.

The funkiest song on the album was the next single, "One More Night." The song is fast paced and catchy but doesn't say much. Other pop-esque, club-appropriate tracks on the album were "Love Somebody," "Fortune Teller," "Tickets" and the 3OH!3-reminiscent "Lucky Strike."

In an interview with Jimmy Fallon, Levine said his favorite song on the album was "Daylight," which he said would probably be the album's third single. It's the perfect fusion of Maroon 5's old and new sounds. If "Never Gonna Leave This Bed" and "Must Get Out" collided into one song, it would be "Daylight" with the chorus lyrics, "And when the daylight comes I'll have to go, but tonight I'm gonna hold you so close."

Other heartfelt songs on the album are "Sad," "Beautiful Goodbye" and "The Man Who Never Lied."

The album's black sheep would have to be "Wipe Your Eyes." It opens with a sound bite from Nas & Damian "Junior Gong" Marley's song "Patience." The sound bite runs throughout the beat-driven song.

The album ends with "Wasted Years," a soulful, guitar-riddled funk jam, classic of Maroon 5, followed by a fantastic cover of "Kiss" by Prince.

I recognize that Maroon 5 needs to change up their sound to stay alive, and I'll still learn every lyric in "Overexposed" and belt it in the shower or when I think I'm alone in my apartment. But, I'll always put "Songs About Jane" on a pedestal, and "Overexposed" didn't quite knock it off.