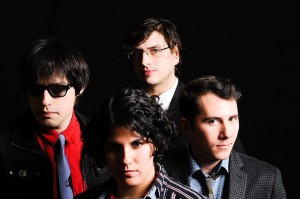 There are a multitude of bands that have emerged quickly on the indie rock scene and vanished just as quickly from our memories. Aloud is not one of them. Formed in 2002, Aloud is known for its lead vocalists' resonant sound and rhythmic, foot-tapping music. Aloud has earned nominations for "Best Vocalist" and "Best Indie Band" from the Boston Phoenix, which has earned them a special place in the hearts of many indie fans. Their music has been compared to the likes of "Alabama Shakes," "Dr. Dog" and "Fitz and the Tantrums." But truth be told, Aloud has created its own irreplaceable niche in the musical world. The band has toured massively and is coming to Philadelphia on April 23, they will be playing at MilkBoy.
On April 16, I got the opportunity to catch up with the band's lead vocalists/guitarists, Jen de la Osa and Henry Beguiristain in an online interview. The duo talked about their musical influences, their latest album "It's Got to be Now" and Beguiristain's risqué scheme to increase Aloud's popularity.
The Triangle: What was your biggest musical influence while growing up? What made you want to make music?
Jen: I grew up listening to loads of Beatles, Stones and Motown. The oldies station was always on the radio. Records were always around the house. The 60s are pretty much the foundation of my musical education. I learned how to write pop songs, but listening to these meticulously and re-writing them. Around 13, I discovered Oasis and that was one of those formative moments like, "Yes, I must start a band".
Henry: I still want to be Noel Gallagher when I grow up.
TT: What are some of your current favorite bands?
Jen: I'd say I'm way into the Arctic Monkeys, the Love Language, Sharon Jones and Tennis. Of course, Lucius, who is just tremendous as well as Father John Misty and Those Darlins.
Henry: All those, and Feist… she's one of my favorites in the last few years. The Mynabirds are outstanding. "Generals" was a great album, but that first one of theirs, "What We Lose in the Fire We Gain in the Flood," I latched onto that one pretty hard. That and Spoon kept me afloat during a particularly rough tour.
TT: You just released your latest album. Could you tell us a little about the music?
Henry: Save for vocals and a few small odds and ends, Jen, Charles, Frank and myself recorded "It's Got To Be Now" live, playing in the same room without any separation. We've wanted to record that way for a long time and when the means for doing so presented itself, we jumped into it whole hog.
TT: Was there a particular theme behind the conception of the album?
Henry: Our previous record was akin to making a film; this one was more like making a documentary. We just wanted to capture a moment. It was a lot of fun. I'm not sure I want to record any other way.
TT: What are some of your favorite tracks off "It's Got to Be Now?"

Jen: For me, I suppose I love the soul infused ones like "Don't Let It Get You Down," "It's Got To Be Now" and "A Little Bit Low" (though that one's more of a straight rocker, I guess). The poppier stuff like "Jeanne, It's Just a Ride!" and "After the Plague," I'm very proud of as well. Stays in the brain.
Henry: What Jen is actually trying to say is that they're all amazing. Ten nuggets of pure gold. Don't make me choose, you monster. Also, I got to play a Mellotron on "The Ballad of Emily Jane," so that was neat.
TT: What does the band aspire to achieve in future?
Jen: I only want us to be able to make music for as long as we're content to keep playing with each other. Only to make records and tour for as long and as far as can year by year. You try to push more with each release to find your balance.
Henry: All of my career aspirations all involve disastrous amounts of hubris. I'd be content with a scandal or two involving a large music festival, large volumes of mud, substances whose legality is suspect, and the very public questioning of the virtue of our fans—followed by a mea culpa publicity tour on late night television.