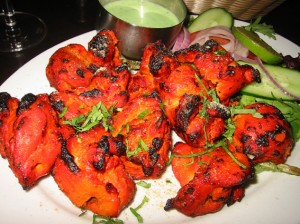 Sitar India, located at 38th and Ludlow streets, specializes in unique Indian food. Some specials the restaurant features are Mughlai, curry, masala and naan. You can get a 10-percent discount for bringing your student ID and a 5-percent discount for paying in cash.
For my first restaurant review I decided to choose a cuisine I am familiar with — something close to home, you know? India is a country with so many cultures and traditions that represent numerous culinary styles. The most popular is North Indian food, often known as Mughlai. It is often misrepresented as hot and spicy. However, this does not always hold true, as there's so much more to it than the spice. Arriving at Drexel, I hunted around University City for a decently priced Indian restaurant, and that's when I discovered Sitar India. The menu consists of a wide array of options, both vegetarian and nonvegetarian. Moreover, there is a buffet for lunch as well as dinner. The majority of the customers choose the buffet route, as it is more economical and offers instant hot and delicious food.
Sitar doesn't aspire to be a hip, upscale restaurant with disc jockeys and cocktails. Its focus is on tasty food and prompt service. There's a wide variety, especially for those who are vegetarians, which is always a plus for Indian restaurants. They have curries, masalas and even a salad bar. Rice and naan are plentiful, and the food is always refilled before it runs low. Another plus is the unlimited mango juice they serve; one sip of it quenches thirst like no other.
One of my favorites there is the Chicken Tikka Masala. It is a delicious dish in which pre-marinated pieces of chicken are grilled and then added to a thick, creamy tomato-based gravy. The result is a lovely smokey flavor. Chicken Tikka Masala is serevd with hot naans (leavened Tandoor-baked flatbread). As soon as I took a bite of the chicken, I was transported back to India. The meat melted in my mouth, and the sauce added the much-needed essence to the dish as a whole. Another popular dish is the lamb curry. It originated in the Delhi region. Cuts of boneless beef can also be used, but the true flavor is in the lamb. Sitar serves with some rice and a nice, crispy salad — the perfect combination.
Their appetizers hit the spot as well. Make sure to try the samosas! They are these triangular puffs filled with potatoes and peas. Don't forget to dip it in the green and sweet chutney! If you are 21, give Indian beer a shot. Try the Kingfisher, my favorite of all time. Trust me, you won't be disappointed. A sip of that beer on a warm Sunday afternoon with some good Indian comfort food is all you need to make your day.
Sitar is located at 60 S. 38th St They are open Sunday through Thursday from 11:30 a.m. to 10 p.m. and Friday through Saturday from 11:30 a.m. to 10:30 p.m. They accept credit cards, and the dress code is casual. You can receive a 5-percent discount for paying in cash and a 10-percent discount for showing a college student ID. With these discounts I paid a little more than $11 (with tax) for dinner, which is a very reasonable price given the amount of food that you can eat. Be sure to wear a loose pair of jeans and go home ready to hit the bed and head into a food coma.