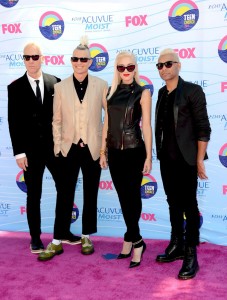 When you're one of the biggest bands from the '90s, the golden age of alternative music, and you're staging a comeback in 2012, it's helpful not to look your age. Luckily, No Doubt has lead singer Gwen Stefani, the ageless Marilyn Monroe-esque ska punk rocker who looks just as good today as she did when her group first hit the scene in 1992.
It's also helpful to tweak your sound to reflect the times, "the times" of course being an era of music in which Flo Rida is somehow a constant hit machine and Enrique Iglesias keeps making the same song over again.
So how does No Doubt, a band celebrated for its unique, worldly influences, compete with the pop dribble that dominates the airwaves? By feigning to be a pop band.
Enter Diplo from Major Lazer and megaproducer Spike Stent, two men whose work on No Doubt's recent comeback album "Push and Shove" is sure to get the band some major airplay in the coming months. The two take typical No Doubt stylings and mix them with everything from '80s New Wave to what ends up being just short of dubstep.
As the album progresses, these influences emerge, but the first track and lead single "Settle Down" is vintage No Doubt and a welcome return to the reggae and dancehall vibes that the band first introduced to us, packaged as alternative music. The single is a globetrotter, taking Indian sitars and Caribbean beats and blending them into one six-minute magnum opus of a comeback song.
From here, ska and rocksteady take a backseat to more traditional rock (on the sexy "Looking Hot"), spacious New Wave (on the reluctant breakup track "One More Summer") and some derivative of dubstep (on the title track).
The song "Push and Shove" is perhaps the result of mashing together the most successful musical styles of No Doubt's career and backing them with a pulsing wobble bass that flows like brownie batter poured into a pan. And let's not forget the Jamaican horns, the groovy guitar strums or the most over-the-top duet ever between Stefani and reggae artist Busy Signal. You haven't heard No Doubt like this.
Another can't miss is "Gravity," a pop-tinged number championed by Stefani's amorous lyrics, bubbly synthesizers and gorgeous piano chords. We'd expect this kind of Cool Whip-covered confection on one of Stefani's solo albums, but it's a first for No Doubt.
And it's more than worth it to mention "Looking Hot" again, partially because the song is exactly the kind of power tune the band would have put on its gigantic breakthrough album "Tragic Kingdom," and also because it exhibits each member's talents and is a meat-and-potatoes pop staple sure to get a whole new generation of kids moving.
Before the song ends, there's one brief moment of Jamaican-tinged beauty. The horns reappear, Stefani's delivery mellows, and we're reminded of all the glorious moments of ska and rocksteady that we heard growing up on classics like "Underneath It All" and "Hey Baby."
As if they were trying to recreate the breakup smash "Don't Speak," No Doubt finishes "Push and Shove" with a few "woe is me" ballads to pull at the heart strings. Needless to say, this doesn't work.
But a few bad apples won't spoil this sexy and ambitious comeback album. Ultimately, "Push and Shove" succeeds because it's engrossing and varied, mixing even more genres than the band's previous works did. Though it's sure to be one of the most hotly debated comebacks in recent memory, "Push and Shove" was worth the wait for this reviewer.