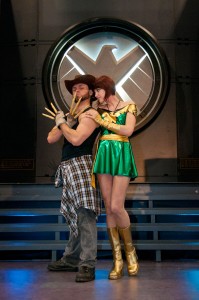 A record-setting 105,000 people, myself included, attended this year's New York Comic Con Oct. 13 -16 at West Manhattan's Jacob K. Javits Convention Center. The New York Comic Con is the East Coast's equivalent to the world renowned Comic-Con International: San Diego, which has been in existence since 1970.
There was something for everyone featured on the expansive show floor. On display were comics, novels, anime, manga, video games, movies, television and rare collectibles. Over 100 exhibitors were on site selling merchandise and providing free "swag" alongside famous artists, television personalities and movie stars who did meet-and-greets and signed autographs for fans. Noteworthy guests at this year's Con included Mark Hamill, Luke Skywalker from "Star Wars" and the voice of the animated Batman villain the Joker, along with Stan Lee, former president of Marvel Comics and co-creator of Spider-Man, Thor, The X-Men and more. A personal favorite, artist Alex Ross, famous for his paintings of the Justice League and the Avengers, had original prints for sale. I was so excited to see these until I looked at the price tag — $7000! It appears that I will have to wait to make my first art purchase until after I graduate from Drexel University.
The Javits Convention show floor was flooded with fans dressed as their favorite comic book or video game character. Most costumes were lavishly made while others were slightly disturbing, specifically a man dressed as Wonder Woman, which unfortunately left a lasting impression on me. This tradition of dressing up as fictional characters presents an interesting social dynamic that is not found in many places. A fellow attendee said to me, "I don't think I've ever been in a place with such high levels of social anxiety per person." I hesitantly laughed at first, but it made me realize that I was the weird one, because I was not in costume.
The convention is a unique occasion. In everyday life most serious Con goers would be ridiculed for such strong and unique passions, but at NYCC they are praised for their commitment, receiving constant compliments along with photo requests from fellow Comic Con attendees and professional news media.
The New York Comic Con was also host to professional gaming's Intel Extreme Masters that featured matches in real-time strategy games "StarCraft 2," "League of Legends" and "Counter-Strike 1.6." Professional gamers drew large crowds of spectators while competing for the American championship and a share of $93,000. Large game developers such as Nintendo, Rock Star, Capcom and Bioware were in attendance providing playable builds of their latest versions of flagship franchises. Hands-on playable demos of "Halo: Anniversary Edition," "The Legend of Zelda: Skyward Sword," "Super Mario 3D Land" and "Mass Effect 3" were all provided by their respective companies. People waited upwards of three hours to play these highly anticipated games.
As a first time Comic Con attendee I had no idea what to expect, but hopefully I can share some insight on what to anticipate if you choose to go next year. First, arrive early. I left Philadelphia at 6:45 a.m. on a train to Trenton and arrived in New York at 9:30 a.m., but still ended up behind at least 1,000 people in a queue for the convention center.
Second, expect the unexpected. While slowly being shoved forward in line to get inside the Javits Center, I was greeted by a very puzzling scene: a bare-chested woman with a guitar at her side. I also inadvertently walked in the middle of an Assassin's Creed flash mob where at least twenty people dressing as the video game's protagonists, Altair and Ezio, battled to the death in front of me. It was insane. My next suggestion is to do some pre-Comic Con research. The place is absolutely enormous and if you don't have the slightest idea where things are, you will get swallowed in the sea of wonderment. Probably the most important information I can give you is a warning: People love free things! I saw at least five people with over 20 free tote bags in hand and Cookie Monster hats just because they were free. I also witnessed a tug-of-war match over an Avengers T-shirt. If you hear the words "free" or "giveaway," be prepared for possible bloodshed. Finally, have a budget before going. New York is expensive, so make sure you have enough money for exclusive Comic Con collectibles as well as overpriced convention center food.
All together, New York Comic Con was an amazing experience that hardcore comic enthusiasts will love and people from different walks of life will enjoy. NYCC is only getting larger and more exciting. This is an event that everyone should experience. I hope to see more Drexel students, costume or not, at next year's Comic Con taking place Oct. 11-14, 2012.