The coming of winter marks colder weather and maybe even some snow, perfect conditions for making excuses to stay inside and watch television until spring comes! Or if you are just looking for a new or old show to get you through to the returns of shows like "Game of Thrones" or "Breaking Bad," then this is the list for you! Let's start out with the new shows first:
"Buckwild" (Thursdays, MTV)
With the cancellation of "Jersey Shore," have you been looking elsewhere for your Thursday night fill of trashy reality television? Look no more, for I give you "Buckwild," which pulls double duty as a reality show and a comedy. In a world where "The Office" and "30 Rock" are ending and "1600 Penn" blows, maybe we will all tune in to see teenagers in West Virginia act like blithering idiots. The nine kids, including the lovable Shain and the provocative Cara, make their own fun out in the wilderness, including setting a car on fire in the middle of a forest and taking pick-up trucks "muddin'." And who knows, maybe West Virginia will overtake New Jersey in states with a bad rap due to MTV!
"The Taste" (Jan. 22, ABC)
Do you know what time it is? Time for another reality cooking show! This one looks to fall somewhere between the extreme harassment of "Hell's Kitchen" and the rigor of "Iron Chef." Contestants or "kitchenistas" will only get to offer the judges (including the famous Anthony Bourdain of "No Reservations") one single bite of what they've cooked in a blind taste test. In "X Factor" style, contestants will be mentored by one of the judges, with the field consisting of both amateur and professional chefs. Leave your sappy backstories at the door; they will be of no use to you on "The Taste!"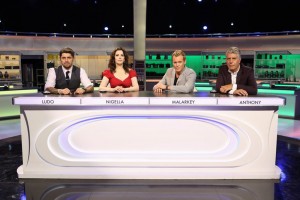 "The Americans" (Jan. 30, FX)
It's time for some drama, 1980s Cold War style. In the same vein as Showtime's smash hit "Homeland," "The Americans" takes a look at sleeper agents living in the U.S., except instead of working for al-Qaida, it's a couple of Soviet KGB agents who are trying to hurt America from the inside. Show creators say that they won't stick strictly to actual historic events, but the drama promises plenty of drama as the couple deals with telling their kids and one spouse contemplates defecting. One problem the show might have is getting viewers to pull for the bad guys instead of the good ol' U.S. of A., but the way our government is functioning these days, it might be a bit easier.
"The Following" (Jan. 21, FOX)
The last but probably most promising and anticipated show of this winter is "The Following." The premise is that Edgar Allen Poe-themed serial killer Joe Carroll sets up a network of copycat killers from inside prison and uses them to help him escape death row and continue his murderous spree. It is being called one the goriest shows on television today and is, in some ways, FOX's response to the extreme popularity of similar shows like "The Walking Dead" and "Dexter." It's being compared to FOX's last action hit, "24," and I hope this one can make it to see a second season. Oh, and did I mention the star of the show is Kevin Bacon?! Case closed.
If none of those shows strike your fancy, there will always be another round of newbies come spring, but there are also plenty of returning shows that may pique your interest. On the reality side, you have new seasons of "Survivor" (a fan vs. favorites season), "The Amazing Race" and revamped "American Idol" (with the promise that Nicki Minaj and Mariah Carey will be at each other's throats!). For comedy fans out there, there's more "Modern Family" to be had as well as "Cougar Town," which made the move to TBS. Also, the cult-hit "Community" returns and will likely begin to air its final season Feb. 7. Finally, if drama is your thing, then ABC's "Revenge" is in its second season, and AMC's "The Walking Dead" will return to finish up season 3. My personal favorite this winter is the second half of season 2 of USA's "Suits," which I highly encourage you to watch if you get the opportunity.
All in all, this winter is shaping up to have a decent offering of quality programming, and if you can spare the time, there are definitely shows worth investigating.