"Spider-Man: Turn Off the Dark" is a musical that many people may call the most expensive disaster in theater history. Opening on Broadway after many halts and delays this past February, "Spider-Man" flooded with excited fans, waiting to see their favorite highflying superhero, Spidey, take the stage in a musical spectacular. To everyone's dismay, this highflying spectacular was actually a lucrative mess of horrible music and an even worse plot. "Spider-Man the Musical" has been on Broadway for only a few months and has already managed to win the title of  "worst musical Broadway has ever seen."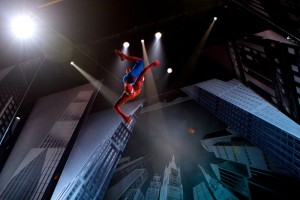 Within its short life, this monstrosity has generated numerous lawsuits for injury, set malfunctions and harsh critic reviews. As Glen Levy from Time Magazine stated: "The injuries suffered on stage can now be matched by the vicious words penned by some of the country's most notable critics, who could wait no longer to make their feelings felt." This quote and many others like it only begin to unfold the disaster behind "Spider-Man: Turn Off the Dark." Along with the numerous damages and faults, the show is also set to a monotonous musical score and was put under the poor direction of Julie Taymor ("The Lion King," "Across The Universe") who left after four months of previews.
To be fair to the "Spider-Man" production and the people behind it, it is not easy to turn this once award-winning movie into a Broadway masterpiece, but replacing the movie script with a weird twist of the comic book and a mash up of rock music and Greek mythology was definitely not a smart move. This first version of the musical begins with four geeks reciting the comic book version of "Spider-Man" to the audience. If this were not enough of a mistake, adding Arachne to the script definitely was. Arachne, one of the main characters in the show, represents the Greek mythological story about a weaver who angered the Greek god Athena and soon became the world's first spider. Her character, like many others in the show, only adds to the randomness and chaos created by Taymor. On top of all of this, a mash up of comic book characters and movie characters create a plot that not only confuses and bores the audience, it simply does not make any coherent sense in the sequence of the story.
Luckily for "Spider-Man", there is always a silver lining. Recently, Broadway has decided to revive this quickly dying show, essentially starting again from square one. First off, they got rid of the original director and replaced her with well-known Broadway artists and directors renowned for their brilliant shows and music. This creative team includes Broadway director Philip William McKinley, noted "Spider-Man" comic writer Roberto Aguirre-Sacasa, musical consultant Paul Bogaev ("Tarzan," "Aida") and sound designer Peter Hylenski ("Elf," "Rock of Ages," "Shrek"). Another addition to the show was more rock music, constructed by the creative minds of Bono and The Edge of Irish band U2. On top of this, a new cast was hired and a new plot has, thankfully, been written. The flying will remain at a minimum and the costumes and set design will continue to stay spectacular, yet more soundly safe.
Under all of this mess, there may be hope for "Spider-Man" the musical when previews resume May 12, and when the show officially opens June 14. Replacing this wreck of a production with a newly improved show may not only bring positivity into a previously tarnished reputation, but it may become one of Broadways biggest turn-arounds. If the team behind "Spider-Man" makes these changes, this laughable catastrophe may somehow become a miracle for Broadway and will be able to wow audiences like so many shows before it. It has the power to be brilliant – and if the new staff is smart enough, they can make this show famous for transforming from one of the most expensive failures to one of Broadways biggest triumphs.