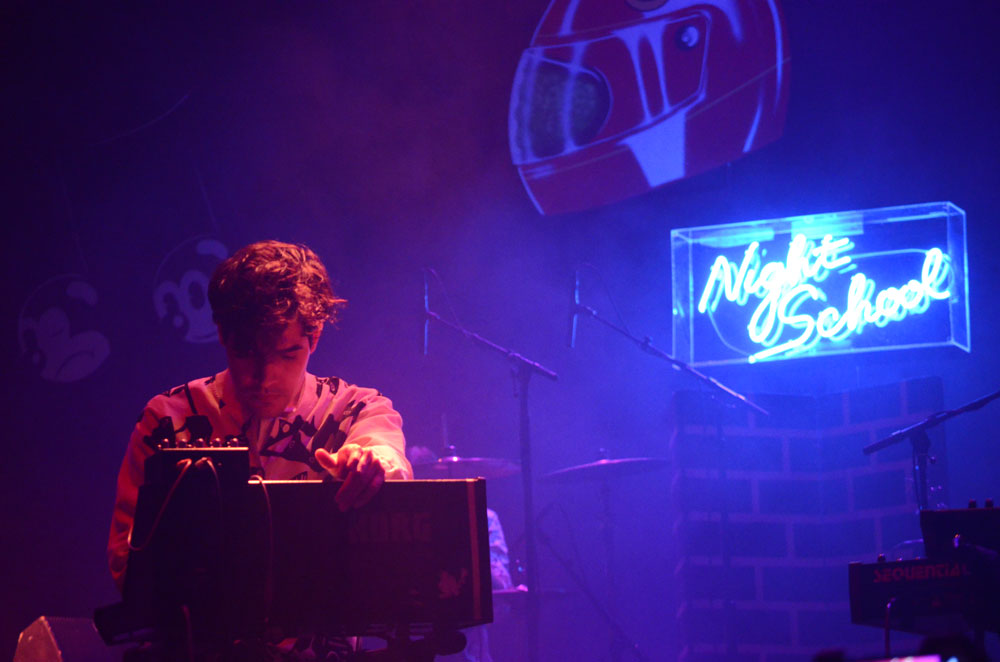 The ideal scenario for enjoying Neon Indian's music is difficult to pinpoint. Some items in their catalogue give the impression of a basement rave in Tokyo and some force the listener to envision a drug-addled walk through the park on a hot summer day. This variety has always kept Neon Indian in my category of "almost" bands, meaning I enjoy them, but they're a step away from truly connecting with me. That changed on Nov. 16 at Union Transfer, where it all clicked for me.
The antsy crowd went wild with excitement as the band took the stage, playing "Annie," the biggest hit from the album they're currently touring, "Vegas Intl. Night School". It featured an incredibly dance-y techno backdrop on which Alan Palomo, lead singer and composer, impressed with his catchy vocals. Live, this song was as even more powerful and really started the night out on a strong foot.
It was enjoyable, but there was a notable flaw in the mixing of the audio. During that song and throughout the rest of the night, there was a distinct lack of volume from the mic, allowing the background music to nearly completely drown out the vocals. It took considerable effort to just hear Palomo's words, and though the instrumentals on these songs are important and enjoyable, the vocals have always been my favorite part to Neon Indian's music.
The rest of the crowd certainly didn't notice … or if they did, didn't care very much about the mixing, and as the show went on. The small venue was really rocking and people were actively dancing along for the whole night.
Often at concerts, the experience hinges on a single song, and that held true in this case. The first song of the encore, "Polish Girl," mixed just audible enough vocals with the catchiest beat in the Neon Indian catalogue, making it impossible not to dance and sing along. The entire house rocked and the excitement was palpable, making it the highest of highlights from a great night. They ended the night playing the final song from "Vegas Intl.," "News from the Sun (live bootleg)" and finished the set by high-fiving and interacting with their loving fans close to the stage. In return, those loving fans embraced them back, happy and satisfied with a great night.