The Brotherly Breakdown Festival rolled into Philadelphia Jan. 5. Taking place between The Trocadero main stage and the balcony, a total of 10 local bands came together for this awesome show. I got there as the doors opened at 6 p.m. and headed upstairs to catch the first band playing, which was a three-piece band called Home Again from my hometown of Bensalem, Pa. They were a great band to open the show, exuded an awesome stage presence and had a few rows of friends and fans screaming the words to all their songs.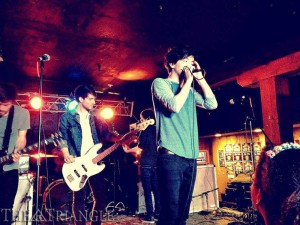 The crowd then made its way downstairs to catch the first act on the main stage, First Things First. This band felt like a throwback for me to watch. The sound was very similar to early workings of All Time Low and Fall Out Boy, yet they looked exactly like Forever the Sickest Kids. They closed with one of their newer songs titled "Love Is For," and the small crowd packed in front of the stage really seemed to enjoy it.
With 10 bands alternating between two stages, the night consisted of many trips up and down the infamous, and very steep, Troc Balcony steps. The next band to play upstairs was Philly native At Bay, formerly known as Faster Than Fate, whose lead singer, Tim Kuhn, really knows how to draw in a crowd. The band has very heavy-feeling music, but when mixed with Kuhn's crisp vocals, they create a sound that I have never heard before. I have seen At Bay play many shows, and this one was definitely my favorite. Unfortunately, due to time commitment issues, At Bay announced Jan. 7 that the Breakdown Festival was the band's last show.
At this point in the night, I rushed over to the main stage to see Robots & Racecars. I had always heard great things about this band's live show, so I couldn't wait to see if what I had heard was true. And after about three songs, I was hooked. With a sound similar to New Jersey heroes Man Overboard, they had the pop-punk kids in the crowd going nuts. The small pit that opened up in the middle of the floor had about 15 fans screaming the words to every single song the band played. This style of music has some of the most passionate and die-hard fans that I have ever seen, and it's really an inspiring thing to watch.
Next to hit the main stage was the newest band in the Philly local scene, Automatic Habit. Automatic Habit, or AH for short, consists of five friends who had all been in local bands previously. Johnny Costa, Bruce Wiegner, Joey Wooliver, Jeff Sarafinas and Bill Alexander came together in early 2012 to create this new superband. Drummer Wooliver moved to Philadelphia from Knoxville, Tenn., just to peruse the band. With only four shows under their belt previously, AH had a lot riding on this show, and they definitely did not disappoint. They started their set with "This Is Misery." It has a very upbeat tempo and catchy hook that is easy to learn. As Automatic Habit continued with their set, the crowd behind me grew larger and larger. The band then played a song called "Pieces Of You," which had the crowd completely captivated. Watching the band, and judging by the huge smile on bassist Bill Alexander's face, you can just tell that playing live music is their favorite thing to do. The guys closed the show with their most popular song and lead single "Play It Again." That song, along with "This Is Misery" and all their other songs, are available for free download on their website, AutomaticHabit.bandcamp.com. If you get the chance, I definitely recommend seeing Automatic Habit play a live show.
I then headed upstairs for the last time to catch The Engine Atlantic, who were headlining the balcony stage. I have seen them perform many times over the years and have seen them change members as well, but they looked and sounded great this time. TEA's sound has evolved a bit since the band's start, and now each of the band's songs spreads over a wide variety of genres. Lead singer Jack McCarthy has such a strong yet angelic voice that can draw you in from a mile away. The guys played many of their fast-tempo songs such as "You're Not An A-Team" and "Uncle Sam Doesn't Want You," which really get the crowd hyped up. Then they played my personal favorite song, titled "The Slowest Slow Song." This is the perfect song to scream at the top of your lungs, and that's exactly what everyone standing in the crowd did.
The last two bands on the main stage were Nobody Yet and Carousel Kings, the latter of which really stood out to me. Once they took the stage, I finally understood why they call it the Brotherly BREAKDOWN Fest. These guys certainly had the heaviest set of the night, and I definitely was not complaining. They had a very similar sound to hardcore legend A Day To Remember. This band's music created one of the craziest mosh pits I've ever seen, and even the band members' parents were there. It was quite an entertaining sight!
The Brotherly Breakdown Festival was an awesome show for fans of all genres and ages. The Trocadero Theatre, Absolute Punk and Property of Zack put together a great event for everyone in attendance, and I'm already looking forward to next year's lineup.