Teebs and Thundercat opened for Flying Lotus, who made his Philadelphia debut April 26 at Union Transfer. Teebs has a very similar sound to Flying Lotus. His style involves recording sounds, altering them and then layering them to produce a beat. The crowd seemed to enjoy the music he played, although there was not much dancing.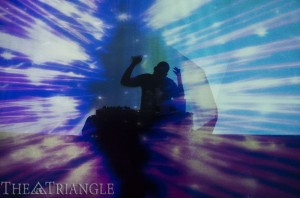 Thundercat had many fans in the crowd singing along with his lyrics, leading the show to its climax. His band consisted of a bassist and lead singer (Thundercat), a drummer and a keyboardist. All being highly talented musicians, they created a jammy, jazzy sound. The music is abstract, like many jazz songs, and requires a tuned ear to pick out the rhythm of the song. The lead singer sang in his falsetto for the entire show. His voice was weak and breathy, and I doubt he has had much training in signing. His voice did not compare to his bass skills at all.
Although the crowd was responsive during their performances, the show did not start until Flying Lotus came on stage. Equipped with two transparent screens, one in front and one behind him, he put on an incredible visual and aural experience. The screens had moving images projected onto them, creating a 3-D affect for the audience. The images ranged from psychedelic patterns to the human form.
Coming all the way from Los Angeles, Flying Lotus' music can best be described as instrumental psychedelic hip-hop. He samples drum beats, horns, bass lines and many other sounds from a very wide variety of musical genres to create a futuristic yet classic-sounding beat. J Dilla is a huge inspiration to Flying Lotus, and I even saw a fan in the crowd with a shirt that said "J Dilla changed my life."
J Dilla's unique music was made through sampling sounds off old records. The practice of sampling sounds is what Flying Lotus tries to keep alive through his music today. Flying Lotus also played some unanticipated "trap" music in addition to his more familiar ambient music. Trap music is more danceable than the abstract music and has a beat more similar to hip-hop rather than jazz. Flying Lotus also acted as a stand-in rapper and emerged from behind the screen at times to recite the lyrics of songs he produced for other artists.
At the end of the show, Thundercat accompanied Flying Lotus in performing the last song of the set, which made the fans cheer for more, but unfortunately the venue's curfew hit at 2 a.m., and they had to shut down.
Overall, the show was very enjoyable and featured a great variety of futuristic electronic and hip-hop music. Flying Lotus and his fans eagerly await his next trip to Philadelphia, which he promised would happen in the near future.