Music-loving students came together May 16 in Mandell Theater to jam to indie rock band Motion City Soundtrack for the Antoinette Westphal College of Media Arts & Design's sixth annual MAD Dragon concert.
MAD Dragon Records teamed up with Motion City Soundtrack to produce a seven-inch vinyl series titled "Making Moves," featuring new songs by MCS, A Great Big Pile Of Leaves, Goldrush, Brick and Mortar, The Company We Keep, and The Skies Revolt.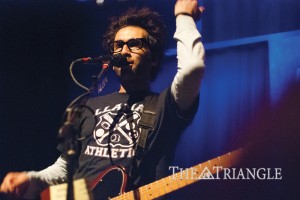 MAD Dragon Records joined forces with Motion City Soundtrack to produce a seven-in vinyl series titled "Making Moves." Six bands are contributing to the series.
The bands worked with Drexel students to produce the seven-inch record singles that are being released from April to November 2012. The first seven-inch was released April 24 by The Company We Keep.
"We thought it would be a good way to learn from people who are studying music now, and then perhaps they can learn from us, a band that's been on the road for 10 years," Matthew Taylor, MCS' bass player, said. "I just thought it would be an interesting way to learn from each other."
MCS consists of lead vocalist and guitarist Justin Pierre, lead guitarist and backing vocalist Joshua Cain, keyboardist Jesse Johnson, bass guitarist Matthew Taylor, and drummer Tony Thaxton.
Taylor said that he enjoyed working with Drexel students who are part of a generation that relies on the Internet and different media to access music. He also commended the students' work ethic.
"I had such a good time here recording, … surrounded by people who were genuinely interested in what they were doing," Taylor said. "It never seemed like work. No one was complaining that they had to be there all day, working into the night."
The concert opened with Brick and Mortar, followed by The Skies Revolt, Goldrush, and A Great Big Pile of Leaves. The Company We Keep was not in attendance at the concert. The openers slowly but surely pumped up the growing crowd, summoning them out of their seats and into the small space in front of the stage.
Surprisingly, Mandell Theater was not full, but where the event was slightly lacking in numbers, it was made up for by enthusiasm and energy from the bands and audience.
If there's one thing to commend about MCS, it's their enthusiasm. They seemed excited to be performing at Drexel and displayed their commitment to their music and fans. They are also the most polite band I have ever seen in concert. Pierre thanked the audience after almost every song, followed by the occasional "You're welcome" from the audience.
One of MCS' unique qualities in today's age of music is their genuine love for music. There are so many musicians who play music solely for the money and probably wouldn't think of playing a free show for students.
"When the opportunity came, I was like, you know, we should definitely do this. It's a really cool story to work with the school, and it's really exciting to me to see that schools actually do have programs like this that are a legit record label," Taylor said.
MCS played an array of songs both old and new, including "True Romance" from their upcoming album, "Go," set to release in June. Another song unfamiliar to fans was "Severance," one of MCS' two seven-inch singles of the series. The song began soft and mellow with light guitar strumming while progressively growing into an upbeat dance anthem.
People in the crowd went crazy when they heard the opening lines to "The Future Freaks Me Out," one of MCS' most popular songs. Pierre sang, "I'm on fire, and now I think I'm ready to bust a move. Check it out, I'm rocking steady, go." Pierre invited the audience to sing the bridge. At a Motion City Soundtrack concert, it seems that audience participation is mandatory.
MCS was not lacking in energy, making it evident that they definitely ate their Wheaties that morning. They were jumping around the stage like they were genuinely having the time of their lives. Johnson was so into the music that I was scared for his keyboard's life.
The live version of "Last Night" is just as beautiful as the recorded version, as Pierre fluidly sang about a tragic breakup. He yelled into the microphone, "I can't compete with all your damn ideas. And this isn't working out for you and me. The truth is I'm too tired to play pretend. This is goodbye, this is the end."
They performed countless other familiar songs, including "A Life Less Ordinary (Need A Little Help)" from their most recent album, "My Dinosaur Life," "This Is For Real," "Everything Is Alright" and "Broken Hearts."
The free event was supported by the Kal and Lucille Rudman Institute for Entertainment Industry Studies.