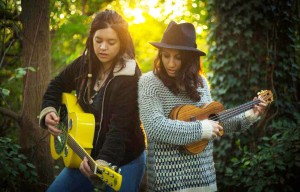 You may have seen Philly-based alternative group Moonshine Heather around campus. This singer-songwriter duo is a product of the Drexel Music Industry Program, and they look to launch their career into the music scene. Featuring Alexanda Berenson and Maura Mullen, both on guitar and vocals, Moonshine Heather is inspired by a variety of genres, creating a mixture of folk, rhythm and blues, rock 'n' roll, and indie music. The Triangle sat down with the duo to talk about their burgeoning careers.
The Triangle: Other than The White Stripes, what other artists influenced the new album?
Maura Mullen: We both grew up in very musical environments. Vocally we are both inspired by the harmonies of early Motown singers like The Ronettes and The Supremes and the vocal arrangements of Crosby, Stills, Nash & Young. We also recently just started playing our songs electric and have been drawing inspiration from Jefferson Airplane and The Velvet Underground.
Alexandra Berenson: I have been singing since I was a little kid and grew up listening to jazz. Thelonious Monk and Billie Holiday were huge sources of inspiration for me, as well as Motown-soul artists such as Stevie Wonder, The Temptations and Marvin Gaye.
TT: What are your future plans after the EP release?
MH: We actually have a little regional tour booked following the release. Our first show is at Connie's Ric Rac on Dec. 13; followed by a gig in Brooklyn, N.Y., at the Grand Street Bakery; and then a show in Williamstown, Mass., at the Water Street Grill. While recording this EP, we've also been working on new material and plan to record those tracks for a second EP this winter in the Drexel University Studios.
TT: What are your thoughts on the current folk-rock uprising in the music industry today?
MH: I think it's great! A lot more bands seem to be influenced by more traditional Americana music these days, like the Avett Brothers, Mumford & Sons, etc. I'm excited to see more bands return to a more "back-to-basics" feel, especially after the huge surge in popularity of [disc jockeys] and the [electronic dance music] community.
AB: I'm also very excited about the current surge of popularity these two genres are experiencing. Not that I think they really went anywhere, but sometimes styles of music can remain dormant for a while other trends saturate the airwaves. Personally, I think we're in a real golden age of music. Artists are pushing to revive, alter and be innovative — especially when it comes to folk rock.
TT: If you could perform with a band, who might that be?
MH: David Bowie! I've been in love with Bowie since I was six.
AB: So many to choose from. … I'd have to say Stevie Wonder and his band. He's been my idol since I was a kid. Got to see him live recently and he still slays.
TT: What is the story behind the yellow Dobro, and how long have you been playing it?
MM: My dad bought me that Dobro when I was about 13, and it's been my main guitar ever since. I wanted a Dobro after I saw that some of my favorite songwriters play one, like John Lennon and Bob Dylan. I love the twangy Americana blues sound it gives off; it's quite unique.
TT: What's the craziest thing you've done as a band?
MM: Our good friends are in a band called Skinny Lister, and last year they went on tour opening for Flogging Molly. They had a show at The Electric Factory and invited us backstage. We were waiting for them after the show and decided to play some music in their dressing room when Nathen Maxwell (Flogging Molly's bass player) came in to hear us. He asked if we would come with him and play a few songs for his friends, and we said sure, thinking it would be only be a couple people.
I remember we were really nervous, but when the bassist from Flogging Molly says he wants to hear you play, you play! He ends up bringing us into a packed room in the back of the venue and screams, "Hey everyone, pay attention! Moonshine Heather is gonna play some songs for us!" and demanded we jump on top of the pool table and perform for everyone. Without hesitation, we did it! And ended up playing music with members of Flogging Molly and Skinny Lister till the crack of dawn. A pretty crazy night, indeed!