As I was making my way to Fresh Grocer (some food critics, myself included, possess the ability not only to assess a culinary masterpiece but also to prepare one), I came across Mizu Sushi Bar. Though inconspicuous when compared to its more flamboyant neighbor, Distrito, I recalled the name from an old friend's recommendation and decided to investigate.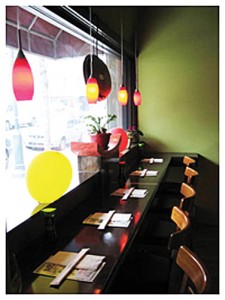 I had heard tell of affordable yet better-than-average sushi, and my appreciation for aquatic food forced my hand in the matter. Upon entering I discovered that the restaurant's interior is just as humble as its outer decor, though I have learned in my time as a wandering food connoisseur never to judge a sushi bar by its premises. Sure, Pod will immerse you in an atmosphere with your sushi, but hole-in-the-wall sushi bars can give the high-ends a run for their money when it comes to quality. Luckily, torrential rains outside left space in the restaurant, but I was shocked to find that about half the tables were still filled despite the weather. I cannot say for certain because this was my first time eating at Mizu, but I imagine that tables fill up fast there. I recommend you consider delivery before rushing off to eat in.
As Mizu is a lower-end sushi joint, the prices were incredibly reasonable, with the typical roll going for approximately $10 and the fancier fare for no higher than $16. Now, I will admit I performed a most heinous act at Mizu — I did not order sushi. My quandary was this: Mizu offers a Volcano Roll, a Magma Roll and the Unagi Don at $15.95 each. Because it didn't seem fair to assess one heat-based dish and not its brother, I came to the conclusion that the only fair and just dish to order would be the Unagi Don. Think what you will, but I consider myself a fair critic and intend to act with culinary integrity and honor.
For those interested, Unagi Don is a Japanese dish that consists of eel (unagi) served in a bowl (donburi) over rice and covered in a soy-based sauce. It's a pretty simple dish but is quite popular all the same. My Unagi Don came with avocado; what I believe to be daikon, which is a Japanese radish; and the traditional pickled ginger (gari). The sides all complemented the meal well, with the saikon adding a nice crunch without the sometimes earthy vegetable flavor. The pickled ginger served to cleanse the palate after bites and added that nice, tangy taste. The avocado was the best part of the dish, as it melted in my mouth and had a refreshing, buttery taste. Still, it is difficult to mess these up, and you could get sides of similar quality at most sushi bars.
Sadly, I give the eel a resounding "meh." Don't get me wrong; it tasted good but had very little substance and readily became mush. Although it had eel's oily, fishy flavor, there was not nearly enough sauce to spice it up. Overall it came off as slightly bland. The rice tasted great and wasn't too sticky, but rice, as with the sides, is pretty much standard quality across the board. Sometimes the sauce is used to cover the rice, and I think that would have a made a marked difference in this dish. The one redeeming quality about the Unagi Don was that it was filling. For not eating very much, I was completely satisfied with my portion of approximately five small eel filets and two cups of cooked rice.
So, in conclusion, Mizu is a nice little sushi bar situated at the edge of campus with decent prices. I will not pass judgment on its sushi, which I expect to be of average quality, but I would steer clear of its pricier entrees given that the Unagi Don was simply average.
Rating: 2.5/5