Maybe it was the thrashing bodies everywhere or the overpowering level of testosterone pumping through every person in attendance, but there was something so overwhelmingly American about The American Dream Tour featuring co-headliners Of Mice & Men and Bring Me The Horizon, with support from Issues and Northlane. Whatever it was, I've never wanted to shove someone while riding on a giant bald eagle more than the tour's sold-out show March 2 at the Electric Factory. It was awesome.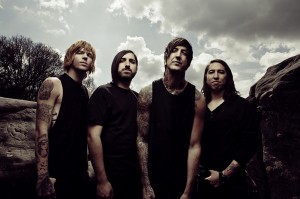 In all seriousness, this tour lineup is stacked and perfectly crafted, with each incredibly talented band complementing the others beautifully with their unique brands of metalcore music. Northlane kicked things off with a contemporary and true-to-form metal sound that heated up the crowd of concertgoers who were willing to take their chances with the impending snow that was forecasted for the evening. After Northlane came Issues, whose genre-blending metalcore and hip-hop sound has been playing on a loop in my head ever since. Their high energy and surprisingly rhythm and blues tinted musical style had me wanting to simultaneously mosh and groove to their entire set. To top it off, the members of Issues really knew how to engage a crowd, with vocalist Michael Bohn crowd surfing as he finished the last song. Both Northlane and Issues proved to be excellent opening choices because they elicited almost as much excitement and crowd participation as the night's headliners, but — of course — this night was all about Of Mice & Men and Bring Me The Horizon.
Opening with my personal favorite song, "Let Live," Of Mice & Men absolutely killed it on stage. Front man Austin Carlile literally looked like a god amongst men at times, commanding the audience with nothing but his signature primal and passionate growl. He barely had to say anything to whip the crowd into an exceptional frenzy, but when he did, his voice was powerful and overcome with raw emotions. With clean vocalist Aaron Pauley's angelically pure voice contrasting Carlile in delightful fashion, Of Mice & Men expertly delivered an incredible set, pulling from their sophomore album, "The Flood," and their latest release, "Restoring Force."
By the end of Of Mice & Men's set, I didn't think I even had enough energy for Bring Me The Horizon. By the end of the first song of the set, "Can You Feel My Heart?" however, I had completely forgotten about how physically spent I was after Of Mice & Men and I proceeded to lose my mind once again. Frontman Oliver Sykes' dominating stage presence demanded nothing less than everything that the audience had to give. Not to mention, Sykes' skill as a vocalist is much more impressive live. I never really thought about how difficult it must be to do both the clean vocals and the screamed vocals, but Sykes somehow blends and switches in between the two styles effortlessly. Closing the show with rebellious anthem "Antivist" and an encore performance of "Sleepwalking," Bring Me The Horizon left me even more in love with their music than I was at the start.
Making my way back to my residence hall, I was actually thankful for the freezing rain beginning to fall because I was an overexcited mess after this show. Boy, do I feel bad for anyone that misses The American Dream Tour because it was nothing short of mind blowing. All that is left for me to say about this incredible show is this: God bless America.