Meek Mill came flying onto the mainstream scene in 2011 after signing with Rick Ross' label, Maybach Music Group. Through the "Dreamchasers" mixtape series and MMG's compilation album series, "Self Made," Mill became one of the rising stars in the industry. After being pushed back two months from its initial release date, Mill's debut album, "Dreams and Nightmares," finally hit stores Oct. 30 under Warner Bros. Records.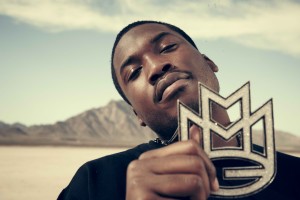 "Dreams and Nightmares" opens with the title track, which features production that matches both sides of the album's title. The first half of the track is backed by light keys as Mill raps about his "dreams" before the beat takes a vicious turn to the dark side as Mill's energy revs up for a fiery verse to get the album started with a bang.

The album continues with "In God We Trust," another strong track before shifting to the album's latest single, "Young & Gettin' It," featuring Kirko Bangz. The biggest criticism of this album comes with the choice of vocal effects on Mill's voice throughout. Most of these decisions likely occurred because his energy is so high, and he tends to shout on tracks. Sometimes that's incredibly effective and enjoyable, like on the second half of the intro. But other times, it has to be watered down. So on a song like "Young and Gettin' It," Mill's voice is autotuned, which makes the track tough to listen to despite having a catchy hook, solid verses and up-tempo production.

Despite an odd placement on the album, Mill delivers his best lyrical performance with "Traumatized," a powerful song about the effects that the deaths of his friends and father have had on his life. "When I find the n—- that killed my daddy know I'ma ride, hope you hear me I'ma kill you n—-, to let you know that I don't feel you n—-. You ripped my family apart and made my momma cry, so when I see you n—- it's gon' be a homicide." The power in his voice as he delivers these bars about revenge is one of the strongest points of the album despite the harsh nature.

The Rick Ross-assisted "Believe It" follows. Ross delivers a boastful, hysterical hook as he says, "I got that Justin Bieber, please believe it!" emphatically. This track leads into one of the album's standouts, "Maybach Curtains," which also features Ross, along with legendary rapper Nas and soul singer John Legend. "Feels like yesterday when all this was a dream, through these Maybach Curtains I see how life has changed," sings Legend over the soulful production, complete with live drums and horns, that sounds like it came from Ross' latest album, "God Forgives, I Don't."

The positive vibes continue with "Amen," featuring Drake, which was originally on Meek Mill's mixtape "Dreamchasers 2," but due to its incredible success over the summer, it also landed a spot on the album. "Ms. in my account and Ms. on the logo, so every time I spend a hundred K I scream YOLO," says Mill on the end of "Young Kings," keeping Drake's motto from 2011 relevant. This continues a streak of very good songs on this album before things suddenly come to a halt.

"Lay Up," featuring Trey Songz, Rick Ross and labelmate Wale, begins the streak of songs that are easy to skip. Despite the hype around "Tony Story, Pt. 2," the follow up to Pt. 1, which was featured on the first "Dreamchasers" mixtape, the filter on Meek's vocals gives this song a very odd feel. And then comes "Who You're Around" featuring Mary J. Blige, which also doesn't bring much to the table. "Polo & Shell Tops" brings the streak to an end, but the album ends in mediocre fashion with "Rich & Famous" featuring Louis V and "Real N—-s Come First."

Overall, Mill delivers a solid debut. Half of the songs on the album are very strong, enjoyable and energetic, while the other half were either ruined by the choice of vocal effect or boring production. It's easy to see that his boss, Rick Ross, heavily influenced Mill's debut album, as it sounds like a watered-down version of "God Forgives, I Don't." Despite a number of strong tracks that showed versatility that Meek hadn't displayed on his mixtapes, the overall body of work is not on the level of other top hip-hop albums this year.