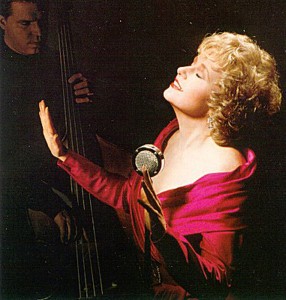 Tony-nominated Broadway star Sally Mayes gave Drexel students a sneak peek at her work in progress, "Southern Stories," capping off a three-day residency and master class Oct. 5. Not only is Mayes a talented actress and a wonderful singer, but she's also a storyteller, and she proved this in the Van Rensselaer ballroom in front of an audience mixed with students, faculty and members of the general public.
If you don't know Mayes, let me take a moment to introduce you to her. Mayes made her Broadway debut in April 1989 as Winona Shook in Cy Coleman's "Welcome To The Club." She is best known for her performance as Ilona Ritter in Jerry Bock's Roundabout Theatre revival of "She Loves Me." She has also appeared as Mrs. MacAfee in the television movie version of "Bye Bye Birdie." In between her roles on and off Broadway, Mayes appeared in episodes of "Sex and the City" and "Law and Order: Criminal Intent." In 2003 Mayes returned to Broadway as Aunt Corene in the musical "Urban Cowboy."
Mayes won a Theatre World Award for her performance in "Welcome to the Club." She has also received a Tony nomination for her performance in "She Loves Me." Along with several other nominations and awards, Mayes received a total of three Drama Desk Award nominations in the past 18 years.
The show opened up with Brian Moore, interim director of Drexel's entertainment and arts management program, introducing the audience to Mayes. She began her performance with "Once Upon A Time" off her album "The Story Hour." Throughout her performance, Mayes never failed to awe the audience. Her voice managed to send chills up my spine despite the troubles she was having fighting off bronchitis. Her performance was perfectly apportioned with just enough comedy and an equal amount of emotion.
Mayes performed a wide range of songs, including some new material from "Southern Stories." My personal favorite was Christine Lavin's "Shopping Cart of Love," where romance is found in a grocery store while having more than 10 items in the express lane. Mayes had fun performing Camille West's "Viagra in the Water," which explains what happens when 20,000 pounds of Viagra leaks into the town's water supply. If you ask me, this particular song also seemed to be a crowd favorite. Mayes closed the show with a song called "County Fair" from the on-and-off Broadway run of "Das Barbecu." It was then that Mayes received a well-deserved standing ovation. Not one person was left sitting.
"During her long career, Sally never had to wait on one table or serve one drink. That's how good she is," Moore said.
After seeing Mayes' performance, I've concluded that Moore's statement could not be more accurate.
This event was made possible with the generous support of the Kal and Lucille Rudman Institute for Entertainment Industry Studies.