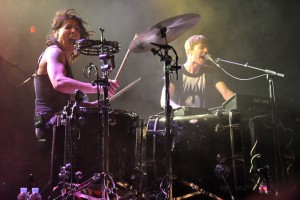 Everyone had the same reaction to the description of my Matt and Kim experience: "But it's a Matt and Kim concert!" Indie duo Matt and Kim put on a wild show Oct. 7 at the Electric Factory. Needless to say, this show was not your typical indie show but a combination of indie and electronic mania.
The band, which formed in 2005 in Brooklyn, consists of Matt Johnson (lead vocals and keyboard) and Kim Schifino (drums). Matt and Kim's previous albums include their debut self-titled album, "Grand" and "Sidewalks." They are best known for their song "Daylight," which was featured in a Bacardi commercial and the hit television series "Community."
The Lightning Tour 2012 is promoting their most recent album, "Lightning," which dropped Oct. 2. The day before the release of "Lightning," Matt and Kim released the entire track list on YouTube. During the show, Schifino said they did this so their fans could enjoy the album before it was officially released.
The show opened with indie-punk band Oberhofer, who also originated in Brooklyn. Oberhofer definitely pumped up the crowd, belting out screamo-esque songs with a hint of the indie feel that Matt and Kim fans are familiar with. I was pleasantly surprised by the unorthodox pairing of the electric guitar and the xylophone.
If one thing was true about this show, it's that it was jump or die. The second Matt and Kim came onstage, the crowd came alive. There were so many people jam-packed into the Electric Factory that everybody got to know their neighbors very well.
"Lightning" differed greatly from Matt and Kim's previous albums, but in a good way. They managed to hold on to their carefree, upbeat tempo, while mixing an insane electronic sound. The duo treated their audience to a roller coaster of a show.
They started the set off with "Tonight," from the new album. The couple definitely poured some Red Bull in their Wheaties that morning because they were as energetic as can be, channeling that energy to the crowd.
Both Johnson and Schifino have a certain onstage presence that makes their positive and fun-loving attitude contagious. However, Schifino won the enthusiasm award of the night. She was probably standing on her drum set more than sitting behind them and playing, all while displaying the biggest smile. Schifino also ran around the stage at one point, clanging cymbals together like a five-year-old. The audience could tell that Matt and Kim were genuinely having the time of their lives.
Might I add that Schifino can bust a move? At one point, she asked the audience in front to lift their hands (palms up), and she proceeded to stand on them and dance like nobody's watching. And while most people would look absolutely ridiculous, Schifino managed to look incredible.
During a concert, interaction with the audience is key, and Matt and Kim did just that times a million. At the start of the concert, the two threw hoards of flat balloons into the crowd, telling them to blow the balloons up and start bouncing them around. The mix of balloons and multicolored confetti created a visual show like no other, just adding to the party atmosphere.
Following "Tonight," Schifino recounted all of the obstacles the duo faced while on tour, including a venue roof cave-in that almost resulted in a canceled show, excessive lightning storms, and (drumroll please) hitting a deer with their tour bus on their way to Philadelphia. They definitely know how to make an entrance.
Another fan favorite was "Good Ol' Fashioned Nightmare" off of "Grand." Matt and Kim belted along with the audience, "Riding trains to the end of lines. Still we've got nothing but time. The skyline looks brighter tonight. Let's go smash out every light. Your left foot in front of your right." It's this carpe-diem attitude that attracts so many people to them. Matt and Kim will never go down without a fight.
Sandwiched between "Good Ol' Fashion Nightmare" and "Turn This Boat Around," also from "Grand," was an instrumental rendition of Sir Mix-A-Lot's "Jump On It." Matt and Kim did a few sporadic instrumental covers, resulting in an eclectic set list.
The song that stuck out the most was "Now" off of their latest album. "Now" is an addictive electronic tornado that will surge through your body. The audience went absolutely insane during this track, so much so that I guarantee there were injuries. The track "Let's Go," the lead single off of "Lightning" had the same effect on the crowd. Let's just say I got crushed by a very sweaty crowd surfer as Johnson sang, "I was up in my head for everything I've said. Caught a million words. They're all made with lead. I bought a megaphone you used inside your home. Forgot the batteries, but that's the old me."
The night ended with an encore performance of "Good For Great," off of "Sidewalks." Like all good things, this adrenaline rush of a show had to end but left so many people with memories and stories to tell.