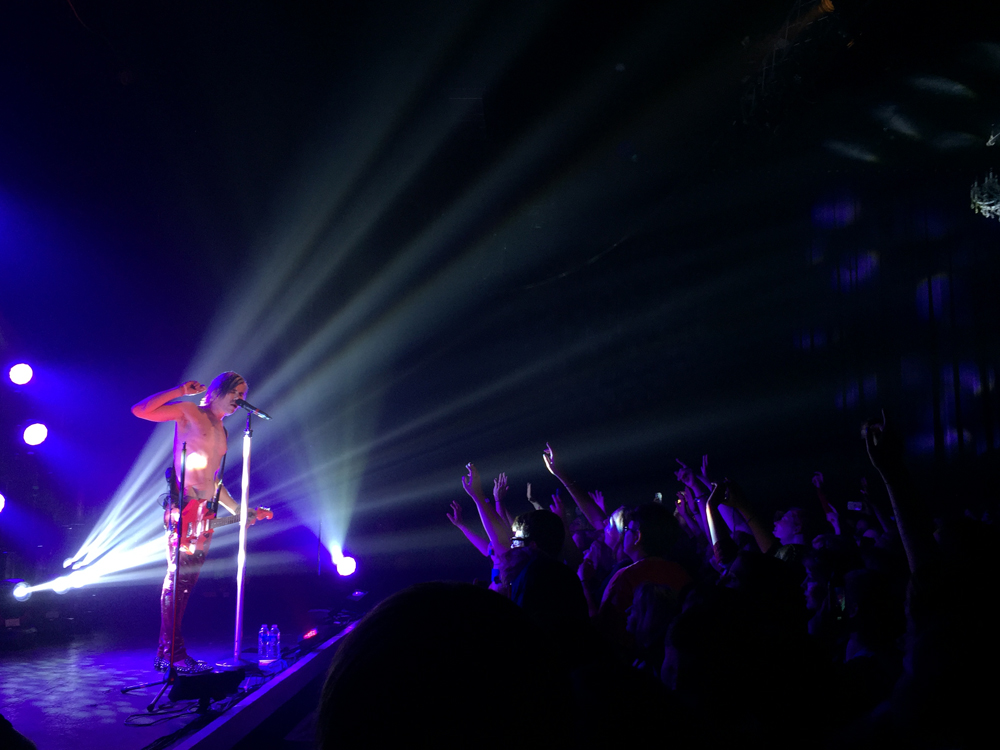 It seems presumptuous for a pop-punk band hailing from Vancouver, Canada, to call their latest tour "The Legend Continues," but in watching Marianas Trench pound out one anthem after another to legions of devoted fans in the packed Theatre of Living Arts, it almost feels like an understatement.
Opening for the band was 28-year-old Ivy Levan, a relatively new face who has described her past work as both "punk/rock" and "swamp/hop." Her latest single "Biscuit" sits comfortably in the club-ready dance music genre, and brought the room full of tweens and young adults to their feet impressively fast. Able to pull of a level of theatricality and raw skill that is rarely accomplished live, Levan made an ideal accompaniment for Marianas Trench. Enticed by catchy hooks and a soulful voice, many in attendance raced to the merch table as Levan belted out the last note, hoping to get a chance to meet the rising star.
One 15-minute break later and the audience had pushed as far as possible up to the barricades in front of the stage. As the lights turned down and the opening harmonies of "Ever After" filled the air, the low rumble of the audience turned into a deafening roar. With its swelling vocals and immense, rock-opera sound, the song made for a powerful opener and ideal platform for frontman Josh Ramsay to showcase his top-notch vocals. Dressed in low-hanging red snakeskin pants paired with a tophat and jacket combo to make the likes of Slash jealous, Ramsay was the picture of a pop-rock icon.
The high-octane performance didn't stop after the first song. The band rolled directly in to "All to Myself" and "Desperate Measures" before finally stopping to properly introduce themselves. Though Ramsay is clearly the main attraction, the entire band embodies charisma and is able to bounce jokes back and forth without missing a beat. "I'm trying my best here, I've got a belt on and everything! I just have narrow hips," Ramsay shouted into the crowd after a fan pointed out how far his pants have fallen in the course of the set.
With three studio albums and nearly 15 years of experience playing together under their belts, it would seem easy for Marianas Trench to have become set in their way. The reality of the situation is far from it: these veteran performers are eager to entertain using a variety of genres and songs across the band's history. "Pop 101," a mid-2014 single, was a strong crowd pleaser that showcased the full breadth of the band's sound: from folk to synth, Ramsay's tongue-in-cheek lyrics kept the crowd laughing and dancing.
In addition to playing expected hits such as "Fallout," "Truth or Dare," "Cross My Heart" and "Stutter," the audience was treated to three new songs from the band's upcoming album "Astoria."
The first, "This Means War," was par for the course of Marianas Trench songs. Catchy and danceable, the song kept the audience moving but didn't offer anything new. This was not the case with the second song unveiled, "Shut Up and Kiss Me," which featured a funk sound that kept bassist Mike Ayley busy while Ramsay riffed note after note.
The third and possibly best of the three was a slower ballad-style track called "While We're Young." The song opened with the four band members harmonizing at a level that would make even The Beach Boys jealous, and was one of the high points of the concert from a technical standpoint.
After the powerful closer "No Place Like Home," Ramsay's favorite song the band has produced, two encores were played. Toting a red maple-leaf shaped guitar with him back on stage, Ramsay performed an acoustic rendition of "Good to You" solo in front of an LED screen that showed scenes of the Canadian wilderness at night.
As a final goodbye, the full band came back out and performed a beautiful acapella cover of "And So It Goes" by Billy Joel. Drenched in sweat and smiling like a maniac, Ramsay and the band left the stage to the sounds of screaming and cheering that could only come from an audience that got so much more than it expected.
With the band members just hitting their early 30s and already having 15 years of playing experience together, Marianas Trench is bound for even more greatness as they become increasingly well known outside of Canada. Ramsay's penchant for writing hits as already been confirmed (summer hit "Call Me Maybe" was a song he produced with fellow Canadian performer Carly Rae Jepsen), so it seems to be only a matter of time until the band begins playing stadiums and much larger venues. For now, their talent and enthusiasm serves as quite the treat for smaller concert halls and will surely be appreciated for the rest of their tour.