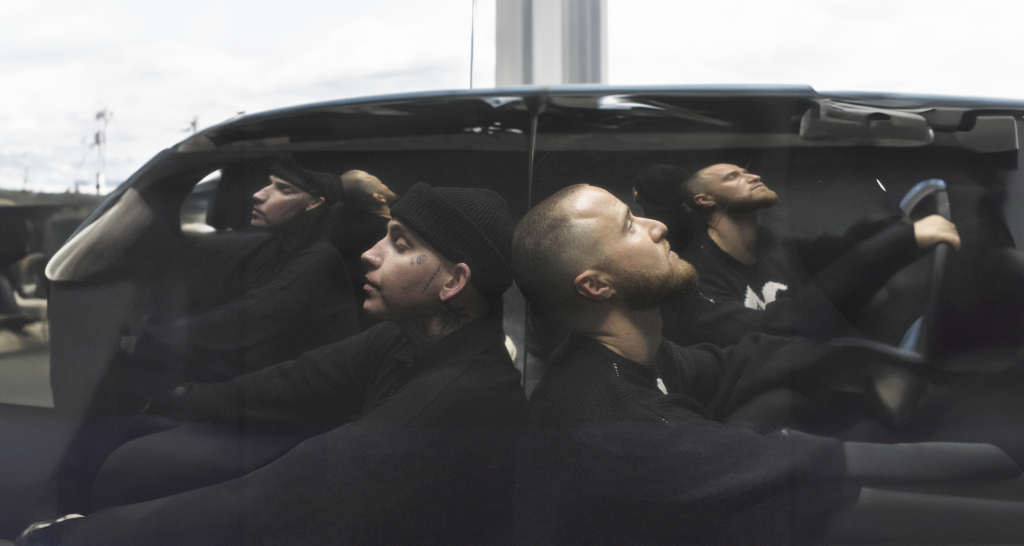 To the surprise of all fans, Blackbear and Mike Posner formally announced the comeback of their cult-classic duo project Mansionz on Oct. 18 via Instagram. Simply stating "m2 halloween," the duo would release their sophomore album "mansionz 2" on the morning of Oct. 31, marking their first and only new music since the fan-favorite "Mansionz" album in March 2017.
While neither Blackbear nor Posner have a reputation for making critically acclaimed or innovative music, Mansionz became their zany, devious side project with an odd image. The two sported green hair and made a mockery of themselves on the 2017 GRAMMY Awards red carpet. Their song "Dennis Rodman" proclaimed that they "did not care about who was watching" them and that they did their own thing. The genre-bending, boundaryless honesty of the original "Mansionz" album resonated with fans despite a surface level of goofiness and unfiltered lyricism. While fun at the time, a lot of the lyrics on "Mansionz" seem either lame, cringe or obnoxiously raunchy now.
After six years of denying a sequel, both pieces of Mansionz have grown immensely as people. Blackbear's career is in a similar place now to where Posner's was in 2017; a two-hit wonder who swiftly rose and fell from pop-stardom. With Posner finally finding self-worth through personal achievements outside of music and Blackbear starting a family and kicking his addictions, what in the world was going to be unleashed in the fifteen track, feature-less "mansionz 2?"
Before breaking down the actual music, the album's interludes must be addressed. The disgustingly banal and unfunny intro, outro and "Mansionz Ranch" are painful to listen to, and severely hurt the artistic integrity of the project. They hint at an overall insecurity that made the artists feel the need to bookend their project with jokes and proof that "this is not a serious album," despite going on to deliver extremely serious and heartfelt performances. It is a horrible look to begin the album with that — besides invalidating their own work — is not funny at all.
The album starts out with an abundance of anger, expressed through loud shouting, aggressive instrumentals and lifestyle flexing. "Optionz" is surprisingly believable as a leadoff track, leaning into the hip-hop side that both artists have played with before. Blackbear delivers solid hook melodies throughout "Annihilate / Third Eye," however it becomes obvious early on that the lyrics are going to be the downfall of this project. No clearer is this than on the following track "FYSU," which stands for "f*ck your shit up." The duo gets incredibly mad and proceeds to embarrass themselves with a horribly corny rage anthem about Hollywood and… just people in general. The first Mansionz project had the same project, with many of the lyrics coming off as cringey, lame or cliche. Even in their solo work, both artists have struggled with this. That being said, listeners should at least be able to see this coming and possibly see past it.
The much-needed break from the anger-induced first half of "mansionz 2" comes with "High Again," a simple guitar-based song that only features vocals from Blackbear. It is the first vulnerable glimpse into his battles with drug use and recent sobriety on the album, a topic and feeling that both artists delve into during the later tracks. He revisits this topic on "Mt. Everest," which is more of a two-minute spoken poem than song; paralleling the longer "i'm thinking about horses" from Posner on the original "Mansionz." Posner actually did climb Mt. Everest in May 2021, and getting sober from pills was Blackbear's climb.
Jammed within this transitional period is the divisive "Ride Die Eat Sleep F*ck Kill." The five-and-a-half-minute saga is reminiscent of their earlier track "A Million Miles," with a building front half that breaks down to an extended outro driven by Posner. The song's structure and production do a lot to promote it, but of course the cliche "ride and die together" chorus from Blackbear and the atrocious opening line "first blowjob at the age of fifteen / ever since then I done been unleashed" from Posner on the outro are simply inexcusable. It is an oddly defining track for the album, as it contains some of the best and worst characteristics of the duo's new material.
While the latter half of "mansionz 2" is far more emotional and serious than the opening half, it does not necessarily make it much better. This is mostly to blame on Posner, who has a tendency to oversell and over-dramatize serious songs, whereas Blackbear usually takes an opposite approach with subtle, barebones melancholy like the earlier track "High Again." Blackbear elaborates on his marriage and children, and Posner seems to have finally escaped depression and failure by achieving some rather insane natural feats, such as walking across the USA and climbing Mt. Everest. By the end of the project, it is clear that both artists have reached a better mental place since "Mansionz."
Frankly, this album is impossible to listen to in public due to the sheer embarrassment inflicted by (mostly) Posner and Blackbear throughout. The problem is that when they attempt a more serious approach, there is a high likelihood of a generic, cheesy outcome like "Stay Alive," which has the worst production on the project. The album is in a constant battle to be taken seriously, especially since there are very potent and deep topics discussed between the outlandish lyrics and interludes. It also does not help that the duo lost most of their pop sensibility, which allowed the catchier tracks from their original project such as "Wicked" and "Gorgeous" to be taken seriously as lasting hits. For a first time Mansionz listener… good luck. The first project is far more digestible and dignified; start there. It may take a few listens to see past the glaring atrocities, but there is some worth to this album, especially as a fan or follower of Posner, Blackbear or the Mansionz duo.
Best tracks: Optionz, High Again, Mt. Everest, Ride Die Eat Sleep F*ck Kill
Worst tracks: FYSU, Stay Alive, all interludes