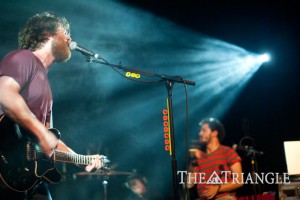 "We might as well get the new shit out of the way so we can get to what you all came to see," frontman Andy Hull stated bluntly. Knowing what the audience wants from a performance is key in putting on a successful show, and Atlanta group Manchester Orchestra demonstrated that they know what to deliver with their sold out show at the TLA May 14.
While Hull's declaration about new and old songs was meant to be taken with a little bit of humor, it is clear that fans enjoy hearing more of the songs they know and love than new songs they have yet to grow accustomed to. Different audiences will react differently to a performance, and Manchester Orchestra recognizes that and works with it in regards to their set list, as bassist Jonathan Corley revealed.
"It all kind of depends on what's going on in that room. We do have some sorts of structured lists … sometimes we'll follow the order and sometimes bounce between different records or play new things early on … It really depends on the night and the crowd, you know?" Corley explained.
Their show this month, like many of their performances in Philly in the past, was brimming with energy. The band's ability to read the crowd is part of the reason their performances stay fresh and electric. The members are still young, but they have learned a lot since forming in 2005 and it shows.
The other major part of their success is, of course, the music. Manchester Orchestra blends rock of the past with their own sonic experiments. Added in are their honest and often deeply personal lyrics. Corley described the lyrics on their new album "Simple Math" as being "very close to home." Hull, for example, touched on topics such as his marriage in an open matter.
In a music industry sometimes overflowing with hollow songs, it is always refreshing to hear heartfelt lyrics. While honesty was always present in their music, "Simple Math" seems more personal and with new strides musically the band is heading in a positive direction.
"We started with about 27 songs for this record and kind of kicked it down to the 10 that are on the record … I think [the writing process has] definitely evolved," Corley explained. "[This album] opens up a lot of doors sonically for us to do a lot more in the future."
While Manchester Orchestra has been working hard to move the band's music forward, they make sure to help other bands out, too. According to Corley they learned that it is important to take "care of other people the way others have helped [them] in the past." The group brought another Atlanta band, O'Brother, out on tour with them to help teach the small band a thing or two.
"When we first started a lot of people took care of us on the road," Corley said. The band understands the importance of aiding other bands who are passionate about their music to get them heard. This solidarity between artists is how bands can continue to tour and how good music continues to be made.
There is also the power of the Internet to keep bands interconnected, as well as the fans. Manchester Orchestra takes full advantage of this by keeping up with Facebook and Twitter as well putting out a podcast on YouTube.
"It's easier now to reach out to fans and communicate back and forth than I think it ever has been in the past and I think our band absolutely appreciates that," Corley said.
Manchester Orchestra is shaping up to be an important part of the indie rock world. They seem to have a firm grasp on what makes a band great and they are making sure to let other bands know what that formula is, too.
Unlike other indie bands, they actually rock out. Their performances have a spark to them. Their songs may be serious, but they are proving that their shows do not have to be calm and serious, too. They have fun on stage and therefore the audience does as well.
"We love this city … from the North Star to the TLA," Hull announced to the crowd. As evidenced by the crowd's passionate response to the set, Philadelphia definitely loves them, too. The City of Brotherly Love can be a tough crowd to please, but Manchester Orchestra has found a way to win them over. The band's wisdom and hard work will assure that their fanbase will keep growing.