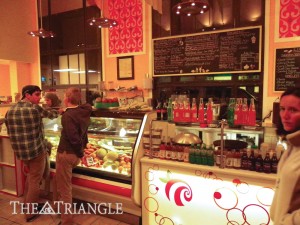 Before regaling you with tales of culinary adventure, let me make something perfectly clear: judging food is difficult. Now, that may sound as if I'm being a braggart considering that I am, in fact, about to judge food (well), but that is simply not the case. All I wish to communicate is that for one to truly know whether or not he or she will enjoy a dish, one must actually taste it. Stands to reason, right? But it's not that simple. Restaurants obviously aggrandize their food or premises with flattering pictures and overly ornate descriptions. I'll admit, even I find myself sometimes painting a picture that may slightly exaggerate the quality of a dish if the mood strikes me (though my overstatements are warranted under creative license; restaurants are simply being manipulative). But fear not, reader, for there is one dependable gauge of a restaurant, and that is the customer base.
No matter when I pass by, be it morning, noon or night, Manakeesh is always busy. All types tend to frequent Manakeesh; families, college students, older couples and working-class types all congregate there on a daily basis. That, coupled with my unflagging desire to expand and refine my exquisite palate, is what piqued my interest in Manakeesh.
Manakeesh is a Lebanese bakery-cafe fusion restaurant at 45th and Walnut streets that contains a smoothie and breakfast bar named Bliss. With that kind of identity confusion in both restaurants, I was pleasantly surprised to find that the menu flows nicely. It has a nice sort of diner feel to it because of the somewhat generous selection of entrees and desserts in one "cafe."
Though in no way a large restaurant, Manakeesh has a fair-sized dining room (I would estimate the maximum capacity at around 40 seated; again, it is a bakery-cafe), and in spite of the small size and heavy order load, Manakeesh gets orders out quickly, so I didn't experience too much delay in receiving my meal.
Truthfully, Manakeesh does feel like a cafe. Even though they serve full-sized wraps, falafel and shawarma along with desserts, you sort of get the feeling that you're in a coffee bar. The decor isn't contemporary but instead has a subtle exotic feel to it from the subdued desert colors and tapestry on the wall. Adding to the coffeehouse feel is the cluster of laptop-ridden workers along the edge of the dining area, taking advantage of Manakeesh's free Wi-Fi. Altogether, it's an interesting place to have a wrap or meal because although you can easily order something that will leave you satiated, you never really get the sense that Manakeesh is a restaurant. I consider this Manakeesh's strength; it can easily serve as a place to grab a quick bite and relax or a place to sit down with a group of friends and enjoy dinner.
Like I mentioned before, Manakeesh offers dishes such as falafel, shawarma and wraps along with interesting creations such as a cheesesteak-style shawarma. They advertise something known as a rocket (medium/large feeds 3-4/6-7), but sadly, when I inquired about what a rocket was, the cashier informed me that they weren't serving the rocket at that time. Based on the lack of a rocket on their advertisement, I'm led to believe that they no longer serve the rocket at all. Disappointed, I instead opted for the chicken shawarma wrap, but my disappointment didn't last long. The chicken shawarma was juicy and tender and gave the wrap a good bit of substance. The vegetables, which included beets and tomato, weren't particularly flavorful but provided a nice, refreshing crunch in every bite. The white sauce made the wrap incredibly creamy but with only a slight pang of garlic and mayonnaise. The best part, though, was the lavash bread used to hold the ingredients. Durable and hearty, yet easily torn, the bread tasted freshly baked and really brought the wrap together.
After the wrap, I sampled the shamiyyat and the baklava, which are both sort of bite-sized cookies. The shamiyyat was pretty good with flaky (though surprisingly dense) pastry surrounding a moist mass of date. Not a bad choice of dessert.
However, the baklava — words cannot describe it. But for the sake of my reputation, I'll try anyway. With layers of flaky and sweet pastry on top of a syrupy nut base, the baklava was amazing. Each bite tore slowly away from the whole but held on for just a moment with the succulent syrup holding the treat together.
The only downfall was the size: the Baklava is a tad bit smaller than most generic cookies and can get quite pricey ($1.50 for one, $3.65 for three, etc.). I would suggest bringing friends and splitting a tray just because of how good these bite-sized treats are.
Overall, Manakeesh is a great cafe that easily doubles for a restaurant, and I suggest you try it out if you're ever in the mood for Lebanese fare.
After going there for my meal, I can say that the mood has hit me more often than ever before.
4/5