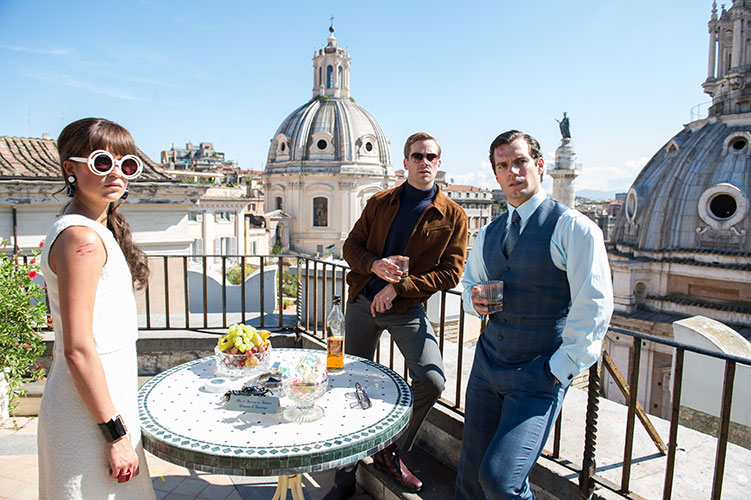 As it stands, "The Man From U.N.C.L.E" will become one of the most overlooked movies of the year. Directed by Guy Ritchie, most widely known for his work with Robert Downey Jr. on the "Sherlock Holmes" franchise, "The Man From U.N.C.L.E" is a fresh take on a 1960s TV program of the same name. This film above all is charming, best seen through its clever writing. Couple that with it being well timed and acted out. Those aspects of the film give credit to its director as well as the film's three co-stars: Henry Cavill, Armie Hammer and Alicia Vikander.
The movie begins by introducing us to Henry Cavill's Napoleon Solo, who has been tasked with bringing in Gaby Teller (Alicia Vikander), the daughter of a Nazi scientist living in East Germany. After locating her, Solo, the suave American spy, soon realizes they are being followed and so begins their race west. Their pursuer is Illya Kuryakin, played by Armie Hammer, a stoic and serious spy from the Union of Soviet Socialist Republics. After an intense chase scene infused with wit and action on both sides, Solo and Gabby narrowly escape. The next day, Solo is informed that the Soviets and the Americans must team up for a one-time mission — to find a rogue nuclear warhead created by Gaby's father — and is introduced to his new partner, none other than Illya.
The operation begins as Gaby and Illya must act as a newly engaged couple to meet her uncle and discover the location of her father, while Solo infiltrates the organization through other means. The trio has their ups and downs, but everything seems to follow the plan until a string of unexpected events reveals the terrible truth of their mission. While the plot was not exactly new or exciting, the movie took advantage of cast chemistry to revive a classic genre and modernize it. As previously mentioned, Ritchie is responsible for bringing us the two most recent and highly supported "Sherlock" films, adding to his extensive reputation of creating interesting and believable relationships between characters. With "The Man From U.N.C.L.E," he accents the dynamics of the three characters and their presence with one another, making you miss them when part of the group is missing and savor the scenes when all three are on screen.
But the strength of the director relies heavily on the film's cast which was a strong success for the agents of U.N.C.L.E. All three co-stars felt fleshed out and realistic. Cavill as Napoleon Solo, a thief turned spy, plays a witty womanizer. Cavill, best known as Superman in "Man of Steel" (although he was criticized for being bland in the role) came alive on screen as the Casanova of the '60s.
This all juxtaposed against Hammer's Illya. Hammer has fallen on tough times after the huge misfire of "The Lone Ranger," but here his rather static emotional presence as an actor adds a sense of charm and vulnerability to his serious Soviet stereotype.
Vikander's role as Gaby was written and acted excellently; she kept the movie light without being relegated embodying to the damsel in distress trope. It would have been a shame to use her as just a plot device for a love story. Writing her as a strong independent woman (included in most Ritchie films) helped to modernize this retro film.
The writing team did, however, do one thing to keep with the '60s feel of this movie by keeping the humor clean. Not that the movie was averse to more adult references, it just did so with tact, through inference and well delivered situational humor, again showing the power of how great comical writing can carry a storyline that's been played out for decades.
However, this movie still packs as much action and adventure as it does comedy. At times, the fighting sequences were too busy to follow, as constant quick cuts tended to make it difficult to watch any action scene. Even when the camera held onto a shot for more than a second, it would be constantly jostling around. This may have been the direction Ritchie wanted, or perhaps the choreography for the fights just wasn't done properly and was intentionally made blurry in the editing room.
On the other side of the spectrum, the movie's chase scenes shone with a clear confidence behind them, lending a great experience to open, as well as close out, the movie. The first chase involved fast driving through the dark and narrow streets of East Germany, taking advantage of the period's smaller cars, using them to dart and slide around and, comically, hide from one another. The scene was fast-paced with a light intensity, which set a solid tone for the rest of the movie until the finale of the second chase, a long off-road battle with beautiful sweeping shots to showcase the magnitude of the situation and the characters' desperation, while still keeping the undertone of humor.
This movie should be described as another level of the buddy film, highlighting not two but three unlikely friends teaming up to overcome their differences as well as a common enemy. Sadly, Cavill, Hammer and Vikander are not large box office draws and "The Man From U.N.C.L.E" has opened to a small but generally positive response. The movie closed with a set up for a sequel and we can only hope that it survives to production.