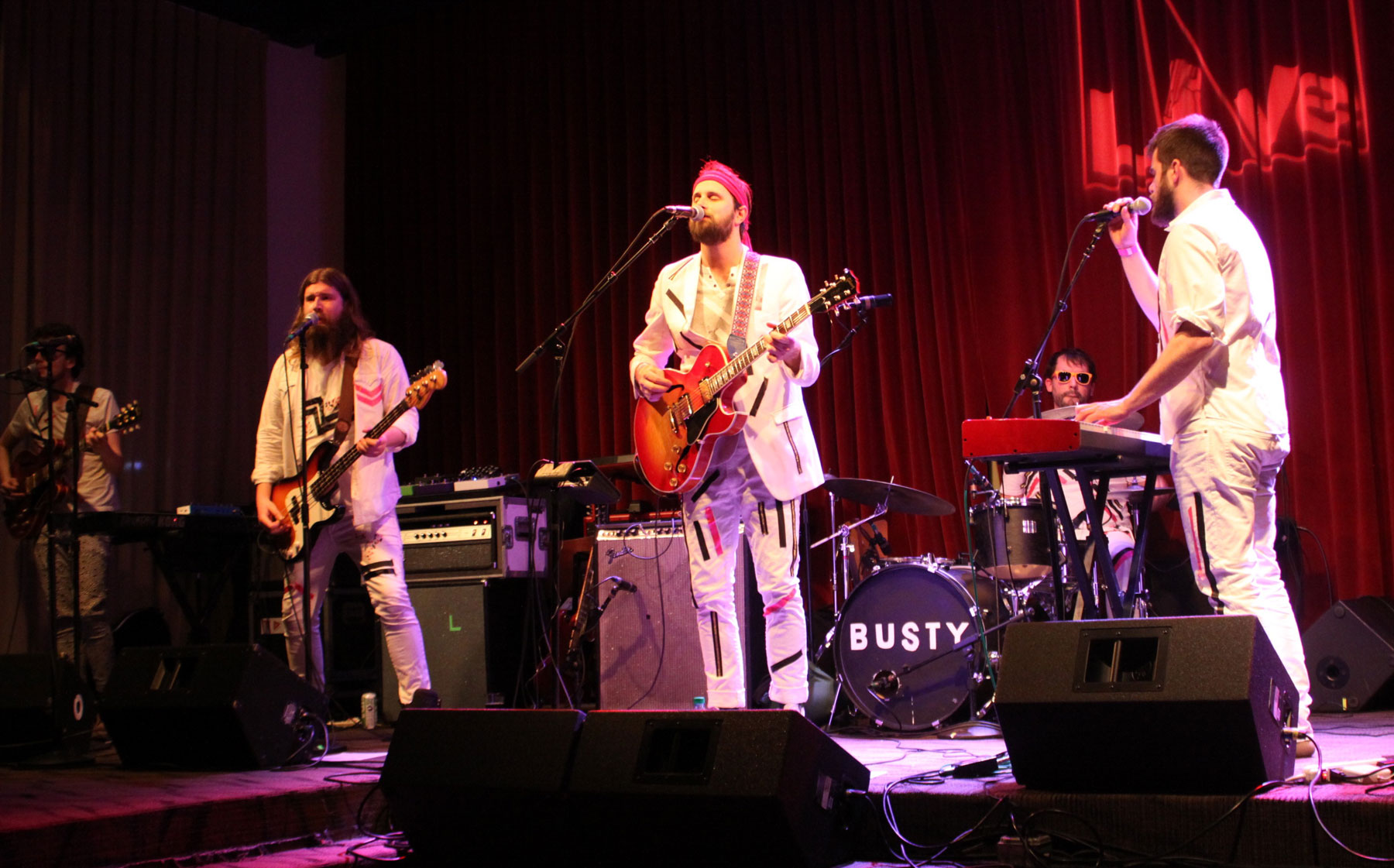 With all the great funk music coming out, it's refreshing when a band can capture all the groove of great funk while creating a truly unique sound. Busty and the Bass, a nine-piece funk band from Montreal, showed Philadelphia that they can do exactly that while headlining at World Cafe Live on Feb. 8.
The group, which has already put out three releases, takes a funky core sound and layers on styles ranging from rap to electronic dance, giving each song a unique feel. And throughout each set, it proved that it can tackle each style on it's own, too.
The first opener for Busty was Madaila, an upbeat, Vermont-based rock group. They brought falsetto-driven vocals and a myriad of danceable songs to the first set of the night.
During a few songs, most notably "Secrets," the five-piece band dropped the vocals and went into a trance-like breakdown, producing a wall-of-sound, hectic jam session of epic proportions. As they played a structured song, they would devolve into a raw, psychedelic outro that seemed to say, "Grab my hand, we're going somewhere you've not been before." It was amazing.
It's a credit to the band that, despite their short 35-minute set, they allowed themselves plenty of time to sit on solos and tease out as much energy as they could before moving on. I made sure to grab a sticker from the merch stand before leaving.
The second opener was an rhythm and blues vocalist named Michael Blume and his backing band. Blume juxtaposed songs about his personal experiences as a gay man with political commentary. His song "How High" detailed his thoughts on learning the dynamics of a relationship, as his homosexuality didn't expose him to a traditional relationship structure.
The general sound was very similar to that of Frank Ocean, with keys and vocals driving the performance.
It seemed like the commentary in his lyrics and between songs was an integral part of his music and his live persona. At one point he commented on the result of the presidential election, saying, "One step we can take as we pursue justice is to be there for each other and say, 'I got you.'"
He then started playing a song titled "I Got You."
He did a great job flowing from between-song commentary and the songs themselves.
When looking at the performance from a purely sound point of view, Blume didn't bring anything particularly new to the table, and there were only a few musical ideas during the set that turned my head. These moments were either due to the good connection between Blume and the rhythm section or Blume's ability to go on impressive vocal runs.
However, there's still value in a performance where the sound isn't particularly fresh or impressive but engages the crowd and conveys an interesting message. Blume did this.
Finally, Busty and the Bass graced the stage at around 10 p.m. They started off with two tunes from their most recent EP, "Lift" "Miss Judge" and "Stages (Don't Know Why)" included both traditional and rap vocals, gave the crowd a good introduction to the band's sound.
After no time at all, they began to play songs from their upcoming album. In total, they ended up playing four new songs: the recently released single "Up Top," the unreleased "Melodies and Memories" and two additional songs they didn't mention the names of. They were all fun and funky, which is what Busty does best.
Busty's rapper, Evan Crofton, shone in several songs, including "Say Who," which highlighted his consistent flow. During the set, his delivery came across as fiery, which is a stark contrast to the laid back delivery employed in their studio work. The band backed him up with a complex arrangement that, during the tune, never took the leadership role from Crofton.
The horn section did everything right. The two-trumpet, one-trombone combination brought a back-of-beat style to new heights. The entire band did a phenomenal job at this, giving them a great in-the-pocket feel. They could play a line loud and strong, but the stylistic consistency still made it laid back.
Busty wasn't afraid to play covers either. They played an entirely unexpected medley of songs from Anderson Paak's 2016 album, "Malibu," including "The Season / Carry Me," "Am I Wrong" and "Heart Don't Stand a Chance." For an encore, they played a familiar cover of Macy Gray's "I Try," which was also included on "Lift.