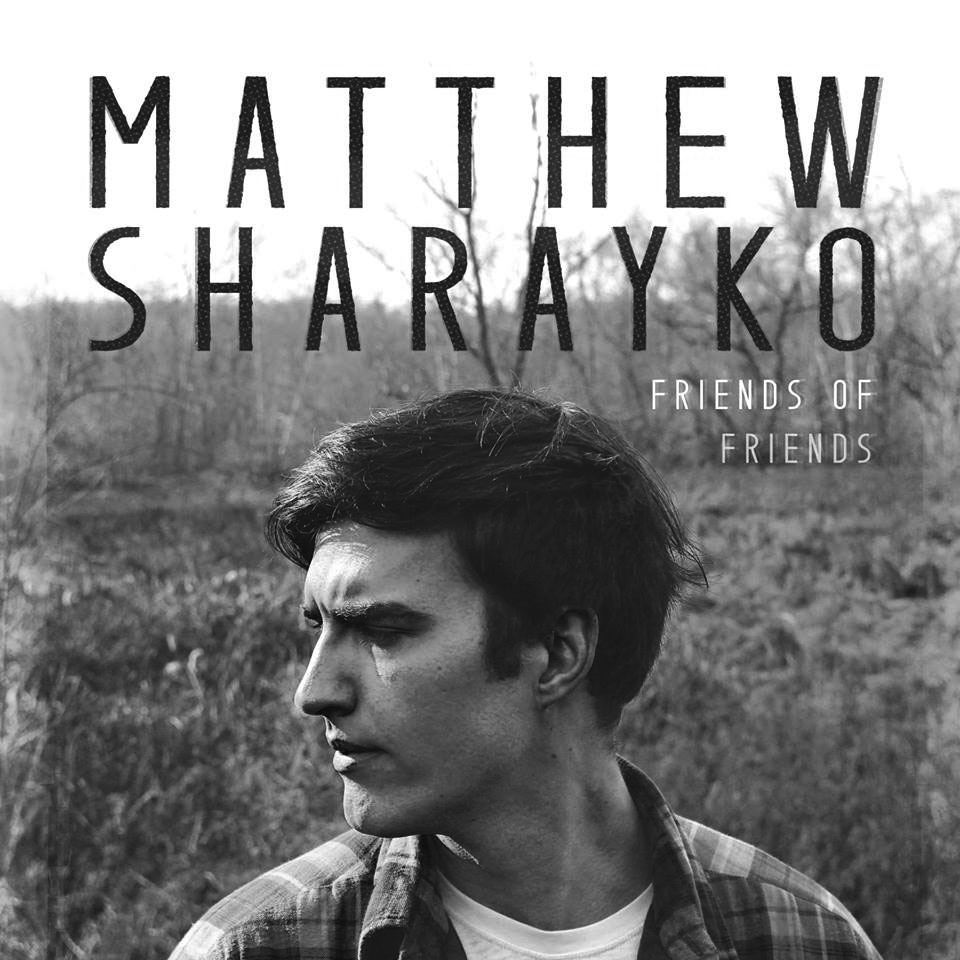 If you could take Thom Yorke's voice, Passenger's sound and Radical Face's lyrics, you would end up with Matt Sharayko. He's an up-and-coming alternative folk singer-songwriter from Harleysville, Pennsylvania, with his first LP, "Friends of Friends," dropping Jan. 22 on Bandcamp. Sharayko is currently unsigned and is working with the Mad Dragon Music Group for promotions and marketing. His tracks "Stage Fright" and "Cinnamon Girl" have both already been released as singles on his Bandcamp page. Sharayko's full length debut offers a wide range of music — from beautifully arranged tracks featuring violin and acoustic bass to full band grunge grooves.
The first track "Baby" is reminiscent of an early Radiohead, with Sharayko crooning about a lost love over a solid rock drum beat and crunchy arpeggiated electric guitar. In places the song is artfully sparse, leaving lots of room for the chorus to really explode. Sharayko also features in some small guitar solos, providing a small taste of the massive talent he has to offer.
Next up is "Cinnamon Girl," arguably the best track on the LP. This intricate ballad features a gorgeous violin solo, skillful bass playing and tastefully simple acoustic guitar playing. Sharayko's raspy voice alone is left to soar — the complementary melodies provided by the violinist leave no need for vocal harmonies. The arrangement of the guitar, violin and bass produce a phenomenal musicality, leaving no way to justly describe the listening experience.
Another track that is worth mentioning is "Something to Say." This bluegrass tune is a standout on the LP because of its considerably noticeable country influence. The violinist from "Cinnamon Girl" is featured again, though this time as a fiddler rather than a classical soloist. Sharayko's guitar playing is phenomenal, again displaying his diverse array of techniques and styles. The tone of his voice is also quite different in this song compared to the rest of the album. He clearly tries a more appropriately country tone here, but goes about it in his own way. Throughout the record his diction is a little lazy and laid back, his pitches and vocal quality are extremely intentional and supported by some audibly obvious vocal training.
The final track of the album"The Captain" manages to differentiate itself from the rest since it is the only song that tells a story. Because of this, it acts as a very refreshing resolution to the album. From a production perspective, it is worth mentioning that the breathing from the upright bassist was retained in the final mix. Generally, such elements from the recordings are removed from the track because these are not received well  by mainstream audiences. However, for Sharayko's sound it fits right in, highlighting the fact that he and his band are actively interacting musically — with both each other and the listener. Despite being Sharayko's debut album, "Friends of Friends" is a must-listen for fans of a wide range of musical styles, and one can safely compare him to the likes of Ed Sheeran, Passenger, Radiohead, the Dixie Chicks and Bright Eyes.