The Mac Mart has rightfully proclaimed itself "the first mac 'n' cheese food truck in Philadelphia" and is one of the most prominent on 33rd Street. It is easy to spot due to its vibrant pink exterior and a delicious variety of mac 'n' cheese-based items to fulfill anyone's comfort-food needs. Marti Lieberman, the Drexel alumnus who is behind the creation of the truck, hopes it will be where everyone craves to eat on his or her cheat days. She also explained her hopes to expand the truck into other cities and to be recognized nationally one day. Contrary to what one may think, Lieberman began her journey into the food truck world not as a chef looking to sell a family recipe but as a worker from Philadelphia's fashion industry. Her dream job in the fashion world didn't meet expectations, so she was fresh out of college and fresh out of career options.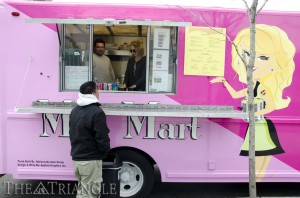 She found her true calling at her own graduation party, she explained. "My mom told me to whip something fun up for the younger guests. Being that I always loved to cook and always had a knack for sauces and pastas, I mixed a few ingredients together, perfected it, and have been making that same recipe for family and friends ever since!" With the support of family and friends, she went into business to spread the delicious food through the city, one bowl at a time.
The truck offers many established combinations of toppings as well as the opportunity for customers to create their own signature combination using a variety of toppings, which range from chicken Parmesan to ranch dressing. Customers can expect moderate prices for their dishes, which can range from $5 to over $10, depending on which gourmet option in which they choose to indulge. My personal favorite and, according to Lieberman, a bestseller, is the "BBQ-in-Bowl," which is made up of the original macaroni, delicious smoky barbeque chicken, homemade cornbread crumble, and a drizzle of barbecue sauce to top it off. The combination is a deliciously cheesy and fulfilling bowl that will have you raving to your friends and family.
Mac Mart not only provides delicious food but also takes a very short amount of time to assemble the bowls. Although some food trucks on campus may take more than 10 minutes to cook and create the platter, Mac Mart efficiently creates every masterpiece in as little as three minutes. The truck provides excellent service, and Lieberman always has an inviting and friendly attitude, which only improves the experience. Overall she has created a delicious and unique rendition of a common kitchen dish that will delight all box-loving mac 'n' cheese eaters and will convert those who don't appreciate the cheesy pastime.