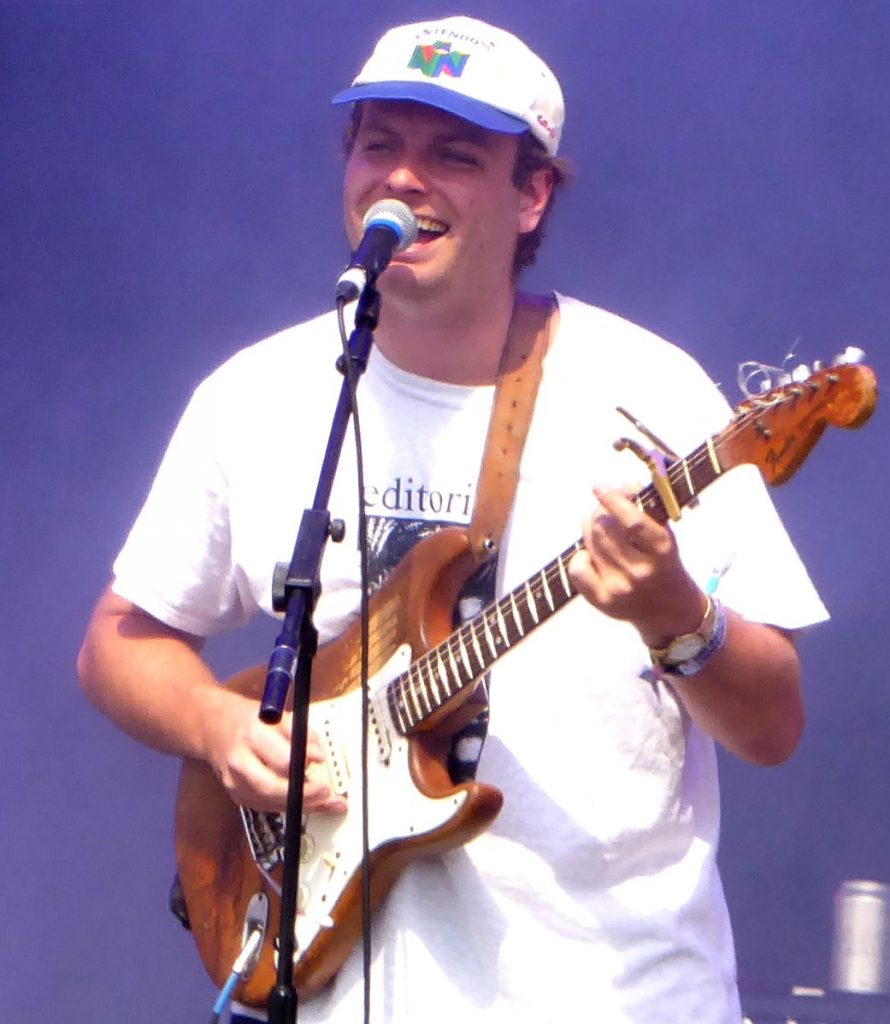 Alternative pop-rock icon Mac DeMarco has kicked off 2023 with his new album "Five Easy Hot Dogs," which was published on all platforms on Jan. 20. This release marks his first full-length album since 2019's "Here Comes The Cowboy," ending the longest hiatus of his career.
The album was announced on Jan. 4 via blog post to DeMarco's website along with details of the album's creation and concept and a photo of DeMarco sporting a Mac's Record Label hat. The post reveals that this album was written and recorded during a 2022 road trip DeMarco embarked on to try out a more free-flowing album process and leave the planned studio sessions behind. Along with being more casually produced than his past projects, the album is completely instrumental.
"All of the songs on 'Five Easy Hot Dogs' were recorded and mixed in the corresponding city from each song title, and the tracklisting reflects the chronological order in which the songs were produced," DeMarco's website mentions.
In an iTunes Review writeup DeMarco gives a more in-depth explanation of "Hot Dogs," stating that the "only rule" of the trip was that he "wouldn't come home to Los Angeles until he'd finished" recording the album. The trip began on Jan. 15, 2022 in California after a show, then proceeded north through western Canada, southeast to Chicago and on to New York, where the album ends.
The first two tracks establish the tone of the album with minimal instrumentation; drum machine percussion, acoustic guitar, synthesized keys and electric bass. "Gualala 2" is a high point of the album, offering beautiful and memorable low synth melodies over darker guitar chords and soft hand drumming. It is a somber start to the trip that captures a gut feeling of worry and wonder for what is to come. DeMarco described this section of the trip as a "very beautiful chunk of earth" as well as "rainy."
By Crescent City and Portland, DeMarco's writing reflects a bit more comfort in his trip. The track "Portland" sounds the most vocal-ready with a steady drum groove, a catchy bass line and soft padding synth chords. Between the acoustic guitar picking, synth wind instruments and subtle bell chimes, "Portland 2" is the most rhythmically detailed track on the album. These qualities give it an adventurous tone as the journey continues out of the U.S.A.
"Victoria" stumbles hard as the first Canadian song on the album, and results in a muddy mess of keys, guitar and bass. The drawn-out synth chords become sour as they waver within the mix. On iTunes, DeMarco describes his time in Victoria as frustrated and lonely since his old friends there happened to be out of town during his visit. These feelings do translate through the music — albeit very unpleasantly to the ear.
The Vancouver segment begins with a sunny, uplifting track that is reminiscent of earlier guitar work from songs like "I've Been Waiting for Her" and "Pepperoni Playboy," minus the dreamy effects. It is an emotional pivot from the first half of the album, but "Vancouver 2" diverges again musically. The 6/8 counting and darker chord changes feel like calm nighttime in contrast to "Vancouver"'s bright cruising. "Vancouver 3" caps the sessions off with a slower and repetitive progression that does not offer anything new stylistically, which reflects the feeling of needing to leave the city. DeMarco states in his iTunes Review that he lived in Vancouver for two years after he turned 18, giving context to the similar sounds accomplished there.
"Edmonton" features one of the most catchy "choruses" on the album and has standalone value, something that many of the songs of this project struggle with. In his journey from Vancouver to Edmonton, Demarco traversed the top of the Rocky Mountain range. He recalls recording those two tracks in his "bedroom from high school," and that he does not visit Edmonton very often. The complex thoughts that come with returning home can be felt in "Edmonton 2" along with the stress of the long journey ahead. 
DeMarco unlocked some of his old twang on guitar for "Chicago," which was apparently a fantastic time with friends. This song will excite the old fans who have received less and less of this style since his "This Old Dog" album. The melancholy, jazzy tones of "Chicago 2" feel more appropriate to close the album than "Rockaway," and staying true to the chronological tracklist leaves a bit of an anticlimax at the end. It is a strong track with a notable synth melody, but it feels odd to end on.
This album undoubtedly stands better as a complete product than on shuffle or as stand alone tracks. While not a new concept for a musical project, the context of the road trip makes up for the lack of lyrical storytelling since the emotions are still available through the tones of each track.
Sonically "Hot Dogs" is very one-note, but with context it is obvious why. If this bothers you as a listener, you would have given up on DeMarco back when "Salad Days" released in 2014; it is a common attribute of his projects. This project will please fans of 2019's "Here Comes the Cowboy," especially its two demo tapes from 2020.
With the hiatus of DeMarco's output it is easy to be disappointed by a minimal, instrumental work like this, but it is clear that "Hot Dogs" is not a typical album. Even without knowledge of the album's theme, many of the compositions here are beautiful and have DeMarco's fingerprints all over them. He offered us his audio diary full of experiences, and it feels personal. It would not be surprising if a studio album was given to us as well in the near future.