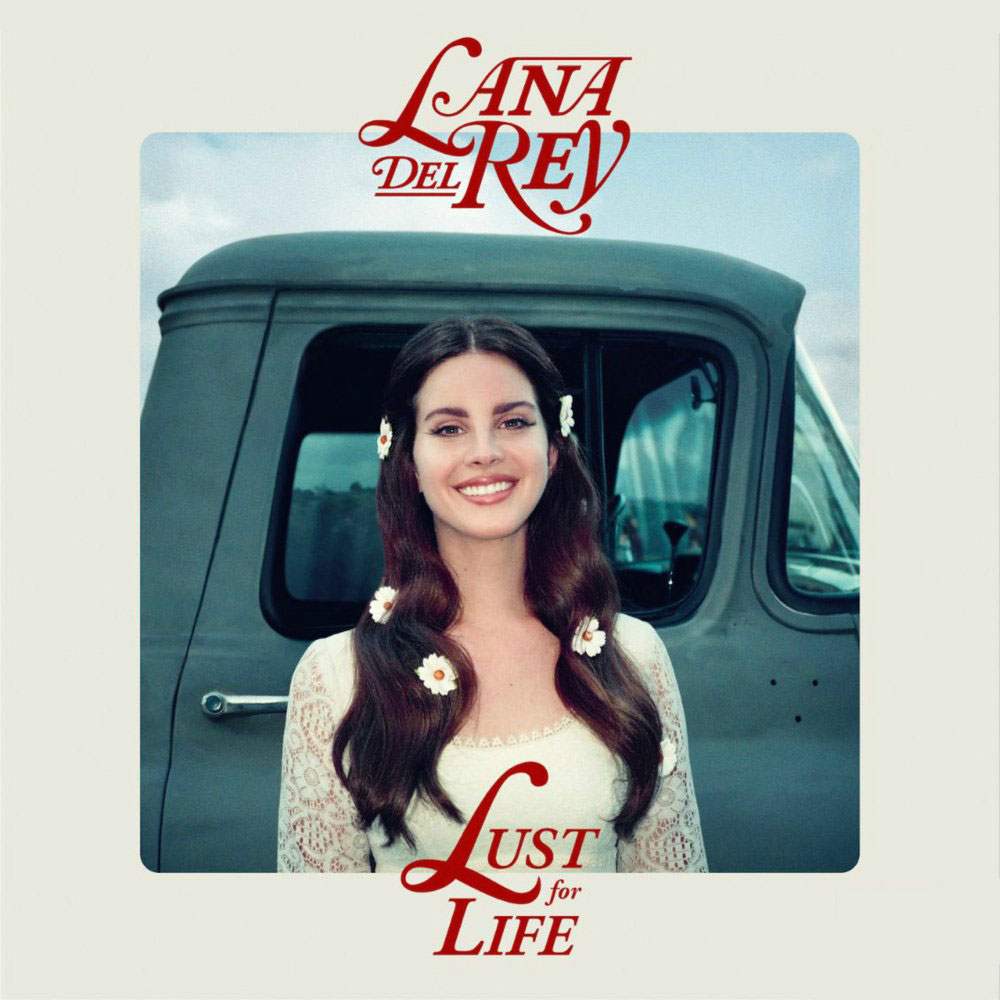 Just six years after her debut, Lana Del Rey recently returned with her fifth full-length release "Lust for Life."
While most artists are opting for shorter releases to appease the streaming era, Del Rey chooses to keep it long. The album clocks in at just over 70 minutes, with the final four tracks all over five minutes long.
Though most of "Lust for Life" runs with the Lana tropes we have become accustomed to during her career (cinematic soundscapes, a multitude of cultural references and spacey reverb), there are a few notable subtle exceptions.
The first being the album cover. Her first four album covers featured grave facial expressions. "Lust for Life," however, features Lana smiling in front of a truck with flowers in her hair. For the fans who have been waiting for her to release happier tunes, this is her happiest album yet. (Spoiler: she still sounds pretty troubled.)
The second difference — this is Del Rey's first album with collaborations. After four albums with no features (a rarity in the current age of pop music,) Del Rey brings five artists into the fold for this album. These artists are representative of the present (The Weeknd, ASAP Rocky and Playboi Carti) and invoke the music of the '60s and '70s (Stevie Nicks and Sean Ono Lennon).
The lead single and album opener, "Love," was released back in February and has the classic Lana Del Rey sound. The lush instrumentation of songs like "Young & Beautiful," "Ultraviolence" and "Born To Die" mix here with more optimistic lyrics. She talks to the younger generation, passing them the torch to the world: "Look at you kids, you know you're the coolest. The world is yours and you can't refuse it." But in the last pre chorus, she flips the perspective and proclaims her own youth and joviality. "Love" is simply beautiful.
The title track features The Weeknd, marking the duo's fourth collaboration. They discuss what feeds their will to survive and stir in dashes of American iconography. It's hard to decide whether they are talking about themselves or the country's resilience.
Political commentary is a common thread throughout the album. Influenced by the tumultuous election and agitated political climate, Del Rey speaks out on many of the tracks. She alludes to topical issues like women's rights ("God Bless America – And All Beautiful Women In It",) the possibility of nuclear war ("Coachella – Woodstock In My Mind") and domestic tensions ("When the World Was at War We Kept Dancing").
"When the World Was at War We Kept Dancing" is a standout vocal performance. The floating falsettos at the end of the chorus are a facet of Lana's vocal ability that we haven't heard a lot of. It's ominous refrain, "Is it the end of an era? Is it the end of America?" is truly haunting.
"Summer Bummer" is the most fun song on the record. Only a little left of radio-friendly, she teams up with ASAP Rocky and Playboi Carti to deliver an ode to the warmer months. Though not quite a dance track, it has a tight trap groove you can bop to.
"Cherry," "White Mustang" and "In My Feelings" feel too familiar coming from Del Rey. While most of the album feels like a progression from previous albums, these tracks are hard to distinguish from her catalog.
The duet between Del Rey and Stevie Nicks reads like a essay on #FirstWorldProblems. Titled "Beautiful People, Beautiful Problems," the track sounds dreamy and classic. The two female voices fuse so well. It notably sounds a bit like "Sign of the Times" by Harry Styles, though it never hits that swell of energy Harry captures in the chorus (not that it necessarily needs anything else to hold your attention).
The final two tracks of the album are exceptional. "Change" and "Get Free" both encapsulate the spirit of the album. "Change" is an expansive piano ballad that seeks personal change and change in the world. "Get Free" closes the album on a hopeful note. She sings: "I never really noticed that I had to decide, to play someone's game or live my own life." Lana has come to the realization that she has power over how her life plays out. This is a huge thematic contrast to songs like "Born to Die." It's impossible to miss the imploring background chorus as they chant "Out of the Black, Into the Blue." A metaphor for transitioning to positivity, and a reference to the Neil Young song "Hey Hey, My My (Into the Black)."
"Lust for Life" is a collage of hope, love, summer and youth. Though Lana Del Rey still may have some distance between her and happiness, it seems she is ready and eager to get there.