London natives Daughter passed through Philadelphia May 3 in support of their newest album, "If You Leave." The show was set to take place at the First Unitarian Church but was moved to Union Transfer in order to release more tickets due to the quick sellout.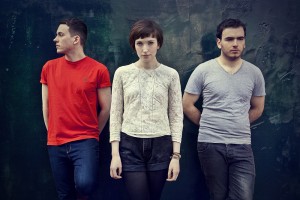 The show opened with contemporary folk band Wilsen. Although the band was new to Philadelphia, it stunned the crowd. Leading lady Tamsin Wilson featured haunting vocals accompanied by lyrics that can lift you up but send you crashing in the next verse. The band performed several songs off its newest record, "Sirens," which was released silently in April. Overall, Wilsen complemented the show with incredible and peaceful music that is extremely worth listening to.
After waiting a while between sets, Daughter finally appeared onstage. With "If You Leave" being released April 30 in North America, the band focused a lot on new songs from this album, such as "Tomorrow" and "Amsterdam." But of course, they didn't forget about the old favorites like "Candles" and "Landfill." I still cannot get over the cuteness of vocalist Elena Tonra, who couldn't help but thank the crowd several times between each song. Between Tonra and guitarist Igor Haefeli, they couldn't stop expressing their gratitude toward the crowd. I have never witnessed such genuinely grateful musicians onstage before.
Toward the end of the show, the generally quiet crowd couldn't help but erupt with cheer and song when Daughter performed its most popular song, "Youth." This powerfully raw song left the people surrounding me with tears streaming down their faces.
Daughter is set to finish up its headlining North American tour near the end of May, closing with two sold-out shows in Los Angeles and a few music festivals. In August they will jump on tour with The National for a short run and follow with a headlining tour in the United Kingdom.
With Philadelphia being the first city the band performed in when coming to North America back in 2012, Daughter has made a great impact on the City of Brotherly Love. If this is your first time hearing of Daughter, I highly suggest you take a listen and take the chance to see the band live while you can. You will not regret it.
You can find a full list of where to find Daughter's music on the band's Facebook page.