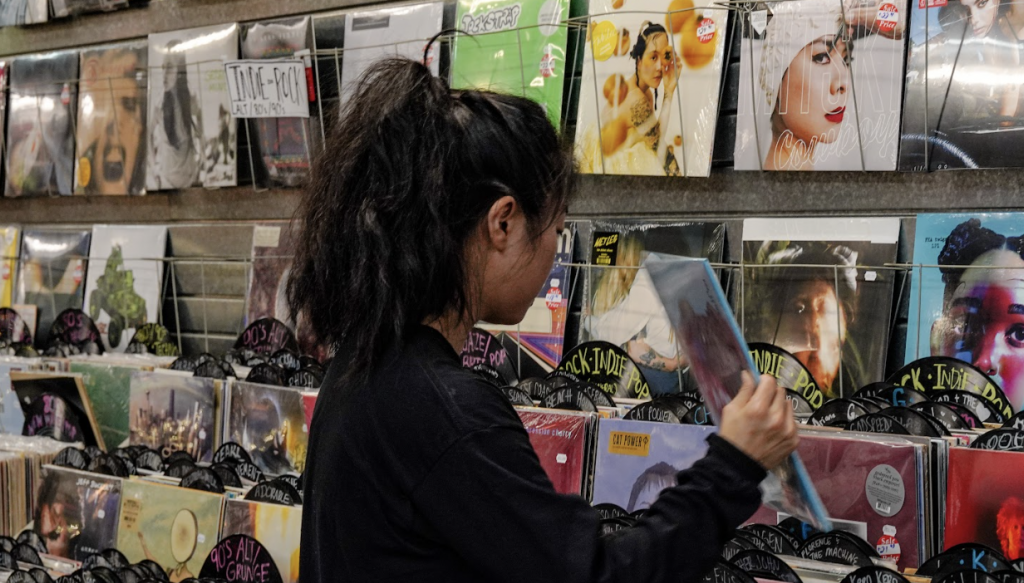 Laufey's debut album "Everything I Know About Love" is the one album I have been searching for my entire life. It was released on Aug. 26 and my playlist rotation has not been the same since. As someone whose music taste is predominantly ballads, Laufey covered all of my sad-love-song bases in this album with the certain jazz flare of hers that I adore.
If you are not familiar with Laufey, she is an Icelandic-Chinese singer-songwriter with a modern jazz style. She released her first single "Street by Street" (an amazing track worth listening to) in 2020 and her debut EP "Typical of Me" in 2021 (give it a listen!) so she's a bit of a newer artist. I discovered her on my TikTok "For You" page one day and I am so glad that I did. She has become one of my favorite artists and for good reason. You will definitely understand why once you listen to this album.
Laufey's album "Everything I Know About Love" has 13 tracks of pure genius. While I would love to discuss every song down to the last detail, I will only highlight my top tracks for now. 
The album starts with "Fragile" which is a love song about falling for someone older than you and acting completely foolish around them—a sentiment that many of us can relate to. Laufey lyrically hits this experience on the nose with chorus lyrics "I'm talking though I shouldn't be/ I've lost all sensibility/ I've never been so fragile." The way she uses the word fragile to describe being affected by the person you are romantically interested in is so unique.
The second track, "Beautiful Stranger," also has a special place in my heart. Falling in love with someone on the train is a very specific feeling that Laufey captures perfectly. The hesitation to make a move, the overthinking and being completely enamored by this person's existence—this song has it all. Instrumentally, this track is incredibly soothing and with the addition of Laufey's rich and smooth vocals, it is a masterpiece.
Track four, "Above The Chinese Restaurant," is one of my more passionate favorites from the album. Ironically, I did not really appreciate it the first time I listened to it, but that just goes to show that sometimes songs need more than one listen to unlock their true potential. The intro alone is something of a spiritual experience and the entire song makes you feel like you are peacefully floating above the world. "Above The Chinese Restaurant" tells the story of Laufey and her lover living in an apartment above a Chinese restaurant, which unfortunately does not have a happy ending, but is beautiful nonetheless. Sonically, this is one of the strongest tracks on the album.
"Dear Soulmate," the fifth track, was released as a single in June and is part of Laufey's EP "Falling Behind" as well, but is still just as powerful months later. Laufey's lyrics showcase her wonders about who her soulmate is, but they have a certain rawness to them that is unmatched by any other songs regarding this concept. The chorus lyrics "Dear soulmate, do you think of me?/ Cause I do/ Do you have green eyes?/ Or are they brown like mine?/ Do you have a sister too?" seem so simple, but Laufey delivers them with a flawless switch between deep and breathy vocals that have a striking level of vulnerability. The use of various string instruments really sends this song's heavenly feel through the roof. If I were to choose one song to recommend from this album, it would definitely be this one.
Track eight, "Just Like Chet," was my original number one favorite when I first listened to the album. I do not think that it still holds that title, but it is definitely up there. The song is referencing Chesney "Chet" Baker who was a famous jazz musician and vocalist. I had never heard of him before researching this track, but from the chorus lyrics of Laufey's song "Just like Chet I fall in love too easily" it seems that he was one to fall quickly.
"Just Like Chet" is a compelling track. The song is backed by gentle acoustic guitar plucks, with piano blended in later on, which makes for a gorgeous combination. However, the song's strength is in its lyrics, particularly the bridge. When Laufey sings "Why did you put me through/ Eleven months of 'You're so pretty's,' 'I miss you's'/ It's absurd what even occurred between autumn and spring/ If you never loved me" it hurts, in the best possible way. The specificity of the lyrics coupled with the fact that this person never even loved her emits so much emotion. She is amazing at putting everything people cannot normally express into words.
Track ten, "Falling Behind," mixes up the heartbreaking album with a more funky, upbeat feel. Although the lyrics are still kind of sad, so it is more of an "I'm sad but I want to dance" vibe. Sometimes you need that. It was originally released as a single on the "Falling Behind" EP in August.
Laufey talks about the common feeling that you are "behind" in life because everyone is in a relationship and you are not. It is comforting to know that even the artists we idolize have these thoughts too. The chorus lyrics "The sun's engaged to the sky/ And my best friend's found a new guy/ I'm only getting older/ I've never had a shoulder to cry on/ Someone to call mine/ Everybody's falling in love and I'm falling behind" are brilliant and so relatable. She outdid herself with this track, but that is to be expected when it comes to Laufey.
There are many more hidden gems on this certifiable "no skips" album and you should check out all of them. Seriously, this is a project and an artist you do not want to miss out on. I could say all of the positive descriptive words in the world and still not even scratch the surface of how much I am in awe of Laufey's talent. Keep an eye out for her in the industry as I am sure that if her music is this excellent now, it will only get better with time.