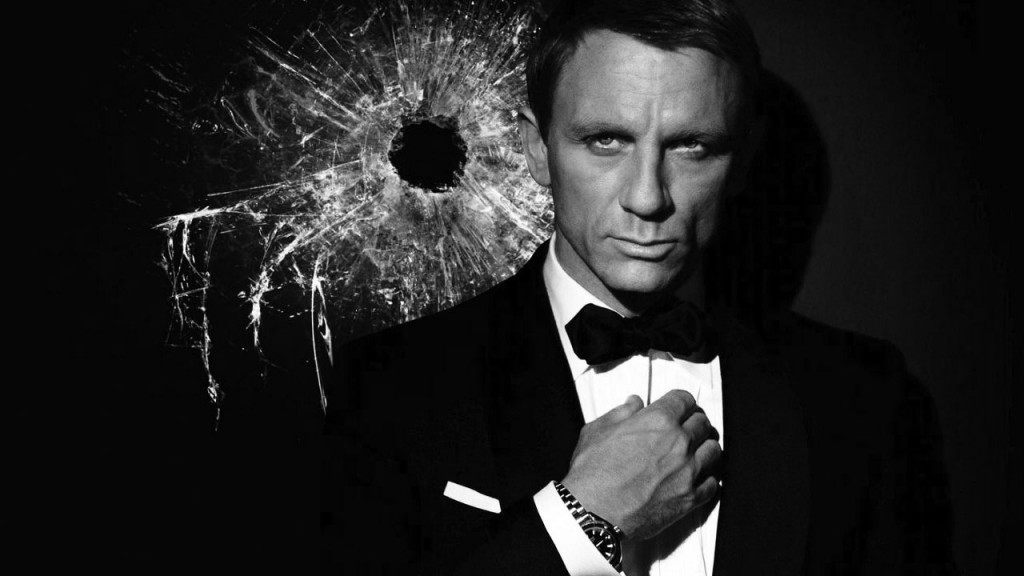 It's quite a feat when a "James Bond" movie "out-Bonds" itself. The franchise is one of the most enduring in cinematic history, forging an iconic character who has been the epitome of suaveness for over fifty years. While there have been some duds along the way ("Never Say Never Again," "A View To A Kill" and "Die Another Day," to name a few), the Bond brand serves as a the golden standard for the spy movie genre. Cool gadgets, expensive cars and total babes have become staples of the style— even if it got a little campy and sexist along the way.
When Daniel Craig stepped into 007's shoes back in 2006's "Casino Royale," the series took on a more grounded and realistic feel for a more modern and tech-savvy age. "Spectre", released Nov. 6, is his fourth and latest outing as MI6's gentleman spy and is the installment that reaches back to the franchise's earliest roots: a simpler time when Connery first sat behind the wheel of a tricked-out Aston Martin, drank enough alcohol to kill an elephant and shagged everything in sight that wore a skirt. Nevertheless, the 24th installment, while highly entertaining and chock full of breath-taking action sequences (as is customary), tries a little too hard to be like the originals with a plot that feels just a tad convoluted and, at times, absurd.
Any die-hard Bond fan knows that this movie's title is a throwback to the shady global organization of villains (Special Executive for Counterintelligence, Terrorism, Revenge and Extortion), which cropped up all the way back in 1962's "Dr. No" and hasn't been featured again since 1971's "Diamonds Are Forever." It's been parodied by many over the years, from "The Man From U.N.C.L.E." to "Spongebob SquarePants." The leader of SPECTRE is Ernst Stavro Blofeld, who has been portrayed by several different actors over the years, and is the inspiration for Doctor Evil in the "Austin Powers" movies. So, right off the bat, the movie brazenly wears its throwback intentions proudly on its sleeve.
The entire plot of "Spectre" revolves around James trying to uncover the mystery behind this terror syndicate. The film opens with the classic gun barrel perspective shot before transitioning to Mexico City on Dia de los Muertos with a magnificent tracking shot that lasts at least five minutes and doesn't forget to include Bond's massive libido.
It's an opening scene worthy of the 50-year-old franchise, which transitions to the opening credits that give new meaning to the term "tentacle porn." Sam Smith's contribution to the Bond song collection is called "Writing's On The Wall" and it definitely copies Adele's superior "Skyfall," but also shares DNA with the Shirley Bassey and Tom Jones hits of the '60s Connery era like "Goldfinger" and "Thunderball." There are better Bond songs, but Smith imparts a soulful and tragic vibe to it all.
From there, Bond globe trots (in true Bond fashion) from London to Rome to Austria to Tangier and back to London after he receives a cryptic message from Judi Dench's M. His discoveries bring up dark secrets of the past, somehow united by a mysterious man named Frans Oberhauser (Christoph Waltz who wasn't menacing enough for my taste). His full (not-too-surprising) story shan't be reviewed here. You'll just have to see the movie, but keep "Austin Powers in Goldmember" and "Goldeneye" in mind (no joke) while his true identity is explained.
The real villain to watch is Mr. Hinx, a combination of Bond baddy alumni Oddjob and Jaws played by strong man Dave Bautista ("Guardians of the Galaxy"), a real formidable bad guy who exudes danger without uttering a single word, save for one cuss. He has an uncanny knack for chasing Bond and kicking his butt.
Another standout is latest Bond girl with attitude Madeline Swan, the daughter of a SPECTRE member, played by knockout Lea Seydoux ("Mission: Impossible—Ghost Protocol) who can hold her own against Craig's coolness— the best Bond girl since Eva Green's Vesper Lynd. Their excursion to Tangier definitely has influences from "Casablanca" or I'll eat my hat.
On the home front, the new male M (Gareth Mallory) played by Ralph Fiennes who is trying to save the Double O program from being scrapped by the British government, which is more in favor of drones and a global collection of information that is sure to be "George Orwell's worst nightmare." It all seems kind of familiar to "Mission: Impossible—Rogue Nation" from back in August, but it's a reflection of the technological times in which we live. Along for help are comic relief Q (Ben Whishaw) and Miss Moneypenny (Naomie Harris) who have larger roles than they themselves have had in previous movies as well as their characters have had in previous iterations.
Returning to direct for the second time, Sam Mendes definitely outdoes himself from "Skyfall" when it comes to the action, locales and dramatic stakes. The chase scenes from a medical clinic in the snow-covered Austrian alps (a loving nod to "On Her Majesty's Secret Service") and the destructive fight upon a North African train ("From Russia With Love," "The Spy Who Loved Me") are beautifully shot and choreographed to the point that they are sure to become iconic moments in their own right. What else would you expect from a $300 million movie that's among the most expensive productions ever?
In the end, "Spectre" becomes too unwieldy under the weight of its own lofty ambitions, trying to be the most Bond of all the Bonds by bringing out the franchise's "greatest hits" as the A.V. Club puts it while also trying to stand alone as a its own entity. The final product is jumbled to say the least, a confusing and somewhat "Tomorrow Never Dies" exercise that never lives up to the spectacle of the action. Moreover, it seems like a ploy to make up for the unpopularity of "Quantum of Solace" (Quantum was definitely a knock-off of SPECTRE) by not-too-neatly trying to tie all the Craig-Bond films together much like "X-Men Days of Future Past" undid the subpar outcome of "X-Men: The Last Stand."
"Spectre" ends on a somewhat open-ended note where anything can happen. Craig has stated that he'd rather "slash his wrists" then make another Bond movie, but he did sign on for at least five films (clocking in behind Moore's seven and Connery's six) so his take on Commander Bond is due for one last hurrah. Besides, it's hard to imagine who will step into his shoes next and whether it'll be rebooted yet again. As the credits tell us, "James Bond Will Return" so you can count on hearing John Barry's iconic score and seeing the Walther PPK again no matter who's next in line for the title.
While "Spectre" may not be destined to become a classic—it's more of a Frankenstein of classic Bond stitched together—it is still an extremely well-made addition to the Bond canon that is sure to delight long-time fans of the series and enthrall newcomers. One thing's for sure— when it comes to the world of death-defying espionage, nobody does it better than James Bond.