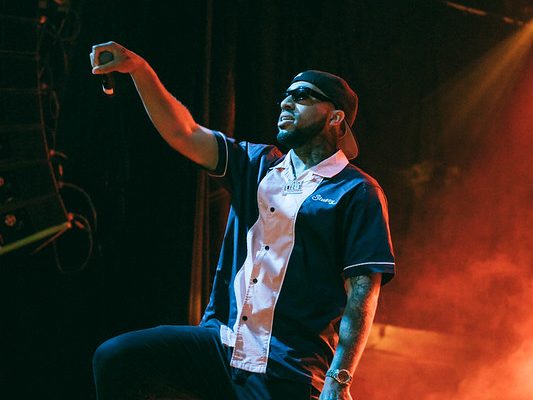 Larry June and The Alchemist released their collaboration album titled "Turkish Cotton" on March 31. Larry June is a rapper from San Francisco, known for songs "Smoothies in 1991" and "Watering my Plants." The Alchemist is a popular producer from Beverly Hills, CA who has worked with a plethora of talented rappers such as Earl Sweatshirt, Freddie Gibbs and Boldy James. Known for sample-heavy soulful tracks, the producer has a reputation for bringing out untapped potential and unexpected style choices from artists. 
The album "Turkish Cotton" shows The Alchemist's mastery of musical partnership and June's intricate new rhyming abilities. Larry June's past projects are breezy and laid back, while "Turkish Cotton" shows the artist's funk influences, diverse vocal range and advanced lyricism. The title alone describes the luxurious, inspiring experience of a day in California surrounded by nature. The perfect album for a perfect day, The Alchemist produced tranquil, otherworldly tracks that juxtapose unexpectedly with his dark, almost apathetic signature.
"Turkish Cotton" and "89 Earthquake" set the scene for the third track "Solid Plan," undoubtedly produced by The Alchemist. With a trumpet sample, June and Action Bronson speak somberly, saying "Invest in yourself, f*** what they said / You can accomplish anything with a solid plan." June's smooth voice aligns perfectly with orchestral harmonies composed by The Alchemist, and the song's dreamy interludes make you feel rejuvenated. Though June and Bronson are speaking of their struggles in the streets, the inspirational chorus displays a sense of hope and satisfaction from the artists who made it out of a difficult situation.
The fourth song "Palisades, CA" was released as a single on March 22, showing a completely new side of Larry June. Big Sean is featured on this song and June drops clever bars in a unique rhyme scheme over the spookiest production on the album. Sean and June hop on this beat to brag about their riches, from real estate investments to expensive dietary supplements. The chorus says "I'm thinkin' billions, cop another buildin', new woop Sicilian / Thinkin' bigger, you thought I was coolin' I was takin' risks / Palisades, chillin' in the shade, might take the Bent' / Bettin' on myself every time, its a hit." The status of having Sean featured on his song is reflected in June's verses, and he completely outshines his well-established contemporary.
Track five, "Summer Reign," feels like a classic R&B/Rap song, with Ty Dolla $ign's calming voice repeating "Summer rain (please fall again) / I'm ridin' 'round top down in the summer rain." Bird calls and ocean waves create a beautiful visual effect for the listener, transporting them to the California beach. The Alchemist composed a soulful yet seemingly effortless track, and June's loose delivery is perfect for this style of ambient, sensory-pleasing production.
Track seven, "Porsches in Spanish," is my favorite performance from both June and The Alchemist on the album. June introduces his newly developed syncopated flow, fitting in perfectly with layered, relaxing production. Using his voice as an added percussion instrument, June says "'Money keep comin', I'm stacking it at a faster pace / I got a different style of architecture when I drop these letters / House by the water, out the way / Yeah that number cool, but give me a day, tomorrow we negotiate." Fantastical production continues to form the visual of driving along the California coast on a beautiful day.
Track fifteen, the last of the album, feels like a Sunday morning at home. Relaxing and lazy, "Margie's Candy House" displays June's storytelling abilities. Twinkly percussion and dramatic violin create an easiness that June's lyrics play off of. This song closes out "Turkish Cotton" with a declaration of June's new life, saying "Yeah I made it out the streets but still gotta watch my back," and "Real men pay the game, but got goals to go legit." Minor piano keys from The Alchemist give the song a tinge of sadness, representing the conflicting feelings that occur when a new chapter of life begins. June says goodbye to rap inspired by the streets, and moves on to the money, success and fame that comes with public recognition.
This project proves that June is more than just a laid-back west coast rapper; he shows innovation and musicality in his lyrics, while staying true to his smooth, Bootsy Collins-esque cadence. In company with reputable artists Wiz Khalifa, Joey Bada$$ and Slum Village, "Turkish Cotton" is June's debut in the alternative, genre-bending world of The Alchemist. If you are looking for an album to play at the beach, or simply in sunny weather, "Turkish Cotton" is worth a listen.