It's been two and a half years since Kid Cudi released a solo album. During that time, he released an experimental album with producer Dot Da Genius under the group name WZRD and more recently disaffiliated with Kanye West's G.O.O.D. Music label, where he had been signed since 2008. The news surprised the majority of the industry because West was instrumental in Cudi's growth and commercial success over the years. However, the departure seems to have been on good terms, and now Cudi is back in the spotlight with his third studio album, "Indicud." After a premature leak on the Internet, Cudi decided to push the release of his album up a week, so the album ended up hitting stores and iTunes April 16.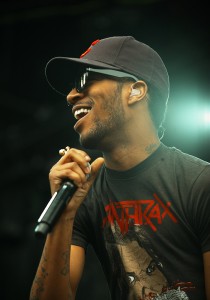 "Indicud" is the first solo album Cudi has released outside of the "Man on the Moon" series. His first two albums followed similar themes and concepts, but with his third release, Cudi has really stepped outside the box sonically and continued to push his creative limits. Cudi's style of rapping is so unique and unmatched by any other artist that he's able to experiment much more. Cudi actually produced "Indicud" on his own, with the exception of "Red Eye," which is co-produced by Hit-Boy. This is the first time he has done this, which makes this release even more special.
From the get-go, Cudi explodes with "Unf—wittable," led by wild synthesizers that only he could make work for a great song. Other highlights early on include "Young Lady," which features folk singer Father John Misty. While it's a very odd pairing, the track is one of the more interesting songs on the album. "Immortal," which was one of the album's singles before its release, is a classic Cudi track that still shines on the album.
On "Man on the Moon: The End of Day," Cudi had a song called "Solo Dolo (Nightmare)," which was one of the best songs on his debut album. On "Indicud," Cudi teams up with the red-hot Kendrick Lamar for "Solo Dolo Pt. II." The song sounds nothing like the original but references the original chorus. Lamar is featured on the new chorus before rapping a verse that includes lines such as "I'm proud of myself in a bad way."
The second half of the album includes the album's strongest song, "Brothers," which features Cudi's right-hand man King Chip (formerly known as Chip Tha Ripper) and A$AP Rocky. Rocky delivers his abstract flow for one of his best verses in recent memory. Cudi sings, "Ayo, this is how it's supposed to be," on the catchy yet simple chorus.
Other notables include "Red Eye" featuring female soft-rock group Haim, and "Afterwards (Bring Yo Friends)," which features Michael Bolton (yes, you read that correctly) and King Chip. "We should go to my home, afterwards, come on. Bring your friends, we should go to my home, afterwards, come on," Bolton sings on the hook. This is definitely one of the highlights of this album.
"Indicud" is an incredible experiment with alternative music. His ability to extend the boundaries of his sound with each album continues to amaze me, and this project once again strikes gold. While this album doesn't necessarily have the radio hits that his past albums have had, "Indicud" as an overall body of work is more impressive, especially because Cudi produced it entirely himself.