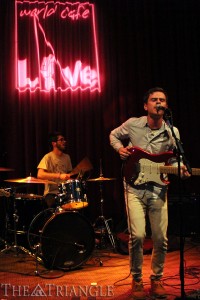 Tight and energetic, veteran Philadelphia band Keepers headlined Broad Street Music Group's "Sounds of Philly" event at World Cafe Live April 17. While the members of the group — excluding bassist Korina Dabundo — are only college freshmen, shows such as this one are nothing new, as the band has performed numerous times in venues of various sizes and even partook in an East Coast tour this past summer.
Though audience members did not seem to be entirely familiar with Keepers' work, they were quickly drawn in by the band's energy and confidence. Lead singer Pat Cassidy enabled smooth transitions from song to song and created a near-professional atmosphere that generated a likeability that paralleled the unintimidating nature of their music. Their powerful chord progressions emphasized a certain cleanness to their music that can only come with time.
Their debut album, "New Waves," released July 2012, has gained a steady following throughout the area and provides a catchy, accessible sound while maintaining the type of complexity that appeals to more musically adept fans. Written largely when the band members were in their junior year of high school, the album contains experimentation with different styles and — often within a single song — hints at multiple diverse themes and genres ranging from reverb-laden surf rock to heavy drums and distorted riffs of an almost punk derivation.While some songs featured on "New Waves" can seem watery next to more potent songs like "Are You Anyone?" and "Goodnight," Keepers definitely trimmed the fat from their live set by including new songs that will be featured on their upcoming album, to be released in the fall. Crowd-pleasers like "Old Bones" reinforced a specific sound that was approached in "New Wave" and finalized the musical niche that Keepers has been molding for itself throughout the past few years.
Drummer Alex Held mentioned that Keepers uses each band member's separate experiences to create its sound instead of designating a single songwriter.
"The goal is to use all of our influences separately to create something new with a more equal collaborative process, so that when we write a song, we're all writing it together as a band. We all have tastes in music that tend to be all over the place often and we all form different influences because we all like the same artists for the most part, but delve into our own musical interests separately. I think the variance that exists there allows for a really unique collaborative process," Held said.
Technical aspects of the new album exceed those of "New Waves" not only in effects — which Held described as "more intuitive and unique-sounding" than those on "New Waves" — but in the actual recording process as well, which was engineered by Pat Loundas. Held mentioned an inventive method of recording in which a single guitar part is sent to three separate amps with varying degrees of effects on each channel in order to create a larger sound.
"Our songs are generally a reflection of experiences and are inspired by meeting different people or getting to know each other. I think that we try to relay a positive message, but every pair of ears brings a unique response," Held said.
Keepers' upcoming music promises progression technically and musically, and it appears as though their message will follow suit. "[The new album] is a lot more understood by us and I think that will make it better understood by the listener," Held said With a clear definition of their own sound, as well as a mature message and technical ingenuity, this band seems to have a firm grasp on their unique musical coloring and a sense of direction that will provide the outline for their picture.