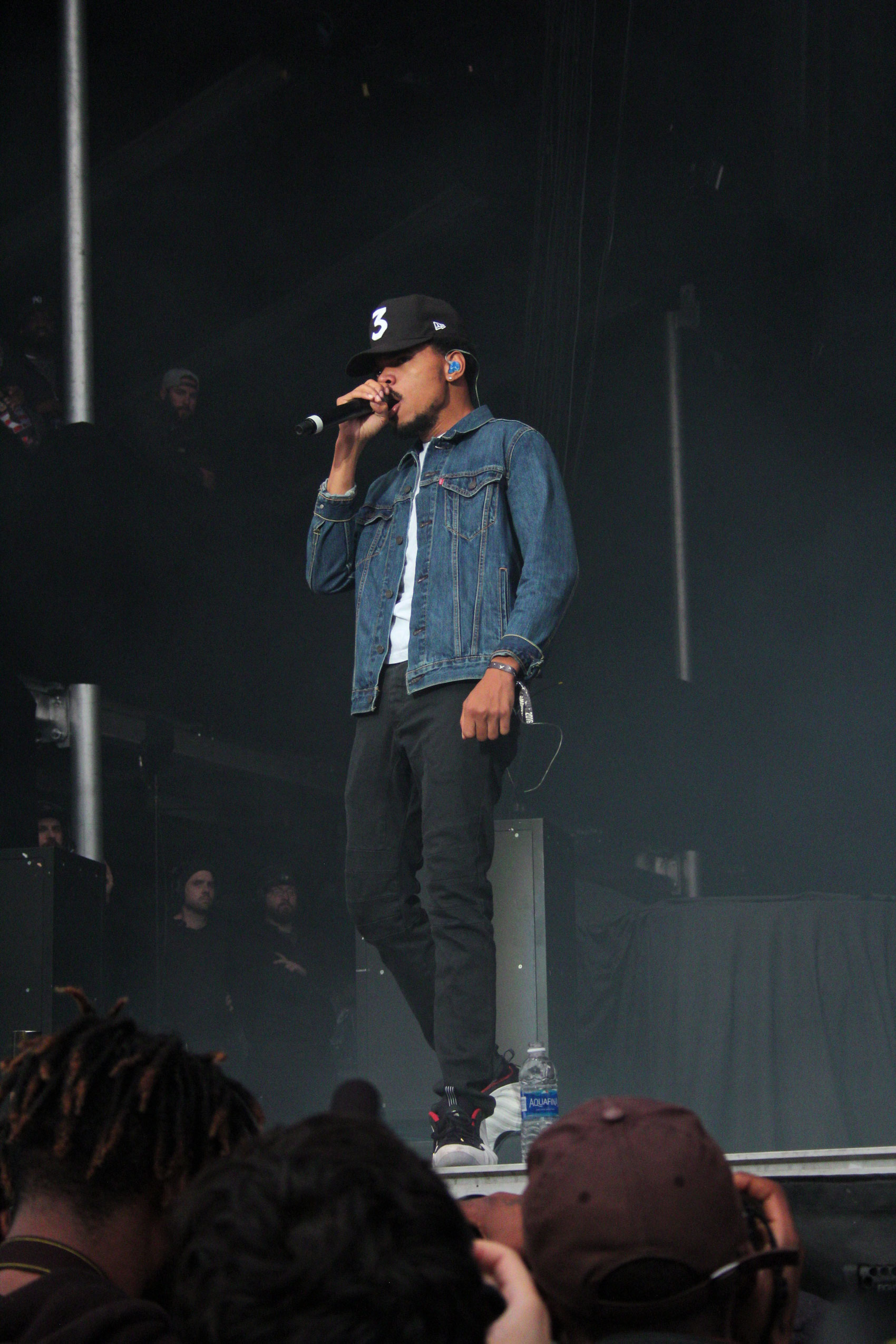 For an event with the name "Meadows," the color green was scarce in New York parking lot where the festival took place. In fact, there was little to be seen for scenery in front of Citi Field at all compared to other festivals. That didn't matter much though, as the weekend's performers gave festival goers plenty of entertainment.
Saturday's lineup was admittedly weaker than Sunday's action-packed grouping but had some incredible highlights.
Sylvan Esso, an indie pop duo known for their hit song "Coffee," put on a great show on the Queens Blvd stage, mixing electronic beats with stunning vocals and practically forcing the crowd to vibe along with the music.
Post Malone was among the first to grace the main stage and he did not disappoint, mixing in more upbeat songs with his usual crooning, druggy R&B. I spent the majority of the day at the main stage and whether it was due to it still being early in the day or a genuine love for his music, the audience blessed Post Malone with one of the most lively crowd atmospheres of the day.
From that point in the day on, it was clear that the crowd at the main stage was waiting for J. Cole to appear, as the huddled masses showed less than inspiring enthusiasm towards other acts. Chromeo, following Post Malone, received some love but despite the Daft Punk-esque dancy nature of their music, the crowd never really got going for them. Their set was fun and they had an impressive set design with all chrome instruments that reflected light towards the audience; they probably deserved better.
The audience became more indifferent for my personal favorite act of the day, Grimes. Grimes' set was loud, invasive and scary at times. I loved it with all of my heart. Grimes performed with tons of energy and Earth-shattering bass lines in front of a packed crowd at a music festival. Seems like the perfect scenario for a really fun crowd experience, but alas the crowd was disinterested, with some people even turning away from the stage. It was a bummer to see people not enjoying such a fun show, but Grimes does have a very different style than J. Cole so it's not surprising that fans of one would not necessarily love the other.
Cole wrapped up the festival with his "last show for a very long time," and he did what he always does: delivers. As the only rap artist to ever go double platinum with no features, he's used to performing all alone and he absolutely killed it. Fans and casual festival goers alike loved the set and it was a satisfying end to day one.
Day two was the real highlight. I made the decision to be front row for the entire day at main stage, missing acts I would have enjoyed like Mac Miller, BORNS and Pusha T to be front row for the Sunday headliner, Kanye West. Sometimes, tough decisions must be made and that was definitely a tough one. Reports from friends at the festival that attended those sets said they were fun, especially Pusha T, who apparently put on a great show on the Shea stage.
At main stage, the day started with an artist I didn't know before, but is certainly on my radar now. Zella Day and her backing band absolutely rocked. They brought catchy rock heavy music and refused to let anyone sit during the show, even pausing to tell people sitting down in the crowd that they had to stand up or the show wouldn't continue.
Following Zella Day was The Temper Trap, maybe best known for the song "Sweet Disposition" which was used in the movie "500 Days of Summer." Unique vocalization and a great stage presence as well as the lead singer's willingness to enter the crowd really got the packed audience jumping for the entire set. Specific highlights were "Love Lost" and, of course, "Sweet Disposition."
Bryson Tiller was third on the schedule for the day, and his sad, rappy R&B album "Trapsoul" matched the weather of the day well with his studio-perfect voice. The crowd knew his music well and they let him know; sing alongs were nearly constant throughout the set.
Opening for Kanye West was fellow Chicagoan Chance the Rapper, who smashed into rap superstardom this year following the release of his third mixtape, "Coloring Book." I saw him just a month ago at Philadelphia's Made in America Festival. His set was great there, but it wasn't anything compared to his Meadows set. Meadows was part of the "Magnificent Coloring World Tour" and it followed a narrative structure and featured confetti. At the end of the set, he brought out Francis and the Lights to perform "Friends" and they both danced the goofy dance from the music video together as the crowd was showered in confetti. It was incredible, and if not for videos I've seen from the set online, I still wouldn't believe it actually happened. That disbelief was typical for the rest of the night.
Kanye West. Front row. Fifty thousand people packed shoulder to shoulder forcing me against a metal gate in a parking lot in front of a baseball stadium in Queens. Ten hours of waiting, cramped and unable to move; it was completely worth it.
For over an hour, Kanye ran through his hits. Everyone in the crowd knew every word and was screaming as hard as possible. Early in the set, Kanye ventured into the crowd to perform parts of a few songs and the entire place went absolutely crazy. His light show was one of a kind, much like the man himself, and created a beautiful and epic atmosphere, enveloping him in light and giving him a godly appearance. Go figure. After about an hour, Kanye received the news that his wife, Kim Kardashian, had been robbed at gunpoint and understandably left to attend to that scary situation. It was disappointing but understandable, and though some people were angry his set was cut short, I was mostly happy to have been able to experience such a great show for however brief it might have lasted.
Year one of the Meadows impressed. If they can keep the quality of lineup and attendee experience up, the festival will be a mainstay on the east coast for a very long time.