Marketing in the music industry has changed drastically over the last few years with the advancement of technology, with more power shifting into the hands of the artists. Some artists have used social media to break major news or release new music; others have released music videos or video blogs to build up hype for upcoming projects. However, Kanye West has taken a far different approach. By performing on well-known platforms across the world, including America's own "Saturday Night Live," West is forcing everyone to watch and listen to him. With his new album "Yeezus" set to release June 18, West has returned to the United States after recording in Paris and is making his presence felt across the country and the world.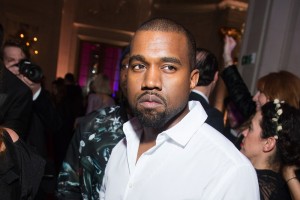 It all began May 6 at this year's Costume Institute Gala (also known as the Met Gala) when West proclaimed, "I am a god," during one of the songs from his performance. A series of Vines (short, six-second videos) were the only evidence of this performance happening, and it left fans wondering what exactly West had further planned. Then West performed again May 16, but this time at the Adult Swim Private Party at Roseland Ballroom in New York. There he performed a clip of a new song featuring EDM-style production, and also a song tentatively called "Awesome," in which he talks about just how awesome his girlfriend Kim Kardashian is.  Videos from his performance were leaked onto the Internet, and for the first time since the G.O.O.D. Music compilation "Cruel Summer," fans got to hear new music from West.
On Friday night, however, West did something unprecedented. At 9:34 p.m., he tweeted out: "NEW SONG AND VISUAL FROM MY NEW ALBUM BEING PROJECTED TONIGHT ACROSS THE GLOBE ON 66 BULIDINGS, LOCATIONS @ KANYEWEST.COM." Within an hour, projections began across the world in 10 different countries. Some of the most interesting locations included Wrigley Field and Millennium Park in Chicago, the Prada store on 5th Avenue in Manhattan, and the Pompidou Centre and L'Arc de Triomphe in Paris.
After the projection flashed a few images of old price tags and signs from retail shops, West's face appeared sideways and then turned and stared out onto the crowd as he rapped the lyrics to his new song, "New Slaves." From the moment the song begins, it's clear that West is angry and is letting everybody know with his vivid and powerful lyrics. "You see it's leaders, and there's followers, but I'd rather be a d— than a swallower," he recites on the bridge. Later on, West comments on the prison system in America before saying, "See that's that privately owned prisons, get your piece today, they prolly all in the Hamptons, bragging 'bout what they made. F— you and your Hampton house, I'll [expletive] your Hampton spouse, c— on her Hampton blouse and in her Hampton mouth." West's final verses close angrily with, "Y'all bout to turn s— up, I'm 'bout to tear s— down, I'm 'bout to air s— out, now what the f— they gon' say now?" The anger, sincerity and emotion in West's voice captivates listeners and takes hold of their full attention as he delivers two of his most powerful verses to date.
West followed up the guerilla-style marketing with a performance on "SNL" that couldn't have made the executives at NBC very happy. Instead of performing something the audience would know first, West debuted "Black Skinhead," which he apparently rewrote before the performance. The track samples Marilyn Manson and features West screaming throughout a few points of the record. It's rumored that this is the track that Daft Punk collaborated on with West, which adds even more firepower to this impactful record.
On the bridge, West raps, "So follow me up, cause this s—'s about to go down. I'm doin' 500, I'm outta control now, but there's nowhere to go now, and there's no way to slow down, runnin' out of time — moving fast, so just close your eyes and then enjoy the crash." Although during the show it was sometimes difficult to make out what West was saying due to the pace of his raps and the distortion on his voice, he tweeted pictures of the handwritten lyrics after the show. West managed to sneak quite a few curse words in under the NBC censors; however, he tried his hardest to hold back during an angry and spirited performance of "New Slaves" to bring his night to an end. Both performances left fans in shock and awe, which is exactly the impact that West hoped to have.
Right now, nobody can come close to the sound and powerful lyricism that West is currently displaying. He's never been afraid of what the media or people think about him, and that's clearer than ever after hearing "Black Skinhead" and "New Slaves" over the weekend. West is clearly annoyed with some of the racial issues in our society today, and he's been able to display this passionately and powerfully through these two new songs. If these tracks are a true representation of what "Yeezus" will bring to listeners, then we're all in for quite a treat.