As a regular concertgoer, I have always hoped that one day I would be able to tell a story about seeing some famous band back when they were young and nobody had heard of them. After seeing Kalob Griffin Band at World Cafe Live June 1, I think I may finally have my story.
More commonly referred to by fans as KGB, the Philadelphia-based quintet plays a style of music that they call "Americana Rock 'n' Roll," which blends the various sounds and styles of folk, bluegrass, southern rock and just plain rock 'n' roll. This blending of such genres, along with their infectiously fun and carefree attitude, gives the young rockers such potential for future success.
Formed at The Pennsylvania State University in 2009, the band includes Kalob Griffin (guitar and vocals), Rob Dwyer (guitar, mandolin and banjo), Eric Lawry (drums and vocals), John Hildenbrand (keyboards and vocals) and Nick Salcido (electric and upright bass), whose addition in 2011 solidified the band roster.
With nothing but a self-titled EP in 2010 under their belts, the men of KGB have spent the past year touring and working on their first album, "June Found a Gun," which was celebrated at Friday's show.
After a fantastic set from Cabinet, the opening band, KGB came onstage to a roar of cheers and launched immediately into "IPA," which is possibly the best song off of their new album, and they did a great job of getting the crowd energized for a great two hours of music.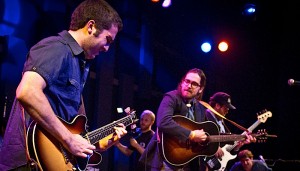 From there the band continued to delight the crowd with songs from the new album like the bluegrassy "Cheatin' Joey" and "Honeymooners," as well as a newer and unrecorded track, "American Dream."
Then, without warning, the band kicked the show into overdrive with an incredible jam during the song "Ricky Tick Tack." While having only one keyboard, Hildenbrand was able to produce an amazing, almost jazzy jam that was accompanied by great licks from Dwyer on the electric guitar.
It was during this jam that I realized that not only is every member of the band a great musician, but they are also great entertainers, which is something that can be equally as important as musicianship. While they were jamming, every member of the band had a smile on his face and was egging on whichever member had control of the jam. This incredibly positive energy onstage then seemed to spill over into the crowd, causing everyone to smile and dance like fools.
The good vibes continued on through the set with people getting up to dance onstage with the band members — who were more than happy to dance along — as well as with an appearance and quick speech by Kalob's grandmother and aunt, something that really made everyone in the room feel like one giant family.
The journey to success for KGB is without a doubt long from over, but with their incredible sound, stage presence and fans, success is most assuredly in their future.
While most of the summer for KGB is dedicated to southern and more rural Pennsylvania shows, KGB will be performing at Milkboy Philly in August. So for those of you who likewise want to see a rising band before they've made it big, I suggest you save the date.