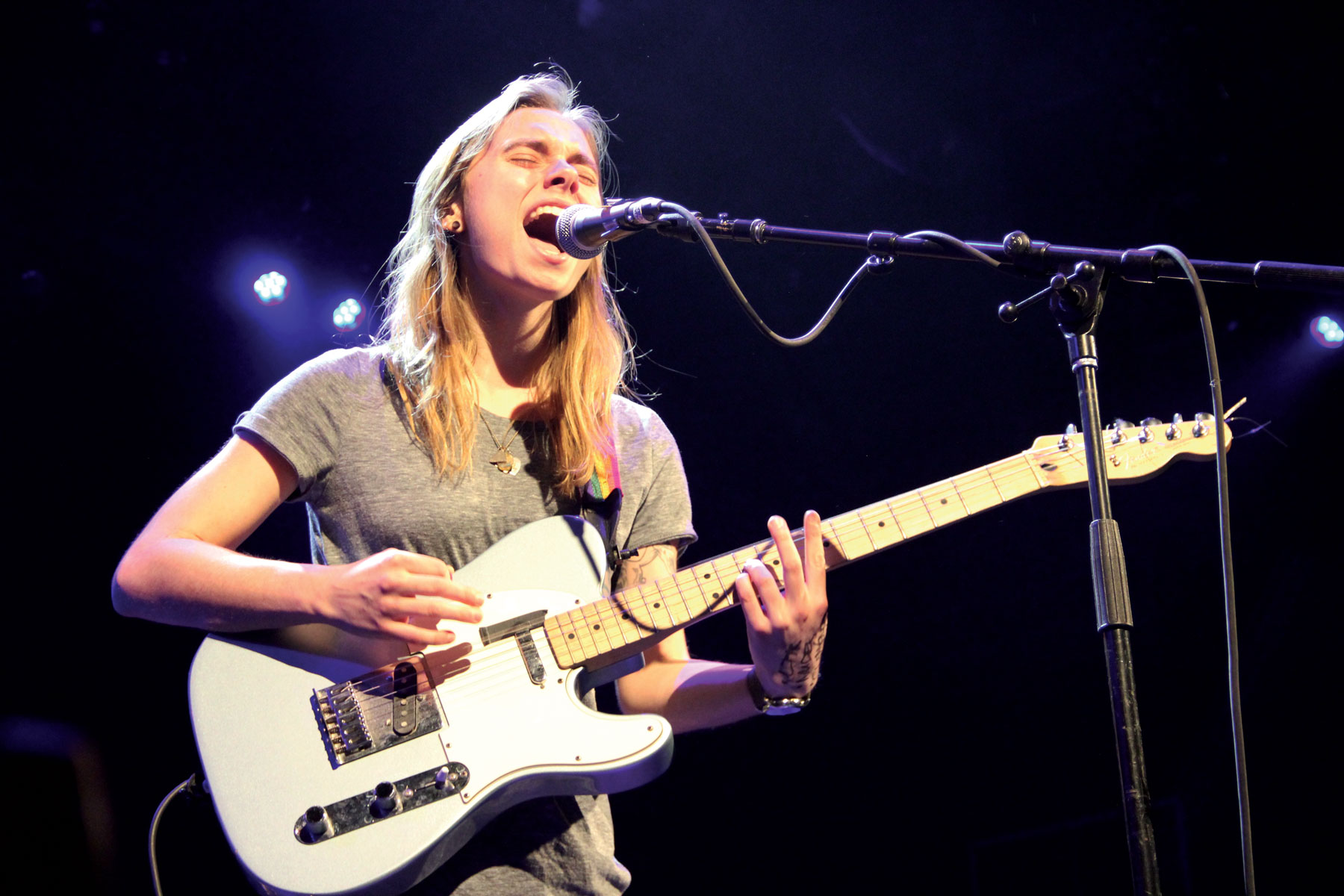 I recently learned that The Decemberists have a pretty huge following here in Philly. When the Fillmore announced their April 14 concert with Julien Baker, I did not expect it to sell out so quickly.
When I arrived at the Fillmore at 8 p.m. on the dot, the place was packed wall to wall, mostly with fans in their 30s and 40s. I was startled when I saw Julien Baker take the stage at exactly 8 p.m., since usually concerts don't start at precisely the time printed on the ticket. If nothing else, the Fillmore sure is punctual!
Regardless, I arrived just in time to hear the Tennessee-native singer-songwriter I have grown to love so much over the past couple of years. Baker's debut album "Sprained Ankle" was released in 2015 and I've been a huge fan of hers ever since.
Baker's music is stripped down, usually making use of just an electric guitar, looping and delay pedals and, of course, her own beautiful voice. Lyrically, her music is usually pretty soul-crushing. She sings about broken relationships, death, struggles with her own self worth and addiction. She also has one of the most amazing singing voices in the indie scene.
It was crazy to see Baker, so small in stature, all alone at the front of the huge stage in front of a crowd of nearly 3000 people, when just a couple years ago she was playing at bars such as Philly's Boot & Saddle. The whole scene struck me almost like a metaphor for how small and isolated she conveys herself as feeling in some of her lyrics.
The last time I saw her was in September, when she headlined at Underground Arts. The two shows proved to be very different, for a few reasons. First of all, her set was obviously much shorter this time around since she was an opening act. However, she left me wanting much more when she left the stage after playing just six songs.
The Fillmore is a much larger venue than Underground Arts. The 3000-person capacity Fillmore, filled with eager Decemberists fans crowded around each of the venue's five bars, had a lot more chatter and commotion. A lot of people were clearly more interested in their own conversations than Baker's music, and it took away from some of the intimate, heartbreaking songs she was delivering.
She started off with the newer single "Funeral Pyre" before going into songs off her album. She played "Sprained Ankle," "Everybody Does" and my personal favorite, "Rejoice." Between songs, she sheepishly addressed the huge crowd and even cracked a few modest jokes.
After "Rejoice," she played a new, unreleased song called "Turn Out the Lights" and it completely brought the house down. Fans were cheering during the cathartic chorus when she poured her emotions out, singing at the top of her lungs. It definitely has potential to be my new favorite Julien Baker song and it was an incredible treat to hear for the first time in a live setting.
She ended the set with her most popular song, "Something." Those in the crowd who were paying attention loved it, and her.
The Decemberists took the stage just a bit after 9 p.m., and went right into "The Crane Wife 1 & 2," followed immediately after by "The Crane Wife 3." Now, I'm not a huge Decemberists fan (in truth, I went to see Julien Baker), but I did know those songs! And they were quite good, too.
The band took up the whole stage, with a wide array of instruments and colored lights. It was a stark change from Baker's set. They had a lot of delightful textures to make up their folk rock songs such as guitars, keys, drums, accordion and even a section of backup singers. Frontman Colin Meloy had a great singing voice and he articulated really well, which I appreciated because sometimes it can be difficult to hear lyrics at live shows when there are so many instruments.
They played a whole string of great tunes, most of which I recognized, to my surprise. A few which stood out were "Shiny," off their early 2002 "Five Songs EP," the more recent "Make You Better" and "We All Go Down Together."
Around the middle of the set, Meloy announced that they'd be playing a new, "state-of-the-union" song. The crowd erupted in laughter when the band started to play and Meloy sang the chorus: "Everything … is awful."
All in all, they put on a really tight set that was a lot of fun to watch, and I can see why they have so many fans. The folk rock aesthetic isn't exactly my thing, but I really enjoyed the show and had fun singing along to all the songs I knew.