With their friendship dating back to 2008, the musical duo John & Brittany has definitely made a mark on Philadelphia.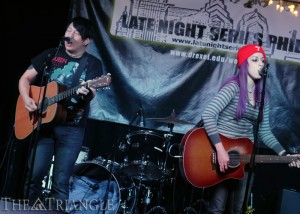 Soon after crossing paths, John Faye and Brittany Rotondo struck up a friendship from their similar musical interests: the Beatles and the Ramones. From there, Faye and Rotondo began writing together. Putting music to Rotondo's words was something that came easily to Faye, and it definitely made for an interesting record.
"I love interpreting her words with my vocals. It lets me inhabit characters and emotional spaces that I don't normally inhabit," Faye said about Rotondo's lyrics.
In July 2011, John & Brittany released their self-titled debut EP on their record label IT KEEPS REVOLVING! The EP featured many of their most popular songs, including "Cigarillo," which is bluntly about a nicotine addict, and "Queen of Mean." Going into the EP, John admitted that they didn't really have a vision for their music.
"Our first EP was just a collection of six songs. We were so new at performing together at that point [that] we just kind of wrote as we went along," Faye said when asked about the differences between their first EP and their new record.
In 2012 John & Brittany received over $10,000 through a Kickstarter campaign to fund their new record, "Start Sinning." Unlike their EP, this record had a focus before it was written.
"We wanted it to be dark; we wanted it to be raw. I think it showed," Faye said.
"Our EP was fresh. This time around with the record it's more nitty gritty in a get-under-your-skin kind of way," Rotondo said.
The darkest song on the record, "Dirty Little Magazine," is also John & Brittany's favorite song to perform live. With a mixture of the darker and sweeter sides of their music, this song shows the perfect combination of John & Brittany's songwriting chemistry.
Since the record was released, John & Brittany have been playing multiple shows in Philadelphia and the surrounding area to promote their new album. John & Brittany also spend time performing at open-mic events in Philadelphia, including Drexel's own Late Night Series at Flux on Thursday nights.
John & Brittany have many big events coming up in 2013. Their March 9 show with Silvertide at the Theatre of Living Arts has already sold out. They'll also be featured Feb. 15 on Radio 104.5's "Live at 5," and they have plans to broaden their horizon with trips along the East Coast and across the country to play shows in cities other than Philadelphia.
For more information on where you can see John & Brittany live, visit their website at johnbrittany.com.