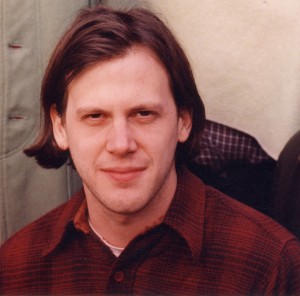 Jeff Mangum, reclusive frontman and songwriter of beloved indie band Neutral Milk Hotel, played a rare concert Nov. 6 at The Landmark Loews Jersey Theatre in Jersey City, N.J. Mangum is notorious in music circles for shying away from fame after releasing his magnum opus, "In the Aeroplane Over the Sea," in 1997.
Since disbanding the group in 1998 after a supporting tour for the album, he has remained largely inactive, contributing small parts to other projects and putting together a compilation of field recordings of Bulgarian folk music. However, in recent months Mangum has made a number of public appearances, performing a number of one-off shows and making guest appearances at a number of concerts. He has also begun reissuing old and unreleased Neutral Milk Hotel material, and the day after, his concert announced a 2012 tour of the United States, including a date at the Irvine Auditorium at the University of Pennsylvania.
Mangum's choice of venue was quite appropriate. Loews Jersey Theatre was antiquated and ornate with a slightly ramshackle charm, much like the music of Neutral Milk Hotel. While his recordings are layered with an array of whimsical instruments, such as the singing saw and zanzithophone (a digital horn), Jeff Mangum's recent live performances, including that at Loews Jersey Theatre, have simply featured him seated, surrounded by acoustic guitars.
Despite this, the arrangement worked remarkably well. What it lacked in ornateness, it more than made up for in its intimate nature. Mangum's simple singing and strumming of a guitar filled the room with warmth, enticing the audience with each cryptic word. His distinctive voice has not diminished in quality over his long hiatus from music. His meandering, reaching vocal parts were uniformly spot-on throughout the entire concert.
Adding to the charm of the event, Mangum quickly dispelled of any notions drawn about him due to his prolonged absence from music. He thanked the crowd profusely throughout the show and joked with the audience between songs. He was generally extremely personable, playing a combination of fan favorites, album cuts and even an unreleased song. No matter the song, though, the audience was spellbound, singing along to the tracks they knew and simply taking in those they did not.
Jeff Mangum's recent return to public appearances has been met with great excitement among fans, many of whom were introduced to his music long after Neutral Milk Hotel had disbanded. This enthusiasm was not at all unfounded. Mangum's performance at The Landmark Loews Jersey Theatre was not only sonically superb but displayed a charisma that one would not at all expect from someone who has spent so long out of the public eye. While many fans view Jeff Mangum with the awe and reverence reserved for but the most respected people, he showed that he is simply a musician and songwriter, albeit one who has written some of the most resonant and compelling music in recent times.