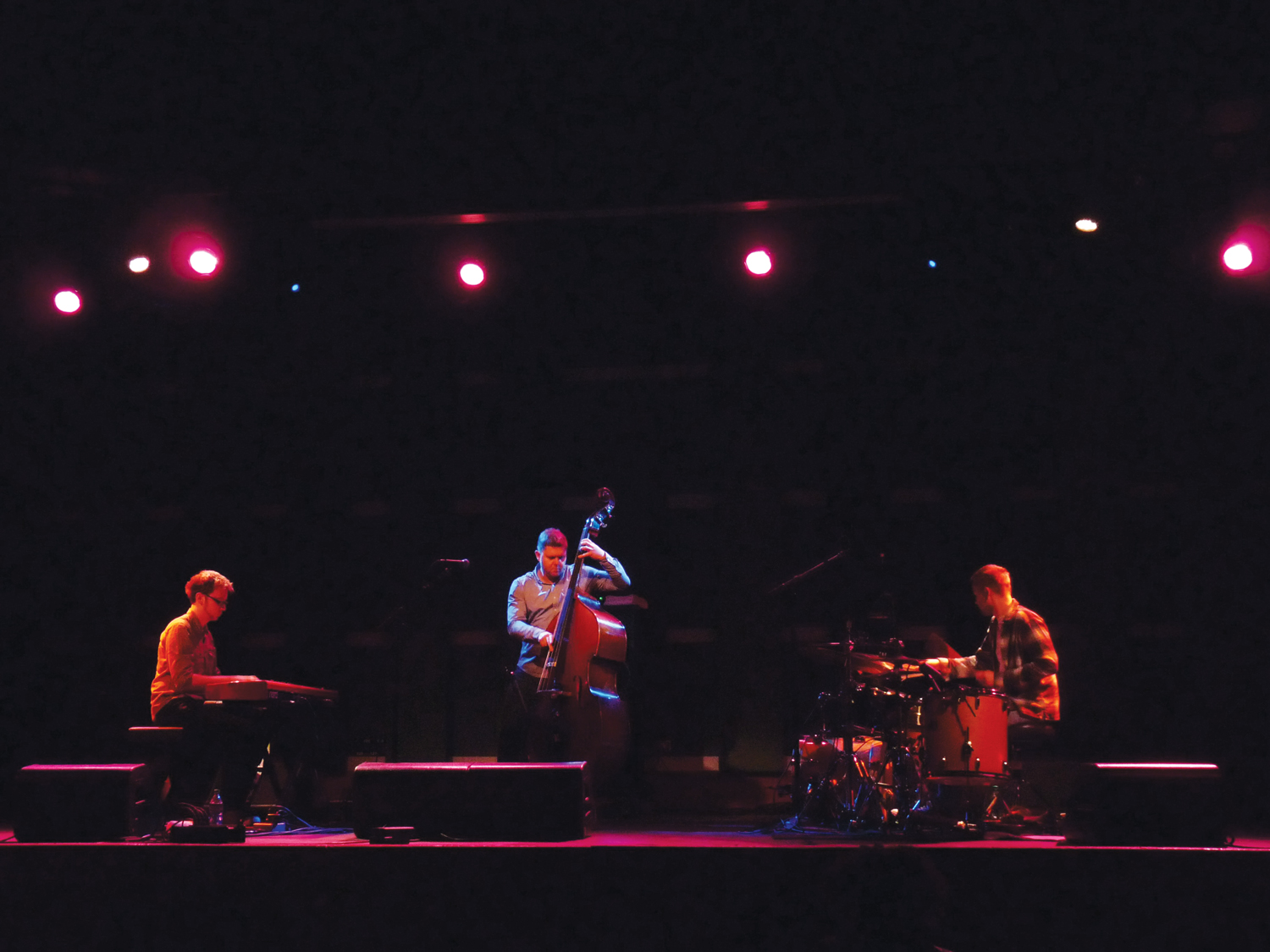 On the night of April 25, Drexel students were swarming the Daskalakis Athletic Center to see the one and only Bernie Sanders give a speech. I was several blocks away, at the World Cafe Live on Penn's campus. The performers that night were GoGo Penguin, an experimental jazz trio from Manchester, UK. It's almost unfair to call them a jazz band though, since their unique style blends together so many different genres. One review I read for their new album "Man Made Object" aptly described their music as "acoustic electronica," which sounds nonsensical and yet perfectly fits their sound.
These guys are a seriously impressive act. The band comprises of Chris Illingworth on the piano, Nick Blacka on the contrabass and Rob Turner on the drums. The mesmerizing virtuosity with which they played made it clear that each member is a  master at their respective instruments. When I listened to their albums, I always pictured sophisticated men in suits. I was surprised and strangely excited when I saw three, normal-looking college guys shamble onto the stage — neckbeards, flannel and all. When they played, their focus and passion made it impossible to look away.
The band played a fair number of songs from both their first album, "v2.0," and their 2016 release, "Man Made Object." Their albums are pretty indistinguishable from each other, but they've managed to find a sound that really works for them, so I'm not complaining. Listening to their recorded music serves as good background, but their live act is totally captivating. It's incredible to watch such talented people perform totally in sync with each other.
The drummer played impossibly fast and complex rhythms, which may be standard in the world of jazz, but were Greek to me. If you've seen the movie "Whiplash," you probably know what I'm talking about. In fact, Rob Turner reminded me a lot of Miles Teller's character in that film, except for the fact that Turner didn't seem to break a sweat even by the end of the set. Illingworth played the piano with a melodic, echoey and somewhat simplistic style. His distinct style of playing gives their music a spacey, almost out-of-worldly sound.
Blacka was impressive on the contrabass, but it wasn't until the fourth song in their set, "Break," that he fully revealed his formidable skills. There was a breakdown in the middle of the song that featured an extended bass solo, which was just nuts. We have all heard of walking bass lines, but this guy's fingers looked like they were running a marathon. Blacka would let low notes ring out  — those powerful low frequencies that make objects in the room rattle — while playing fast-paced riffs in the upper register.
A song that really stood out to me during their performance was "One Percent," a track off "v2.0." At some point in the middle of the song, the musicians stop and start rapidly, in a stuttery fashion, that sounds a lot like a CD skipping. This style of playing sounds electronic or manufactured, which makes it all the more impressive to see pulled off live. It's honestly so cool. You've made it this far in the article, so you must be somewhat interested — go ahead and whip out your smartphone. Search "GoGo Penguin: Live at Jazz Sous les Pommiers" on YouTube. Watch from 13:20 to 13:54 and tell me that isn't the coolest thing you've seen all day.
My favorite song of the night was "Smarra," because it's a great song and it's also what got me hooked on GoGo Penguin just over a month ago. In this song, Illingworth plays chords in a way that makes them sound like he is using an electronic delay effect over a groovy bass line that would not be out of place in any great funk song.
The most impressive aspect of their whole act was their precision. It never ceases to amaze me how precise and in-sync they can be at all times, despite the fast tempos and complex rhythms. But then that's what jazz is all about, isn't it? GoGo Penguin is a group of incredibly talented musicians and I would highly recommend that you "GoGo" see them if the opportunity rises.