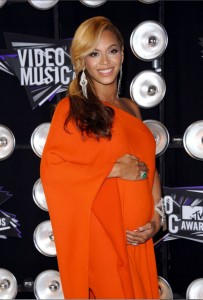 The announcement that Beyonce and husband Jay-Z were expecting their first child stole the show at the 2011 MTV Video Music Awards on Aug. 28, 2011 in Los Angeles.
To say Jay-Z has been the most successful rapper of our generation would be a huge understatement. After releasing his debut album "Reasonable Doubt" 16 years ago, the legendary emcee has had 12 No. 1 albums, all of which have gone platinum, and 18 Billboard top-10 singles. Need more? He is consistently at the top of Forbes' list of Hip-Hop's top earners, making $37 million in 2011 alone. Now, on top of it all, he's a father. After marrying superstar singer Beyonce Knowles in 2008, the power couple had their first daughter, Blue Ivy Carter, on Jan. 7, 2012. On her website, Beyonce confirmed that they have named their firstborn Blue Ivy, after many blogs claimed it was Ivy Blue, and that she was a healthy seven pounds. Some reports have even said that Jay-Z spent over $1.3 million to rent out an entire floor at Lenox Hill Hospital in New York City to keep the birth of his daughter private.
So why did the couple name their daughter Blue Ivy? Let's break it down. If you know anything about Jay-Z, you know that he has released a trilogy of albums under "The Blueprint" name, the first of which is regarded as one of the best hip-hop albums of all-time. Therefore, the name Blue is quite simple. Understanding Ivy is a bit trickier. "IV" is the number four in Roman numerals. Beyonce's newest album is called "4," the couple was married on April 4, Jay-Z was born on Dec. 4, Beyonce was born on Sept. 4 and her mother was born on Jan. 4. After you see the importance of the number four to this couple, you can simply take the phonetic spelling of the Roman numeral four and you've got Ivy.
Just two days after the birth of Blue Ivy Carter, Jay-Z released a song called "Glory," which was produced by Pharrell Williams and Chad Hugo, who together are known as The Neptunes. On a day that featured many other big hip-hop stories, including a newfound "beef" between Common and Drake over Serena Williams, Jay-Z stole the limelight with one post on his website, "Life and Times." The post included the new song and one simple sentence, "Life just got REALLY good." Minutes later, the song was trending on Twitter.
"Glory" opens with Jay-Z: "The most amazing feeling I feel, words can't describe, what I'm feeling for real, baby I paint the sky blue, my greatest creation was you." You can hear the joy and emotion in his voice as the keys play lightly and Pharrell sings in the background.
He continues into the first verse by describing what he believes his daughter will be like with lines such as, "I wreak havoc on the world, get ready for part two, a younger, smarter, faster me, so a pinch of Hov, a whole glass of Bey."
During a few parts of the second verse, Jay-Z shares some incredible details about the couple's pregnancy struggles over the past few years. "Last time the miscarriage was so tragic, we was afraid you disappeared, but nah baby you're magic!" Being able to share information as heavy as this on a song shared with millions is unbelievably bold and brave. Throughout all of "Glory," Jay-Z gushes with pride, relief and excitement over the birth of his daughter.
Jay-Z showcases his legendary wordplay with lines such as, "You're a child of destiny. You're the child of my destiny. You're my child with the child from Destiny's Child. That's a hell of a recipe."
The song comes to a close with softened keys and Blue Ivy's first cries as Pharrell sings "Oh glory!" The sounds of Blue Ivy bring the song full circle and give closure to the listener after one the most emotional songs Jay-Z has ever released.
One of Jay-Z's strengths is his ability to tell a story and evoke emotion from his listeners, and with "Glory," he was incredibly successful in both aspects. If you haven't heard the song yet, you don't know what you're missing.
Congratulations to Jay-Z, Beyonce and their families on the birth of Blue Ivy Carter!