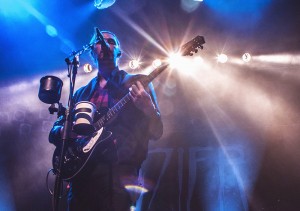 A minute or two past the proposed set time of 9:30 p.m., the lights dim and a predictable roar of applause and excitement fill the Electric Factory. The band, wearing all black, takes the stage and Hozier casually strolls behind. The spotlight guides him a path to a microphone, reveals his six-foot figure and exposes his pale face hiding behind thick, dark strands of hair. He grabs the neck of his guitar and starts humming right into "Angel of Small Death and The Codeine Scene," a song from his original EP titled "Take Me to Church."
His 2013 EP, consisting of four songs, brought Irish singer-songwriter Andrew Hozier-Byrne overnight success. The instant hit single, "Take Me to Church," reached number two on iTunes Top 100 and stayed there for weeks. A year and two EPs later, a full-length album came out along with a Grammy nomination and a nationwide tour.
The previous tour brought Hozier to Philadelphia for the first time ever in November 2014 to the Trocadero Theatre. There, he performed for a sold-out crowd of 1,500 people. Months later, Hozier returned to Philadelphia to perform at the Electric Factory, to a crowd double the previous size.
As the band sang the chorus of "Angel of Small Death and The Codeine Scene," the dimly lit overhead lights hanging from the band's stationary instruments started flashing in sync with the guitar riffs. Hozier then went on to perform songs like "From Eden" and "Jackie and Wilson."
At one point, Hozier grabbed the mic to introduce a song; "This song is so rightfully about an ex of mine," he chuckled, "this song is called 'Someone New.'" The song was rather upbeat for being about an ex-girlfriend of his. "To Be Alone," a darker, bluesy song, followed right after. Hozier got a little help vocalizing "woos" from his band; two females echoed his chants to make the voice eerie enough to send a chill up your spine. Hozier took the opportunity in the middle of the song to do a jazz-inspired guitar solo that drove the crowd wild.
When the song came to an end, Hozier stepped up to the microphone and said, "Thank you very much," he stumbled. "In a moment or two, eh, in a moment or two I'm going to play a song of my own." He then went on to perform "It Will Come Back," a very sensual and dark song.
After introducing Alana Henderson, a band mate of his, to sing the next song — "In A Week." Hozier, a little flustered, sang Alana's verse instead of his own. Realizing his mistake, he chuckled and said that it had been a long week. Their dark, twisted, but nevertheless beautiful duet silenced the crowd until the song's last line, "I'll be home with you." A roar of applause filled the venue. He continued alone to sing a cover titled "Illinois Blues," a song written by blues musician Skip James. After this, the band returned and they began harmonizing, which sent the audience into whistles of approval. Hozier then performed his last three songs —"Like Real People Do," "Arsonist's Lullaby" and "Sedated." In between, he took a breath to let the audience know that "Philly crowds are something else." The chart-topping "Take Me to Church" followed and Hozier took out his ear piece to hear the audience sing along with the "amen."
The band left the stage, but Hozier returned almost instantly for the encore. As the purple lights shone behind him, he started singing "Cherry Wine," a song made popular by the movie "Garden State." He then surprised the crowd by performing a newer song entitled "Run," which sounded exactly like what you would expect from Hozier. As the rest of the band joined him, Hozier decided to perform a more upbeat song — a cover of Ariana Grande's "Problem." The song sounded like a bluesy ballad. Finally, Hozier closed the sold out show with "Work Song," a song that was both introduced and closed with hand claps.
Hozier put on an unforgettable performance. He will be back in the city May 10 for the Radio 104.5 Birthday Show alongside Of Monsters and Men, Death Cab for Cutie, Passion Pit, Vance Joy and Walk the Moon. Unfortunately, the show is already sold out. But if you didn't get a chance to grab a ticket, tell yourself it's probably for the better since you should be spending Mother's Day with your mom.