"Never thought we'd make it to this side of the pond," singer-songwriter Ben Howard said after expressing to the audience how good it felt to address a crowd as "Philadelphia." Communion's "Austin to Boston Tour" stopped at World Cafe Live March 27, selling out the upstairs venue. Communion, a record label that started as a club night showcasing new music in London, sent four of its artists on a U.S. tour with Howard and his band as the headliner.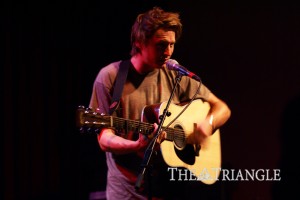 Singer/songwriter Ben Howard performed at the World Cafe Live March 27 as part of record label Communion's "Austin to Boston Tour." The opening act featured Bear's Den.
The show opened with Bear's Den, the brand new project of Andrew Davie, previously of Cherbourg. The band has a few songs floating around the Internet but has not officially released anything. This had Howard joking during his set about "pestering them to record something." Despite being unknown to most of the audience, the concertgoers were attentive. Bear's Den was impressive and proved its potential, setting the quiet tone to the evening.
The second performer, Nathaniel Rateliff, was the only American act of the tour. His songs are sparse, but his rich and powerful voice was able to fill the room.
Following Rateliff were The Staves, a trio of English women who enchanted everyone with their gorgeous vocal harmonies accompanied by an acoustic guitar and a ukulele. They introduced Howard by facetiously stating that "he's very good at music and that stuff" and that he would help console the crowd after The Staves' melancholy songs.
Howard began his set with "These Waters" but abruptly stopped, saying, "We're going to start that again. It sounds like s—." After resolving some technical difficulties, he finished the non-album single and played "Black Flies," a track off his latest album "Every Kingdom." The debut full-length was released in the U.K. at the end of 2011 but wasn't released in the U.S. until April 3. While this tour acted as sort of an introduction of his music to the U.S., plenty of audience members were clearly avid fans who were familiar with his lyrics.
Howard continued his set with other tracks off his new release, showcasing his guitar-playing style that combines finger picking with harmonies and tapping. Along with a drummer and cellist, Howard's instrumentals have a textured sound that sets his music apart from other folk artists who are often grouped with him.
The London-born, Devon-raised musician has a passionate and somewhat husky voice that gives gravity to every word he sings. His lyrics cannot be summed up as "happy" or "sad." They are simply heartfelt. Every aspect of Howard's songs makes them captivating and a pulse of emotions.
The Philadelphia audience appeared nothing less than enamored with the talented 24-year-old. He praised the venue as a great place to perform. Howard joked about how the bar only gave free beer to artists and he ironically doesn't like beer.
For "The Wolves," he asked the audience to sing with him. This elicited louder singing voices along with hand-clapping. Then he told about his journey from Nashville and how arriving in Philadelphia felt "like [they] came back to civilization."
Howard also managed to call a cheesesteak by its correct name, omitting the "sandwich" that most performers like to tack on.
The set concluded with "The Fear," a song played with an electric guitar instead of acoustic, which ended with loud instrumentals including additional drums.
Howard returned to the stage for an encore without his backing band to play "Burgh Island," a soft song played on the electric guitar.
"I've been away from home for a long time, and this is a song about that," Howard said.
The audience listened in near-silence, and Howard ended his performance by thanking everyone for being so quiet.