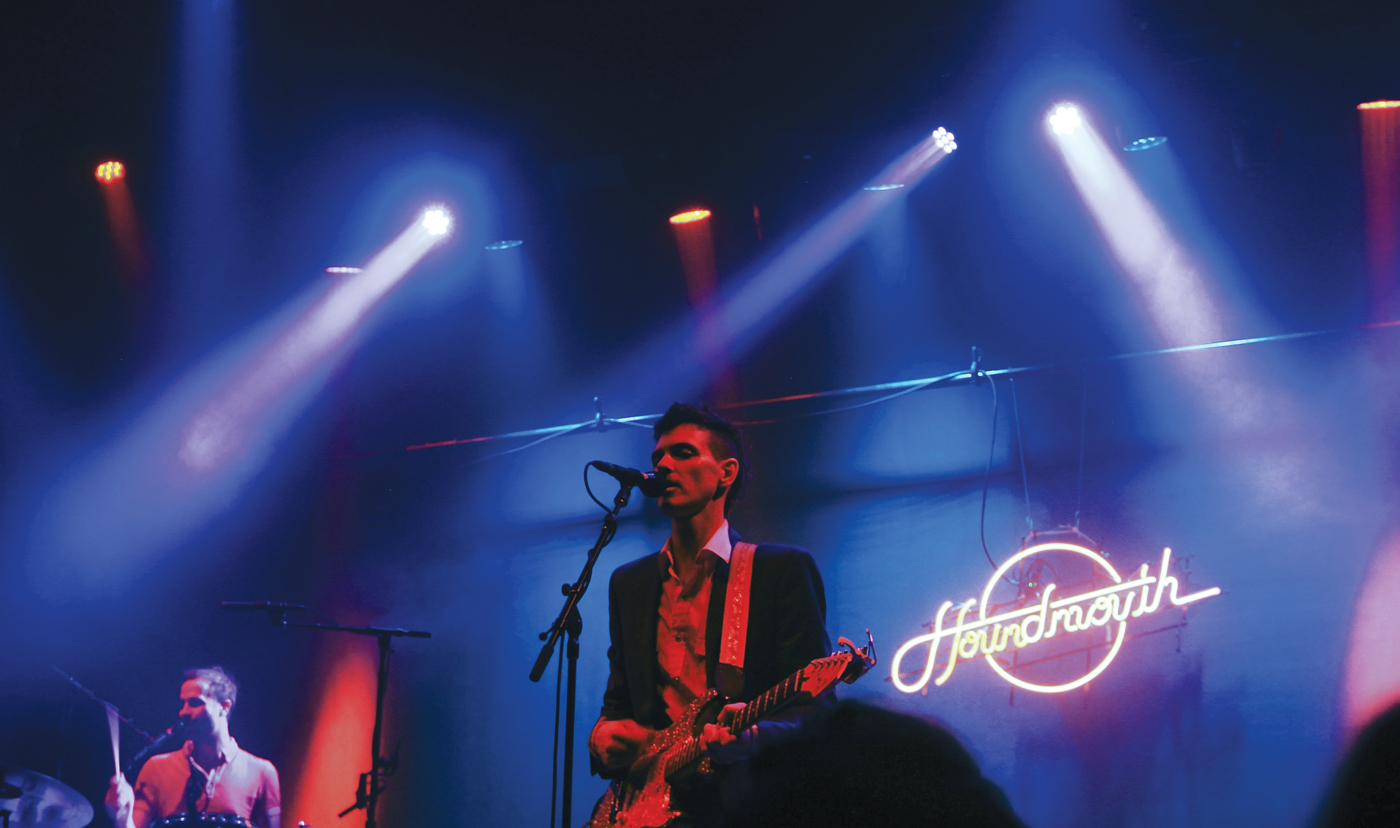 On the warm, rainy night of April 22, Americana band Houndmouth took the stage at Union Transfer in central Philly. The southern Indiana natives just finished a stint of shows in Australia and are now in the middle of a nationwide U.S. spring tour before appearing on the festival circuit.
Lucy Dacus and her band opened for Houndmouth. I arrived a few minutes into her act and was surprised by how full the venue already was. Backed by a drummer and three other guitarists, Dacus ran through a medley of tracks from her newest album "No Burden." Despite being a relatively unknown opening act, Dacus put on a hell of a show. Songs built up to explosive guitar solos as the band jumped around with rat tails gleaming in the stage lights. After performing for about 45 minutes, the band left and a neon sign with the word "HOUNDMOUTH" lit up on stage.
Less than a week before the show, Houndmouth had announced via their website that Katie Toupin, one of the founding members of the group, was leaving to pursue other interests which came as a shock. I was curious how it would affect their live performances, but right away it was obvious that Houndmouth wasn't missing a beat. Joined by two new horn-players and another new member on keyboards, the original three looked as polished as ever. Although the six members had only performed nine times before coming to Union Transfer, it felt like they had been together for years.
On a dimly lit stage, the band sauntered out in front of the sold-out venue. The audience was a melting pot of folks. Behind me was a young couple that never let go of each other for the entire hour and a half set. To the left was a man who would probably come in second place at a Tommy Chong look-alike contest, and in the front row was a man with long hair who awkwardly held up a lighter at random times. But they all gathered together to sway, sing, and dance together.
Matt Myers and Zak Appleby, who I had the pleasure of interviewing last week, opened their set with "Black Gold" off of their newest album "Little Neon Limelight." Next they played a few of their slower songs, such as the ever-popular "Darlin." While not as upbeat as some of their other tracks, the crowd still sang every word of the songs. Houndmouth quickly picked up the tempo with "Say It" and "Penitentiary." In what felt like a short time, the band was already on their hit single "Sedona." They thanked the audience, saying how much they loved Philadelphia and walked off stage.
But the crowd stayed, and soon Myers walked back onstage decked out in a fur coat, a white guitar in hand, for a solo performance of "For No One." The rest of the band rejoined him to play two more songs, including the rambunctious "My Cousin Greg." As the venue echoed with the words of "If you wanna live the good life, then you better stay away from the limelight," Houndmouth again thanked the crowd and strolled off of the dusty stage for the last time.