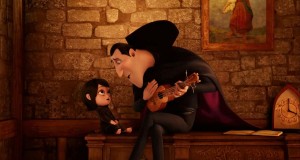 "Hotel Transylvania" is a quirky family comedy that follows the personal life of none other than Count Dracula (Adam Sandler). The film, which was released Sept. 28, focuses on Dracula, a widower, father and businessman. After the death of his wife, he built Hotel Transylvania, a five-star sanctuary for all monsters. Dracula designed the hotel specifically to keep humans out, because he regards them as — plot twist — bloodthirsty killers.
The story begins when Dracula's daughter Mavis (Selena Gomez) has come of age. She has been shielded by the hotel's walls for as long as she's been undead and plans to hold her father to the promise he made: On her 118th birthday, Dracula would give Mavis permission to observe humans in their natural habitat. However, Dracula plans to ensure that his daughter will never want to leave his protection again.
In the midst of the scramble to plan Mavis' birthday extravaganza, a young human named Jonathan (Andy Samberg) stumbles into the hotel. Naturally, Dracula can't have any humans going around scaring his friends. Because killing him is out of the question, Dracula disguises Jonathan as a monster and convinces everyone that he is Frankenstein's cousin. He even confused Frankenstein (Kevin James) himself. But once Jonathan and Mavis crash into each other, it's love at first sight, and Dracula has a mess on his hands.
In theory, "Hotel Transylvania" has the makings of a good kids movie — an all-star cast, seasonal appeal, and a cute idea with a moral thrown in. But the execution leaves much to be desired. On a technical note, the three-dimensional elements of the film are both hit and miss. The introduction is beautiful. The creepy gate around Dracula's castle stands out and the mist floats off the screen and into the audience. Even baby Mavis' crib pops in a remarkable way. Paired with the style of animation, it's like stepping inside a pop-up book. Somewhere around the end of the first act, the artistry loses itself. There are moments that could have taken advantage of the 3-D technology but just fell flat. Further into the film, many of the scenes that involved fast movement in 3-D feel very muddled and artificial to the eye.
In terms of dialogue, the writers didn't seem to have a clue. The glaring exposition was cringe-worthy and shouldn't make it into the final draft of a script in a screenwriting class, let alone a Sony Pictures production. Three of Dracula's speeches repeat the exact same thought, which didn't actually require any dialogical reference. Also, whoever coined the phrase "Holy rabies!" should never be allowed near the English language ever again. One wonders what could have compelled talent like Steve Buscemi (who voiced Wayne the werewolf) and Jon Lovitz (Quasimodo) to sign on after reading a script with such amateurish craftsmanship.
Kids don't want to be pandered to. They don't want to be talked down to. They don't want to be told what's happening five times in five not-so-different ways. When competing with films like "Hugo" and "ParaNorman" setting such high standards for family films, "Hotel Transylvania" cannot keep up. Even the off-color, disjointed, not-so-discrete penis joke missed the mark. Save your 13 bucks and buy a sandwich.