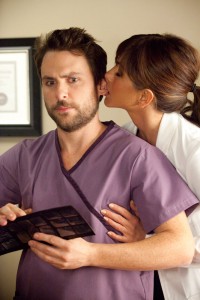 Directed by Seth Gordon, "Horrible Bosses" hit theaters July 8. The comedy stars Jason Bateman, Charlie Day and Jason Sudeikis.
Don't get too excited to graduate, college kids. Things aren't looking too good out there — or at least that's what "Horrible Bosses" will have you believe. Students might want to pay a bit more attention to Adam Sandler's title character in "Billy Madison," who said, "Stay here! Stay as long as you can."
Seth Gordon's "Horrible Bosses" is a surprisingly bawdy, happily humorous comedy that poses some serious questions such as: What if your boss is harassing you? What if you need to quit your job? What if your boss is the only thing in your way?
In recent years, the job search has been rather difficult; so much so that if you happened to land yourself your dream job, you'd probably do anything to hold on to it. Jason Sudeikis, Charlie Day and Jason Bateman play off each other wonderfully when they finally acknowledge that the only way to hold onto their dream jobs is to ensure their respective bosses take a dirt nap – dreaming six feet under. Contrary to what you may believe, most of the frenzied antics take place outside the office, leading the premise of "Horrible Bosses" away from a big screen "Office Space," and giving it more of a "Stealing Harvard" feel.
The film begins at the break of dawn with deep blue colors everywhere. It almost seems as though we're in for a dark, dreary, dry comedy; however, "Horrible Bosses" couldn't have ventured further from that assumption. Instead, Sudeikis is constantly delivering timely, witty one-liners while Bateman's mature, logical reluctance attempts to calm every situation — and then, of course, there's the wild card, Day.
With an entertaining voice-over from Jason character, Nick Hendricks, we learn that in order to successfully climb the corporate ladder, we have to "take shit" from our bosses. Moments after, we're introduced to Hendricks' boss, Dave Harken, played by none other than Kevin Spacey. Harken is handing Nick "some fresh shit" for being two minutes late, and from there, the film just gets funnier.
Sudeikis is Kurt Buckman, a guy who loves his job and, perhaps even more, his boss Jack Pellit. Unfortunately, Pellit passes on, leaving room for his son Bobby Pellit to swoop down and snatch the controlling position right from under Kurt's grasp. As disappointing as this may sound, things only get worse when we learn that Colin Farrell's Bobby Pellit is a major cokehead loser, who wants nothing more than to drain the company of its money and head somewhere tropical.
This now brings us to Dale. How terrible could it be having someone like Jennifer Aniston hitting on you everyday? Nick and Kurt certainly don't understand the problem. "It's Always Sunny in Philadelphia," star Charlie Day plays Dale Arbus, a happily engaged dental hygienist whose only conceivable problem in life is his ridiculously sexy nymphomaniac boss, Dr. Julia Harris. When Julia begins explicitly propositioning Dale, he becomes increasingly uncomfortable, trying anything and everything to reason with her and hold on to his fiancé. Aniston does a fantastic job sexing up the film in this role, and I would venture to say she's never looked better.
"Horrible Bosses" is a wonderfully acted, endlessly entertaining script about three guys who feel cornered in their workplace, and features a highly relatable story. Don't expect "Hangover" humor, nor the comical nonsense you'd find from "Dude, Where's My Car." Instead, the movie's humor is more creative. Fairly realistic is "Horrible Bosses" in that everything that happens could conceivably occur — but then again, could you actually go through with it? Could they? I guess you should go find out.