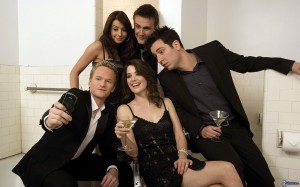 CBS's sitcom "How I Met Your Mother" came to a close after nine years March 31, and its sendoff was pretty medi-wait for it-ocre. Ever since its inception in September 2005, the multi-camera series, created by Carter Bays and Craig Thomas, followed the exploits of five friends living in Manhattan. For those who didn't come of age in the '90s, it was a new version of "Friends" (swapping Central Perk for MacLaren's Irish Pub) and perhaps the greatest love story of the early 21st century, or so we were led to believe.
The show's main focus was on Ted Mosby (Josh Radnor), an architect and part-time hopeless romantic whose older self (voiced by a more mature-sounding and uncredited Bob Saget) tells his children about the events that led to him meeting "The One," their mother. While one may object to a father recounting his various sexual encounters to his progeny, this led to an unconventional method of storytelling that utilized flashbacks, flash forwards and unreliable narration. Moreover, it allowed for the exploration of a colorful cast of characters who would serve as Schmosby's best friends, girlfriends and wingmen.
Among them were Barney Stinson (Neil Patrick Harris), a suit-wearing, sex-crazed womanizer who comes up with extremely creative ways to get laid; Marshall Eriksen (Jason Siegel), Ted's lawyer best friend and former roommate at Wesleyan University who wants to save the planet; Lily Aldrin (Alyson Hannigan), Marshall's wife; and Robin Scherbatsky (Cobie Smulders), a news anchor and former Canadian pop star known as Robin Sparkles ("Let's go to the mall!" was one of her top hits). And, of course, there was The Mother who, until the ninth season, was only characterized by a mysterious yellow umbrella.
Over the course of nine seasons, the gang got into some pretty LEGEN-wait for it-DARY! hijinks like licking the Liberty Bell and getting butterfly tramp stamps. There was also a cavalcade of guest stars (John Lithgow, Wayne Brady, Bob Odenkirk, James Van Der Beek, Bob Barker, etc.) and pop culture references up the wazoo. At the same time, the show injected some references of its own into the public consciousness, like the The Bro Code, The Playbook, Suiting Up, The Ducky Tie, Not-A-Father's-Day, Swarley, Slap Bets, The Naked Man, Challenge Accepted, "Eating Sandwiches" and so many more.
Along with entertaining story lines, the show did something rare for a weekly sitcom: It actually evoked emotions from viewers and created a strong fan base that would follow its characters almost anywhere. Who could forget Ted's two-minute date with Stella (Sarah Chalke)? Or when Lily told Marshall she was pregnant with their first child, Marvin? Or when Barney first had to deal with the realization of his biological father? Or the final words of Marshall's dad? Another one of HIMYM's strong suits was its overt sense of character development, which, in particular, completely transformed the lone wolves of Barney and Robin into people who could handle their fear of commitment.
However, this all changed with the series finale. The quality of the show had been noticeably slipping since the seventh season, slowly bleeding out charm and the will to go on. It probably should have ended a while back, but the writers decided to make a drastic format change with the final season. While past seasons always took place over a year, the ninth occurred over the course of a weekend that culminated in Barney and Robin's wedding. With gratuitous flashbacks and flash forwards, almost all loose ends were tied up with looks at all of our favorite characters from episodes gone by. And finally, we were able to meet and learn more about The Mother, aka Tracy McConnell, played to lovable perfection by Cristin Milioti. Despite the lessened quality of the show, the bulk of this season was by no means awful. It really wasn't until the series finale that many fans were saying, "Go again for Big Fudge?"
The biggest disappointment of the one-hour ending (titled "Last Forever") was its reveal that The Mother was nothing more than a way to push the overarching story forward and lead fans off the scent that Ted and Robin would end up together. However, the best part of the show was the silver lining that Ted would always meet his soul mate when love was giving him a good kick in the pants. This unsatisfactory twist destroyed the wishful optimism in destiny and fate that brightened our cloudy days. Tracy was the female version of Ted, while Robin couldn't have been more of his opposite.
In addition, the finale failed by trying to rush years worth of information into 60 measly minutes, leaving fans with the sense that they were cheated out of something that could have taken time and in which they could have built genuine emotional investment. Furthermore, it single-handedly destroyed every beautiful thing the season had created. Like it has been said a million times since the episode ended, all meaningful character development was decimated.
For instance, the entire season was dedicated to Robin and Barney's wedding only to have them get divorced and revert back to their season one personas in the second half of the finale. Also, The Mother's ultimate sickness and death is glossed over with no chance for feelings to register; the theory that she was deceased was propagated long before the end. Why even build her up for nine years as this romantic reward for Ted and give her an amazing stand-alone episode where we learn more about her past and the times her life intersected with her future husband?
While this ending was planned since season two, it does not feel like special care was taken to lead the show in this final direction. Seeing Ted holding that blue French horn one last time did bring the story full circle, but perhaps a more straightforward, happily-ever-after conclusion would have been better.
Faithful fans of the show should be grateful for the unbelievable ride over the last nine seasons and the important life lessons learned along the way, like "Nothing good happens after 2 a.m." and "Don't live in your stories." In its wake, many a doppelganger will try to take its place, like the upcoming "How I Met Your Dad," but nothing has yet lived up to the wonderful legacy it has created. Is there a future series of equal caliber out there? Like the enigmatic origins of that pineapple from season one, we may never know.