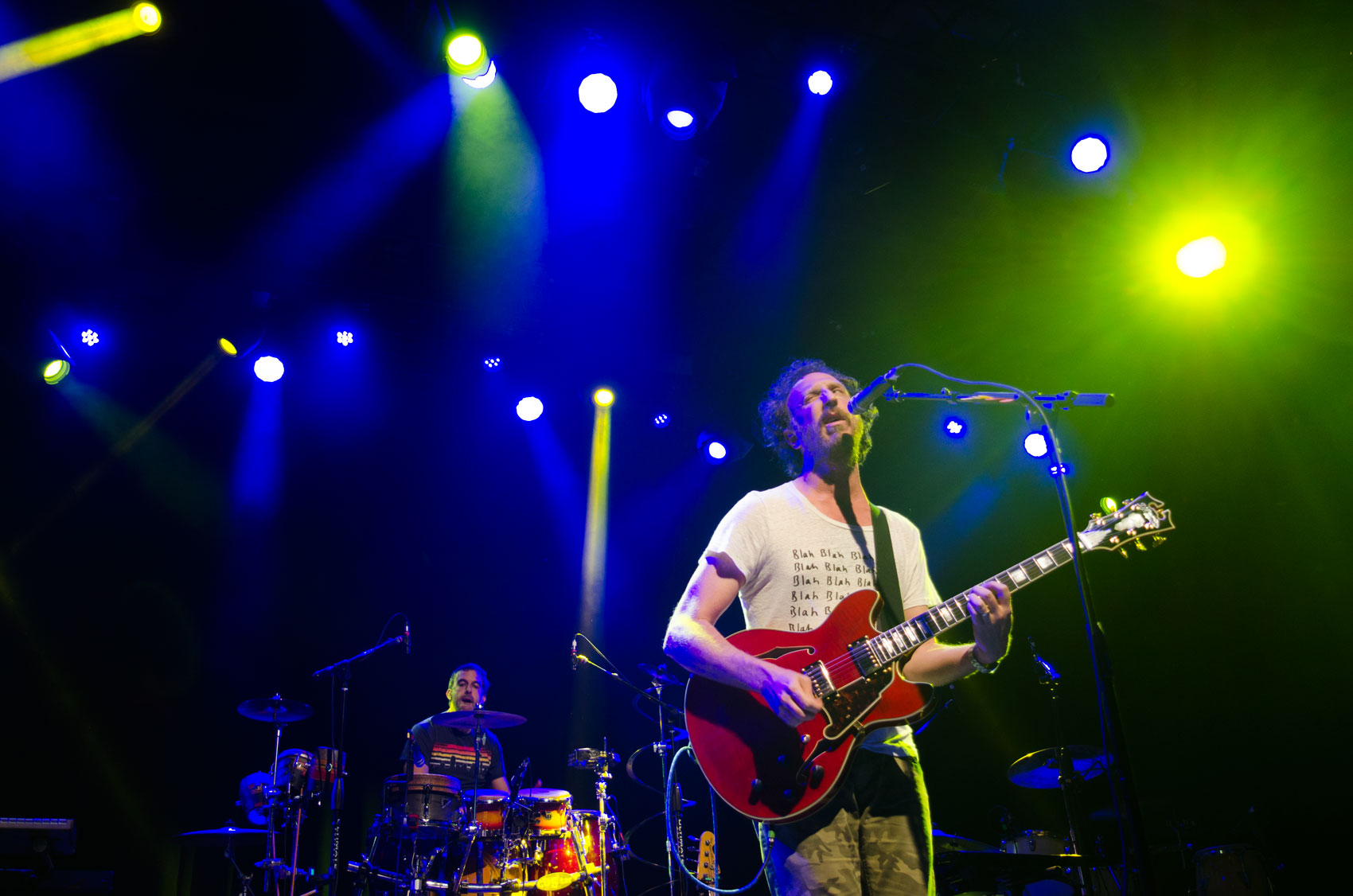 It's hard to forget the massive blizzard that dumped more than two feet of snow on Philadelphia back in January. Schools were closed, states of emergency were declared and, most importantly, a Guster concert was cancelled.
It wasn't all bad though. Thanks to the snow, Guster got stranded in Pittsburgh and put on the now semi-famous Dumpster Set that fans, and the mayor of Pittsburgh, loved. Finally on June 16 it was time for Guster to make their long-awaited return to Philadelphia, a city the band seems pretty fond of. Returning for the first time since their spectacular two-night Guster Weekend stop last April, Guster put on a real special show at the Fillmore in Fishtown.
After an opening set by the Shelters, fans of all ages began clamoring for some Guster action. With 25 years of live performance experience under their belt, Guster's audience has people from all walks of life. From the super old, to the kind-of-old, to the relatively young-ish, somehow the band's music has transcended time and space to remain popular even a quarter of a century since their start back at Tufts University.
Guster opened with "What You Wish For" from national treasure of an album "Lost and Gone Forever," and soon followed it up with the absolute banger "Barrel of a Gun." Just when I thought there wasn't a better way to start a Guster show, they played my favorite track from "Easy Wonderful," "Architects and Engineers." Besides fitting in well in the soundtrack of the Ryan Miller scored film "Safety Not Guaranteed," that song is great for blasting in your Prius while driving down suburban roads on your way to high school in the morning.
"Come Downstairs and Say Hello" was as super duper as ever. It never fails to amaze me just how great that song is live. It is one of those songs that makes concerts worth going to in the first place. Then, frontman Ryan Miller introduced a trio of horn players who accompanied the band on some deeper cuts: "Dear Valentine," "That's No Way to Get to Heaven" and "Red Oyster Cult." The latter sounded incredible with the live horns there. Every band should tour with horn players! Guster, Bruce Springsteen, Metallica, everybody!
Thanks to some petitioning by Rosenworcel, the guys dug back into the archives to play "Mona Lisa" from their debut album "Parachute." Then they whipped out another cult hit, "Airport Song." While the album version from "Goldfly" was chock full of angst, the version Guster played at the Fillmore had a more dance-y vibe with Miller doing some snazzy work on bass. One lady in the front row unloaded a salvo of four or five ping pong balls on to the stage at the end of the song, as per some unwritten Guster custom, created decades ago by the O.G. Guster fans.
Guster employed some real encore shenanigans, rightfully poking fun at the dumb process of waiting off stage until the required amount of clapping has been achieved. All the band members took turns on each instrument before they played the designated encore songs. Always great to see the Thundergod on bass and Miller gleefully playing behind the drum kit.
After the underrated "Long Night" from their latest album "Evermotion," Guster played a pair of songs from "Easy Wonderful," and then closed with the truly epic "Fa Fa." The horn playing dudes returned to help end the show with a bang. Then in true Philly fashion, Miller told the crowd to boo as they left the stage and then the band would come out for one last encore.
Needless to say, the crowd was up to the task.
But even as Miller jokingly flipped off the Fillmore crowd when Guster took the stage one last time, everyone couldn't help but break into applause. Rosenworcel, Gardner, Miller and Luke Reynolds gathered at the foot of the stage to play "Jesus on the Radio" sans-microphones. It's a magical moment when a thousand plus people are all singing along and maybe even trying to do it in tune.
Guster never fails to disappoint and the crowds never fail to fill up whatever venue they come to in Philly. Though that blizzard pushed the show back almost six whole months, Guster was well worth the wait.