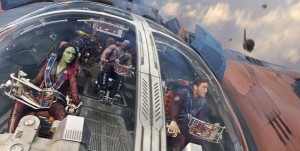 Remember in "Star Wars Episode IV: A New Hope" when Obi Wan Kenobi described Mos Eisley Spaceport as a "wretched hive of scum and villainy"? Well, "Guardians of the Galaxy" (released Aug. 1), the newest installment in the Marvel Cinematic Universe, shows fans that Han Solo and the Wookiee weren't the only lovable lawbreakers he was talking about.
By blending sci-fi, pop culture and comedy, director James Gunn ("Slither," "Super") does an out-of-this-world job of bringing one of Marvel's lesser-known properties to the silver screen. One of the studio's best films yet, "Guardians of the Galaxy" is a refreshing send-up to the otherworldly 1980s-era adventures of George Lucas, Stephen Spielberg and Joe Dante.
"Guardians" opens in 1988 when a young Peter Quill (Chris Pratt) is abducted by a group of space outlaws, known as the Ravagers, after the tear-jerking death of his mother. Fast forward 26 years into the future and Quill is a wisecracking, overconfident galactic gun-slinger who calls himself "Star-Lord." (Imagine the perfect mash-up of Han Solo and Luke Skywalker.)
Quill is tasked with retrieving a mysterious orb from an ancient temple on an abandoned planet and soon everyone wants in on it, which causes him to remark that the sphere has a Maltese-Falcon, Ark-of-the-Covenant vibe going on. And those aren't the only pop culture references you'll find. Quill is a walking time capsule of '80s minutiae that has grown up watching "Indiana Jones" and "Footloose," a troll doll and a picture of Alf perched atop his tape deck.
Pratt was an excellent choice for the role as his man-child demeanor (that serves him so well in "Parks and Recreation") gives the character a mix of playful ignorance and understanding as he tries to hold on to his past life on Earth while cavorting with aliens far, far away at the other end of the galaxy.
Imagine if R2D2 could speak in English rather than beeps and Princess Leia was a green-skinned assassin. Now you've got some idea of the ragtag misfits that make up the rest of the Guardians. There's Gamora (Zoe Saldana) — the aforementioned assassin — and Drax the Destroyer (Dave Bautista), an alien out for revenge and on a quest to understand metaphors.
The final two members are the ultimate sidekicks and the products of terrific computer graphics. Bradley Cooper voices Rocket, a sassy talking raccoon with some kind of New York accent and a sick sense of humor. Channeling his inner Chewbacca, Vin Diesel voices Groot, an anthropomorphic tree creature whose vocabulary is limited to the phrase "I am Groot."
Imagine his turn as The Iron Giant and you're not far off. What bonds these characters together is that they're all outcasts, unique specimens with tragic pasts. They all play off Quill extremely well; their incompatibility with earthlings leads to some pretty hilarious moments. What's great is that "Guardians" never takes itself too seriously, aware of its pulpy forefathers: Buck Rogers and Flash Gordon.
At first, these scruffy-looking nerf herders are only in it for the money, but they redeem themselves by joining forces to save the galaxy from total annihilation. As they break out of prisons and hop from planets to giant celestial heads, their paths cross with Ronan the Accuser (Lee Pace), The Collector (Benicio Del Toro), Cosmo the Space Dog and many other familiar faces from the comics. There's even a surprise cameo from a satirical and feathered Marvel character that was the center of a Lucas-produced box office bomb in 1986.
Also, keep your eyes peeled for John C. Reilly, Glenn Close, Michael Rooker and Josh Brolin. In this film, we get a more expansive view into the worlds only hinted at by "Thor" and "The Avengers." All the sets are diverse and contain plenty of rich detail, which requires more than one viewing to appreciate. You'll see influences from sci-fi greats like "Blade Runner." The fight scenes are great too, even if they're somewhat predictable. The aerial ones are quite thrilling, full of "X-Wing versus TIE Fighter" nostalgia.
In true Martin Scorsese fashion, the soundtrack is what ties the movie together, courtesy of a mix tape aptly named "Awesome Mix Vol. 1 " from Quill's mother, which he keeps in a portable Walkman cassette player. One of the few anchors to his past, it's a collection of '70s hits from The Jackson 5, 10cc, David Bowie, Marvin Gaye and The Runaways. Each track is perfectly placed in just the right scene to elevate it to iconic status.
When you hear the piano coda of Eric Clapton's "Layla" you think of the dead body montage in "Goodfellas." Redbone's "Come and Get Your Love" will now conjure up the images of Star-Lord jamming across a barren wasteland. Blue Swede will literally have you "Hooked on a Feeling." The songs don't just hark back to a certain musical period, they tell stories and evoke emotion from the viewer.
This film was definitely a gamble for Marvel, as these underdog avengers aren't good old-fashioned household names like Captain America and Iron Man. Yet a solid marketing campaign and an even more astounding final product seem to have paid off, with the movie making almost $100 million during its opening weekend (it has since surpassed its $170 million budget). Such returns should put to rest any doubt about the adaptions of more obscure characters like Ant-Man, Doctor Strange and Black Panther.
There is no question that "Guardians" is one of the best films of the summer, another example of superheroes dominating the box office recently, particularly those of the Marvel variety. "Captain America: The Winter Soldier" and "X-Men: Days of Future Past" were both extremely entertaining and made tons of money, warranting sequels slated for 2016.
Similarly, we haven't seen the last of Peter Quill and Rocket Raccoon. We've only seen the first act of a space opera that has the potential to become an epic saga in the vein of "Star Wars." After all, these antiheroes are the rule-breaking kind that often find themselves in plenty of messes, resulting in carbonite naps and dates with the Rancor. Jabba the Hutt is shaking his head already.